UPDATE: Andrew Thomas Design installed its third public flower arrangement on March 24 at the Cleveland Metroparks sign at Edgewater Beach. Owner Andrew Poulson will also be doing an Instagram Live today to give you tips on arranging your new flowers around your home. Poulson is also doing a restock around noon to make sure everyone can get flowers. Visit instagram.com/andrewthomasdesign for more info.



Some kids use graffiti as a creative expression to make a mark on their community.

But growing up in the country, Andrew Poulson and his friends would collect daffodils and wild flowers to create guerilla flower installments around town. They'd leave them on cars at local gas stations or in the teachers' parking lot to bring a sort of unexpected sense of joy to people's day.

"Later, as my career transpired into the flower world, I still wanted to find ways to install them in the community," says Poulson, who now owns Andrew Thomas Design, which does flower arrangements for weddings and corporate events.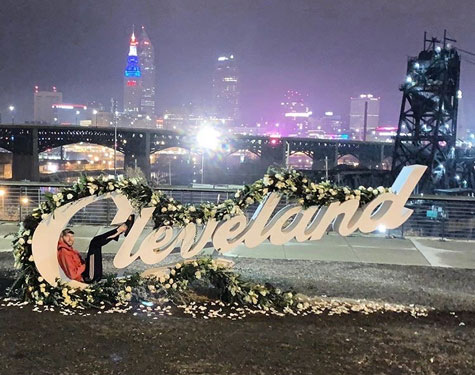 As his planned events began getting canceled last week due to the coronavirus scare, Poulson found himself stocked with extra flowers. So, he decided to revive the spirit of his goodhearted high school prank by installing flower arrangements in parks and different spaces around the community. He contacted his flower provider Mayesh Wholesale Florist, which is on hiatus until April with the rest of its industry and willingly donated to the cause.

His first installation, a big green garland over the Cleveland sign in Tremont, went up last week, but was quickly taken down by local authorities. On March 20, he put up his second installation, decorating the Cleveland sign at Edgewater Park with pre-cut bouquets and encouraging visitors to take some flowers home with them.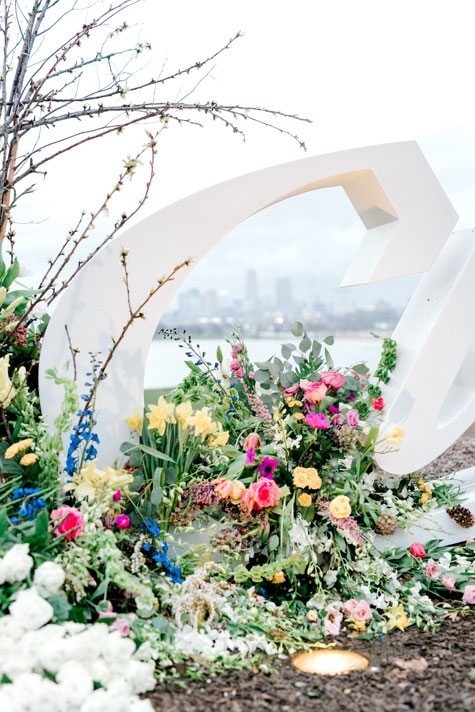 "Flowers have always given me so much joy, and I specifically use the word joy instead of happiness because it's a feeling and emotion that is contagious," he says. "It's so easy to fall down that dark hole right now with these scary times, but I want to send the message that joy prevails."

With events being canceled left and right, Poulson's own future is uncertain, he says. But for now, he's going to keep busy by building another installation for a location to be determined on Monday.

"It's still spring," he says. "The birds are chirping, the grass is greening and I hope these colors and textures can put a smile on someone's face."