On Tuesday morning, area leaders released their plans to upgrade the city, surpassing pre-pandemic stability.
"This is our third phase. This is downtown 3.0. This is, 'What are we going to do to succeed in a post-pandemic environment?'" says County Executive Chris Ronayne while addressing attendees of the Reimagining Downtown Cleveland comprehensive strategy unveiling at Mall C.
"I think the DCA and its new plan Reimagining Downtown Cleveland has got it. We focus on our economy, we focus on flexing out the space, and we focus on reimagining our city to our unique and distinctive attributes."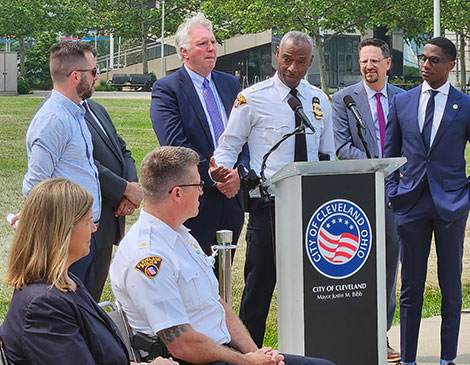 (Photo courtesy Abigail Kussow)

Looking toward the next five years, this course of short- to intermediate-term strategies expects to advance the progression of Downtown Cleveland from a "9-to-5 central business district into a diverse, vibrant, and accessible mixed-use, 18 hour, 15-minute neighborhood."
Taking the three core pillars of the presentation, economy, environment and experience into account, let's break down the projects and proposals in place as of now.
Economy
"About 60% of Downtown's workforce has returned to the office, foot traffic is tracking at nearly 80% of pre-pandemic levels, 20,000-plus people now call Downtown home, our development pipeline is strong, and we had more small businesses open over the course of the pandemic than close," says Downtown Cleveland Alliance President and CEO Michael Deemer. "This trajectory is stronger than the national average. Now is the time to capitalize on that."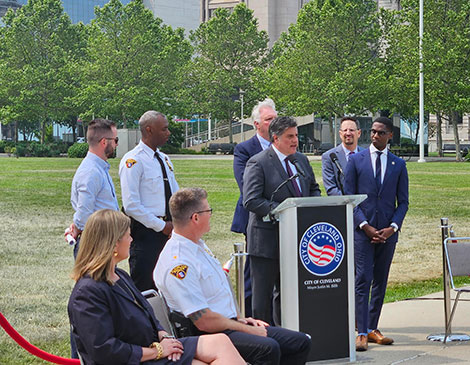 (Photo courtesy Abigail Kussow)
Prioritizing business attractions, housing developments, retail, real estate and mobility rank high on the short-term side of Reimagining Downtown Cleveland goals.
In order to successfully bolster these groups, the Downtown Cleveland Alliance and Destination Cleveland have utilized global creative collective Streetsense to develop a strategy that involves identifying long-standing obstacles in Downtown's storefront economy, and implementing modernization efforts like upgrading office environments to promote thriving community spaces.
Other additions include:
Policies that seek to close housing development gaps
Tools that encourage housing with a wider range of price points

Progress in streamlining the permitting process for development
Whether by bike, foot, wheelchair or any other mobility device, the team let it be known that increasing accessibility to the heart of the city is top of mind. Targeted goals to aid in this include:
Beginning construction of the Memorial Bridges Loop and Superior Avenue Midway

Adding digital parking meters on streets

Enhancing connectivity and improving public transit waiting environments around Public Square (Public Square Connectivity and Public Realm Plan).
Within the next five years, residents can expect to see an increase in protected bike infrastructure and linking between districts downtown and neighborhoods surrounding the area.
Environment
"We want to ensure that the people who live, work and play in Downtown Cleveland feel safe and secure," says Cleveland Mayor Justin Bibb. "By working with community partners and law enforcement and investing in new safety measures, we're taking proactive steps to make sure that happens."
Bolstering safety and security plans to come in the form of:
Maximizing on capacity for uniformed and unarmed co-deployment

Increasing support through 20 new DCA Ambassadors (80 are currently in staff)

Constructing of Pet Relief Stations to reduce pet waste

Installing of lighting in increased areas to encourage walkability and economic activity in the central core of the city (starting on Public Square, and continuing to Euclid Avenue and Mall B within the first year)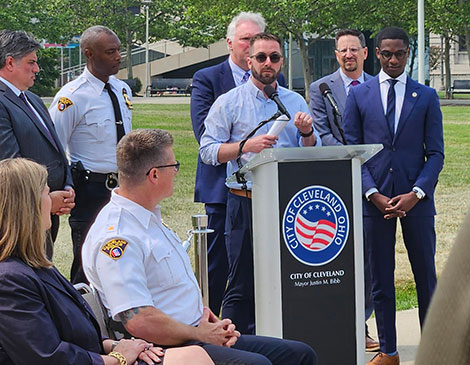 (Photo courtesy Abigail Kussow)
Experience
Promoting and celebrating local arts and culture through ongoing events is viewed as the key to animating Downtown's public spaces.
Projects to maintain and advance this include:
Enhancing green spaces (trees, plants, etc.)

Adding of water features and areas for seating and play

Funding of art programs with hopes of enlivening the city's appeal through creative art pieces

Installing of increased navigational signage
"Reimagining Downtown Cleveland takes us from sidewalk to skyline and everything in between," says Deemer. "It connects our urban core to our waterfronts to create a world-class neighborhood, destination and business hub, improving overall quality of life for residents and workers showcasing Cleveland's diversity and distinctiveness to its visitors."
Get ahead of the weekend by signing up for our free weekly "In the CLE" newsletter — your guide to fun throughout The Land. Arriving in your inbox every Wednesday, this weekend to-do list fills you in on everything from concerts to museum exhibits — and more. Click here to subscribe.