Scooters have been in the news a lot lately. Leave it to 2018 to force that line.

When Bird Rides, a scooter rental service that operates by randomly dropping clusters of e-scooters on the streets of unsuspecting cities without asking for permission, arrived in Cleveland in early August, the city quickly banished the company from its streets. Overnight, dockless scooters became a surrogate issue, representing the rift between the city's stagnant leadership and residents' desire for modernity.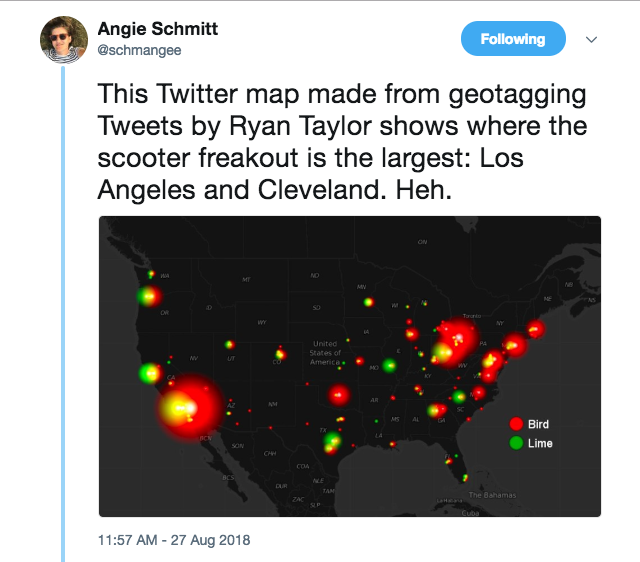 Team scooter seemed to be winning public support until Aug. 20, a week after Bird's arrival, when a driver who had allegedly snorted heroin struck and killed a 21-year-old woman on an e-scooter. Bird quickly pulled its fleet and entered "good-faith negotiations" with the city of Cleveland to determine a two-wheeled path forward. Meanwhile, most of the conversation focused on the scooters rather than our obsession with cars, the city's lack of bike infrastructure or the ever-growing heroin epidemic.

Cleveland is not the only city trying to determine how to handle scooters as not just a kid's toy but a legitimate mode of transportation. On Monday, the operator of a Bird scooter in Cincinnati injured a pedestrian in a hit-skip collision, and other injuries have been documented in Indianapolis, San Diego and Tennessee.

But are the concerns surrounding e-scooters real or a bunch of feather dusting? In San Francisco, where a cease and desist halted scooter traffic, trauma specialists and medical researchers convened for a scooter safety conference in June to determine how to confront and document the rash of scooter injuries.

So, while the electronic scooters don't fit the definition of a motorcycle, moped, bike, skateboard or motor vehicle, here are some statistics behind other potentially fatal things we encounter every day.

Underlying Causes of Death in 2016 (Source: Center for Disease Control and Prevention):

Motor vehicles: 40,000
Mopeds and motorcycles: 4,861
Falling out of bed: 969
Lawn mowers: 100
Fireworks: 4
Slipping, tripping and stumbling: 770
Falls involving ice skates, skis, roller-skates or skateboards: 61
Dogs: 31
Drowning in the bath tub: 525
Contact with hornets, wasps and bees: 76
Constipation: 189
And to think the city had the audacity to allow an ice rink in the middle of Public Square when skating is so dangerous.