2125 Superior Living has your next Cleveland staycation covered. The new short-term rental apartments officially opened last week in the historic Superior Arts District area, which is right in the central hub of downtown hot spots.
"This being in the middle of downtown, a few blocks away from the stadium, the Rock and Roll Hall of Fame, Jack Cleveland Casino — it's really just right there," says Josiah Myers, CEO of Airriva, the Columbus-based tech lodging company that led the project. "And to people that want to continue or start to enjoy more of downtown and other happening spots, that will be perfect."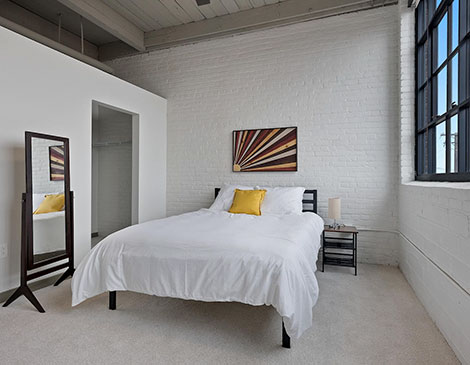 The concept was for visitors and staycationers to have everything all in one: including an enclosed courtyard for dog owners to enjoy, plenty of in-house parking and an array of healthy dining options downstairs in the built-in Green Goat Cafe, complete with breakfast, lunch and dinner menus, put together by restaurateur Bobby George.
"I think when it comes to short-term rentals or weekend rentals, people care about that [the location] the most," says Myers. "The second most important thing is just having a cool place that's unique."
That uniqueness shines through the original architecture of the nearly 200-year-old building, which was originally one of the largest garment factories in the Superior Arts District. With plenty of loft space and urban-inspired interiors, each room was made to embrace the original style.
"That adds to the excitement of the project, having that old-school feel, but just new school touches," says Myers. Here's three things to know about Superior Living before you make your first visit.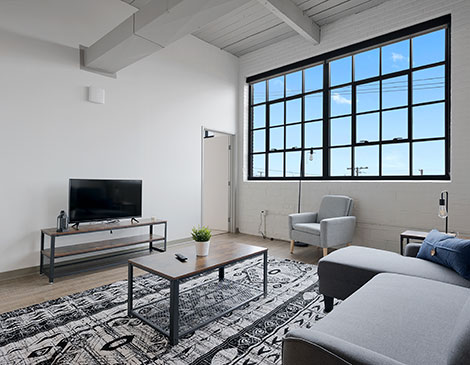 Industrial Inspired
When redesigning the building's units, keeping the exposed brick, floor-to-ceiling windows and wide-open spaces was a must. New touches such as white paint, contemporary metalwork furniture, hanging industrial metal light fixtures and mosaic tiling in the bathrooms made the space feel modern. "We look for these industrial properties because they're attractive, and they're sought after for our guests and it works really well," says Myers. "We tried to not hide behind or cover up the historic feel, but bring it out."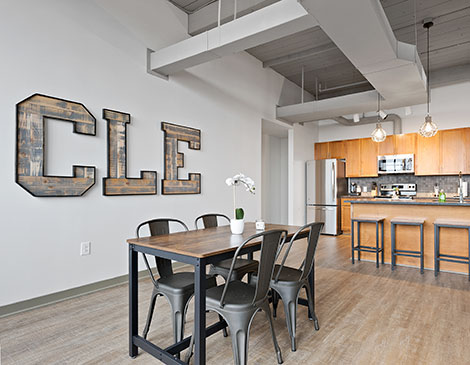 Hometown Pride
With 37 different types of room styles and themes, each unit has been designed to feel like a piece of Cleveland. Look for individualized touches from local designer Kyle Whittaker, owner of KW Designs, who uses his own pieces such as a CLE wood sign or a colorful graphic print to pay homage to his hometown. "He's got some Rock and Roll Hall of Fame-themed designs, and there's a Kid Cudi room with all of his albums that he's put together," says Myers. "So we tried to hone in on that piece of it."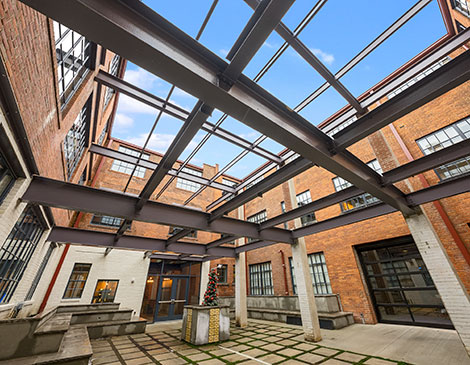 Fresh Air
While visitors will be staying in the heart of the city, there's still a fair abundance of greenery and natural sunlight to enjoy, no matter the weather. Along with plenty of green area surrounding the building for dog owners to enjoy, there will also be an enclosed courtyard leading into the Green Goat Cafe that is perfect for relaxing during the warmer and cooler months, plus the restaurant will offer a "Spoil Menu" for owners to purchase meals for their pups. "I think that was the big part of this deal is having that courtyard, and trying to figure out what the vision would be," Myers says. "And the more exciting thing about this is that the courtyard area is going to be catered towards and marketed towards people who love their dogs."

When You Go: 2125 Superior Ave., airriva.com