The LGBT Community Center of Greater Cleveland is so marvelous you can't miss it — and that's the point. Located in the Gordon Square Arts District across the street from its former basement location, the new two-story center carries pops of color in every room, a public parking lot and large wrap-around windows to maximize visibility for Cleveland's LGBTQ community.
"This is visibility like we've never had," says executive director Phyllis Harris. "We're saying our movement is strong. We're saying we're building leaders in the LGBT community."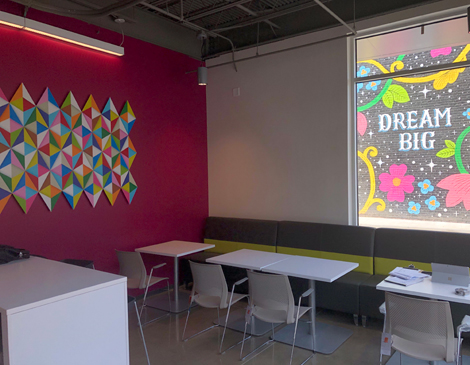 Designed by David Thal of Weber Murphy Fox, the lobby is as much a welcome center as it is a gathering place with an open-floor concept, a social lounge and a cyber center with computers and Wi-Fi access. A number of conference rooms and meeting rooms — including a 1,000-square-foot meeting space and outdoor terrace on the second floor — will allow the center to host events such as bar mitzvahs, birthday parties and birth announcements while also maintaining programming such as QYou, which serves more than 125 LGBTQ youth ages 11 to 19, and Sage Cleveland, which serves nearly 100 LGBTQ seniors over the age of 50.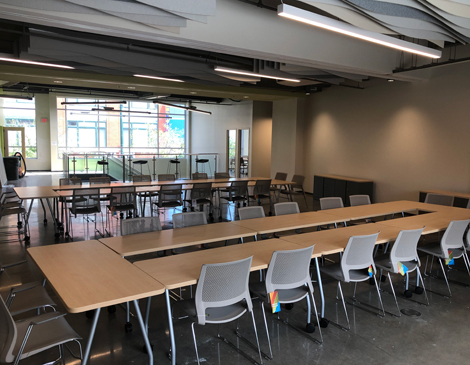 Expanded programming will also include partnerships with local chefs to offer classes in a teaching kitchen that sits alongside a library with more than 200 books and a space for on-site medical care. The mission: invite the community in so that they can live their lives out loud in a safe space.
"The idea is that it's accessible to many and we want people in here and using it as a community center," says Harris. "This is our center."
Ahead of the ribbon cutting and community open house on Friday at 11 a.m., we take a look at three unique features available at the new center.

When You Go: June 14, Ribbon cutting 11 a.m., Open house noon, 6705 Detroit Ave., Cleveland, 216-651-5428, lgbtcleveland.org

The Living Room
As the center for one of the first support groups for people affected by and infected with HIV and living with AIDS, the former Living Room was designed as a small, cozy corner room in the previous basement location with plush sofas, pillows and blankets. Now, that room has been elevated to the second floor of the new space. With a wall of windows overlooking Detroit Avenue, the Living Room is evolving into an active youth center with programming, support groups and games Mondays, Wednesdays and Fridays from 3-7:30 p.m. "It was a good thing to have an organization that had a space where people could come out of isolation," says Harris. "This is the next iteration of the Living Room. There's life here."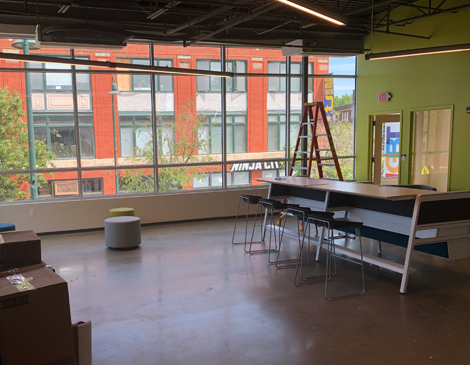 Pride Clinic
Two rooms will be dedicated to offering on-site medical care, including counseling and HIV testing, thanks to a number of partnerships with healthcare providers. A new partnership with MetroHealth will also bring physicians to the center once a week to provide primary care and hormone replacement therapy for transgender individuals. "The community has access in a way that they didn't have before," says Harris. "We hear about the challenges LGBT folks and trans people have with navigating medical systems, and we want to do something about it."
Small Business Center
The center has also designated a space near the front of the building, which operates on a one-year lease, for LGBTQ entrepreneurs to launch their small businesses. Karen Williams, a nationally recognized black lesbian comedian, educator and motivational speaker and the founder and CEO of the HaHA Institute, is scheduled to have her grand opening in September. Williams will offer programming that uses humor and healing arts, such as stress management, nutrition and spiritual practices, to promote empowerment and self-improvement. "We're really excited to be able to support her in growing her business and getting exposure," says Harris.