A locomotive graveyard resides on the stretch of Quiggley Road near the Towpath Trail, a barren field lined with tracks where once-great steel cars, now dull, rusted and tagged with amateur graffiti, lay in waiting.
Eventually, they will be restored to glory by the Midwest Railway Preservation Society, a nonprofit, volunteer-
operated organization headquartered just around the corner, which acquires, renovates and preserves vintage railroad equipment in its mission to preserve Cleveland's historic ties to the railroad industry.
In the meantime, the busted rail cars may be more safely labeled eye sores than classic beauties. Sick of the obscene graffiti that peppered his property, Midwest Railway's Executive Director Steve Korpos envisioned a twist on their preservation efforts.
Enter Charlie Malta, known online and through his vibrant, uplifting art style as Guice Mann, who is one of a handful of local artists transforming the defunct locomotives. A video of him dancing atop the train has even gone viral on TikTok.
Since Malta began working on the project in November, psychedelic directives to send peace, love and good vibes have slowly overtaken the rough exterior of the Pennsylvania E-8 locomotive that has acted as his canvas. Since originally intending to paint only the side of the train seen from the road, the passion project has evolved to include a black-and-white contrast across its opposite length, as well as a secret message on its roof, which can only be seen from the Towpath Trail: "You are rainbows. I love you."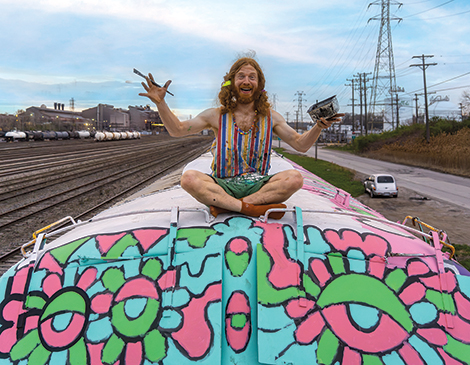 "I knew I wanted to do some nice phrasing on there, that people could receive while they're driving," Malta says. "Just uplifting stuff, and bright, vibrant colors, that [people] would hopefully glance at and think 'that was helpful,' or 'that made me feel good.'"
Malta's groovy train car art is a style he's carefully perfected since originally delving into serious art-making, which he did in a unique way: painting on shoes. At first selling his colorful custom kicks to teachers and peers while attending Lake Catholic High School, Malta's shoes gained some notoriety via coverage in niche online publications, just when he began attending Columbus College of Art and Design in 2010.
Since using shoe design as a business venture, notably creating 325 pairs during the course of 2011 and selling his shoes through MySpace and at events, Malta's portfolio has grown to include murals around Cleveland, such as the lobby of the Carnegie Food Hub.
For Malta, the project allows him to showcase his work in an industrial part of Cleveland yearning for a fresh coat of paint.
"It's very kind of bleak and dreary looking," says Malta. "I thought, 'This is a little pocket of Cleveland I could brighten up with my work.'"
Get ahead of the weekend by signing up for our free weekly "In the CLE" newsletter — your guide to fun throughout The Land. Arriving in your inbox every Wednesday, this weekend to-do list fills you in on everything from concerts to museum exhibits — and more. Click here to subscribe.