For weeks, as I sheltered at home with my husband and my squirrely five-year-old son, I tried to ignore the fact that Passover was coming up.
At 39, I haven't ever had to cook a Seder, the holiday meal. I'd always gone to either my bubbe's (grandmother in Yiddish) house in Pittsburgh or my uncle's in New Jersey. Whenever I arrived fresh off the plane from whatever city I'd been living in at the time — Chicago, Fort Lauderdale or Cleveland — the soup had already been bubbling on the stove, fluffy balls of matzah and egg, bobbing on the top of the pot. The brisket and chicken would be warming in the oven, and slices of spongy, chocolate frosted cake would be sitting on silver plates ready to be served. My sole job was to carry the gallon jugs of Manischewitz wine and the stories of past Seders.
Every Seder is a reunion, a joyful coming together of family. But this year's Seder was supposed to be especially poignant. My mom, who lives in New Jersey, had knee replacement surgery in December, and then suffered an infection in February that kept her in the hospital for days. She has not seen my five-year-old in months, and as part of her recovery, she had been her envisioning us of all together for the holiday.
At the end of each Seder, we say "next year in Jerusalem." But, as the weeks passed, but the threat of the virus had not, it became more and more obvious that this year's Seder — for my small immediate family — would be in Cleveland.
I spent a night, in my room, eating a half-bag of baking chocolate chips (the only chocolate we had in the house) feeling bad about this.
But I had to recover. Passover is the festival of freedom, celebrating the liberation of the Jewish people from slavery. Of all the Jewish holidays, it is one of the most interactive. Through the Seder — the ritual meal — and through the reading of the Haggadah (the retelling of the story of the Jews from Egypt), Jews are commanded to act as if we personally were once slaves in Egypt. That's why, at the Seder, we do things such as eat Maror, or bitter herbs, to viscerally conjure the bitterness of slavery. It's why we eat Charoset, a mixture of apple, walnuts and wine, to mimic the look of the brick and mortar Israelites were forced to make. It is why we eat matzah, or unleavened bread, so we remember what it was like to rush out of Egypt with no time for the bread to rise. It is all supposed to remind us to not take freedom for granted.

This year, with so many restrictions (we are not even leaving the house to go to the grocery store), this all requires a little less imagination. But still, we needed to celebrate. It is a custom in Judaism that you do not cancel holidays — not even while in mourning.
So, I realized (once there was no more chocolate left to eat my sorrows through) that this year we'd have to start some new traditions. And create a new story. Talking with my husband, I pondered what that would look like. What was important?
We decided it began with food. That the holiday could best be translated through traditional meals.
On Sunday, I told my five-year-old son that we would be making Charoset together. I called my mom to ask for her recipe. She ticked off the ingredients: apples, wine, cinnamon and nut. I asked her to be more specific. How many apples? How much cinnamon? She shrugged her shoulders.
However much tastes good, she said.
She told me she had no idea how to make a recipe for only three people.
So, we improvised and began with apples. Three of them, Honeycrisps, slightly past their peaks. I peeled them over the sink, and my son sawed at the fruit with his flimsy plastic knife and cutting board. Then, I realized belatedly that we didn't have any crushed walnuts in the house. So I put handfuls of whole nuts in a blue plastic grocery bags, and let Max bang at the nuts with a hammer, laughing wildly as he did, until they were crushed like dust. Afterwards, we carefully poured a cup of wine, too much sugar and so much cinnamon that it made us cough into the mixture. The result was a chunky conglomeration that my son said looks like applesauce. It was probably just as sweet, too. But perhaps we needed some extra sweetness to counteract this unprecedented time, I told my husband. Anyway, he didn't seem to mind.
Next was the matzah. This was not part of the plan. But who are we kidding? There are no longer any plans! When I unloaded our Whole Foods order Tuesday morning, I realized – with horror – that they had run out of or forgotten the matzah, or the unleavened bread traditionally eaten during Passover. I freaked out for a bit.
"There is no Passover without matzah," I wailed to my husband, not at all irrationally.
In my head, Passover pretty much equals matzah. Even when circumstances, such as being in college, required a certain rearranging of my traditional rituals, matzah was the one constant. The symbolic talisman.
Yet, we had decided on a family rule not to go into a grocery store – at least until the cloth masks we'd ordered from Etsy had arrived.
My husband gently reminded me of the reason we eat Matzah, which is because the Jews were fleeing danger. There was no time to let the bread rise. They ate matzah because they had to. So in the midst of this pandemic, we too can be flexible. And so, I decided to try making the matzah ourselves.
My five-year-old and I poured a mixture of flour, olive oil and salt into a blender. We took the resulting thick, sticky dough and separated it into 12 globs, each rolled into 8-inch circles using a wine bottle (who knew where the rolling pin was?). We then sprinkled them with salt and pricked them with the edge of a fork to stop the dough from rising. We put them in the oven for three minutes at 500 degrees.
Voila, matzah. Or some blackened, lumpy version of it anyway.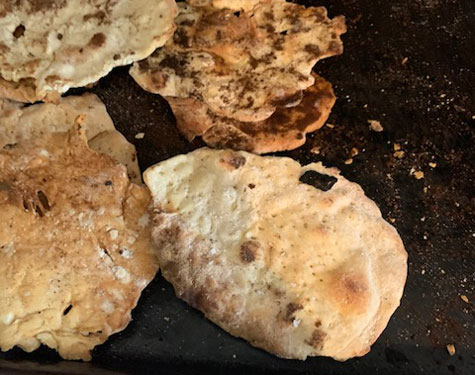 Hours before the Seder began, my son and I took out a Seder plate, ladled our homemade Charoset into one of its shallow dishes. For a shank bone, which is supposed to remind us of the Pascal lamb that was sacrificed, we used a chicken bone. We spooned in some expired bitter herbs onto the plate and added an egg, a reminder of the strength of the Jews during the hard times. Then, a cluster of parsley to remind us of spring. Our homemade matzah went onto the center of a plate covered with trucks that my son drew with crayons.
Soon, the kitchen started to fill with the woody smell of the rosemary that we rubbed on the lamb that we would eat for dinner. This is a variance from every other Passover, but my husband and I decided we needed to start one new tradition this year. Also, we like lamb.
At 5:30, we'll gather around our computer and turn on Zoom. All on one screen, we'll see my parents in New Jersey and my uncle, my aunt, my cousins and my sister. They'll all be sitting around the dining room tables we know so well. And together, we'll walk through the story of the liberation of the Jews from Egypt.
"Why is this night so different from other nights?" We'll ask, as is the custom of the holiday.
In so, so many ways, we'll answer. But we'll also eat our bitter herbs together. Then, we'll eat the Charoset, and somehow the sweetness will perhaps balance out the bitterness.