On the first day of school, teachers would tick off names on roll call — Manzi, McFadden, Oldag — then the rhythm stopped. With a furrowed brow, they'd make an attempt.


"Pe-tree-sin" is often what I heard, sometimes worse: "Pet-true-sion" or "I'm not going to attempt that." Handed down from my Ukrainian grandpa, Theodore Petryszyn, my name is really pronounced "Puh-TRISH-in."

Since my siblings and I were young, my dad always said his father came here after fleeing Ukraine during World War II. He didn't offer more details, and, naively, I didn't ask.

Growing up, I made halfhearted attempts to connect with my heritage. My father's parents died before I was born, so my Ukrainian great-aunt, Catherine, taught us how to make pierogies with a drill sergeant's command to "roll, roll, roll" until the dough was thin enough to read a newspaper through.

At my Ukrainian friend's house, I'd listen with adoration as her parents spoke the language with its thick, phonetic musicality and savored the pyrizhky meat pastries they fed me. They had each other to keep their culture alive, but without my grandparents, all I had was my name.

Even when my uncle gave all of Theodore's grandkids a yellow school folder stuffed with documents detailing his origin story, I shoved it in a drawer. I forgot it existed until last winter, when one news report after another detailed immigrants being barred from the country and separated from their families.

My grandfather's story, which I had hidden away for years, began to well up and spill out as tears. I pulled out the folder with a sepia portrait of him taped to the front, wearing a dapper suit and wide, handsome smile.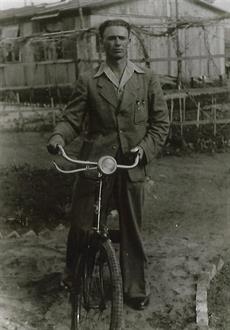 As I turned the pages of official German workbooks, meal cards and immigration documents — some in a language I couldn't read — I realized the sparkle in his eyes disguised the life he'd led during World War II.
At almost 19, my grandfather was seized from the Ukrainian farmhouse where he lived with his parents and two siblings. He was transported about 695 miles to Regensburg, Germany, where he was imprisoned and forced into slave labor from 1941 to 1944. During that time, he farmed potatoes and beets for the German soldiers. Yet as an "untermensch," or subhuman, he was given scraps like a dog, and food infested with insects. His family never knew that he had survived the war.
His suffering didn't end with the Allies victory. Labeled a "displaced person," my grandfather was moved to an American-run refugee camp in Germany, his life held prisoner until 1948. Finally, sponsored by a cousin and the National Catholic Welfare Conference, my 26-year-old grandfather immigrated to Boston and settled in Cleveland. Rather than the beaming gentleman taped to the folder, his workbook photo captures a young man cloaked in fear and stamped with the stain of "REFUGEE."
And yet, there was also a sense of comfort in seeing "PETRYSZYN" on the documents. He was just a few years younger than I am now. For the first time, I felt connected to Ukraine.
I needed to know more. So my uncle gave me a vintage tape deck with a cassette marked "1975" that contained a recording of our family sharing memories as my grandmother prepared for surgery. I took it home, sat at the kitchen table, and pushed play.
For a moment, I was alone with my grandpa. "I suffered my own war time," he said in a shaky, heavy-accented voice. "I was hungry, cold, my poor living. It beat me up. … I had nobody."
Through grief-stricken gasps, he talked about returning to Ukraine in 1970 after he located his sister. He learned his father and brothers were among the more than 8 million Ukrainians killed in the war. His mom, who passed away just one month before his visit, never knew her son was alive and in America.
"If I could come back to you," he pleaded, sniffing back tears, "but it's too late."
The words gave me chills, hearing the pain caused by never getting to say goodbye to his family. But as the tape rolled on, his focus shifted to what he gained with freedom. My grandpa prayed that his boys would "continue it" with their families, and that he could meet his grandkids.
"God keep us together," he pled with desperation.
Those words pierced my heart. Only then did I understand how he battled the crushing loneliness of war: with hope for family. God answered his prayers, not by reuniting him with his own family, but by giving him a new one. So he devoted his life to them, by working long hours on the New York Central Railroad and spending his little free time caring for his wife and growing boys.
To my family, being Ukrainian is being proud of what you have — and the greatest thing we have is one another.
So while my name may be difficult to pronounce, it's also a badge showing that my family has survived and is stronger for it. I could have changed it when I recently got married, but I'm not. I'll keep it legally as my middle name and professionally as my byline. It's a small but important gesture.
Now, when I'm forced to spell my name and people ask, "What is that?" I can say, with confidence, exactly what it means: "It's Ukrainian."