One of Ohio City's largest development sites is located in this Cleveland neighborhood's booming Hingetown section. So it was only a matter of time before a large development was proposed for that site at 2828 Clinton Ave., measuring nearly 2 acres. That time is coming next week when the Franklin-Clinton Block Club, which includes Hingetown, will get a presentation of preliminary plans for the development and offer input on it to the city's design-review and landmark commissions.
With a working title of 2828 Clinton, but sometimes dubbed The Vibe, a development team of Cleveland-area firms led by TurnDev have proposed for the vacated Cleveland Vibrator machine shop property two apartment buildings set atop a block-sized parking garage lined with apartments and two small retail spaces. The century-old Cleveland Vibrator building will be demolished to make way for the new development. NEOtrans secured a copy of the presentation which is posted in NEOtrans' Parlor for members, sponsors and advertisers.
Although the block club presentation doesn't indicate the total number of apartments proposed, the development's gross square footage, not including the basement or parking areas, is 221,453 square feet. In Greater Cleveland, apartments average about 1,000 square feet including common areas in their buildings. At that average, 2828 Clinton would have about 220 apartments.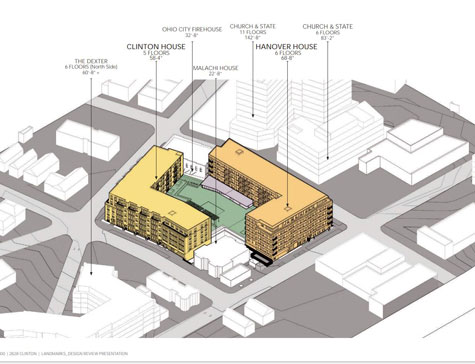 This axonometric view, showing three sides of a building or buildings, also demonstrates the scale of 2828 Clinton in the context of other buildings immediately nearby (Vocon).
TurnDev and its development partners BEK Developers, architect Vocon Partners and Cleveland Construction are also proposing 223 parking spaces in 78,754 square feet of garage areas in the basement and first floor. Conceptual plans show the parking will be completely concealed in the center of the block by ground-level apartments around the perimeter of the site.
A vehicular entrance to ground-level parking is proposed from West 28th Street, while the smaller basement-level parking would be accessed from Clinton next to Malachi House, a no-cost hospice for terminally ill patients provided with a Christian sense of ministry. A handicapped-accessible entrance and private terrace will be provided for Malachi House.
One building, at the southwest corner of Church Avenue and West 28th Street, is proposed to be six stories tall and called Hanover House — named for Hanover Street, changed to West 28th Street in 1906. It is planned to be 68 feet, 8 inches tall. The height limit for the site is 60 feet but can go up to 90 feet with additional setbacks including a step-back at the top floor. Hanover House is planned to have setbacks ranging from 5-15 feet from the property line.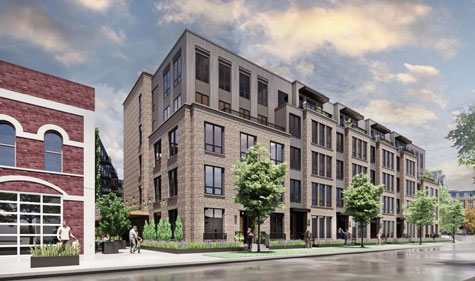 Proposed frontage of 2828 Clinton along West 29th Street with the Ohio City Firehouse at left. The planned façade of Clinton House has a townhouse or rowhouse appearance with a top-floor step-back so it transitions into the mostly single-family neighborhood to the west (Vocon).
The other building, Clinton House, at the northeast corner of Clinton and West 29th Street, is proposed to be shorter at five stories, or 58 feet, 4 inches. A private pool and amenity deck with indoor and outdoor lounges, plus outdoor grills and fire pits are planned between the two buildings, atop the parking garage. There are lobbies for the two buildings, a fitness center and Zoom Rooms that offer video conferencing spaces for residents who are remote-working.
As noted earlier, only two small retail spaces are planned for neighborhood-scale shops. They would be located behind the 1854-built Ohio City Firehouse, along a proposed pedestrian alley from the center of 2828 Clinton. That alley would lead to Church Avenue, across the street from a retail and restaurant promenade at the high-rise Church + State development.
Since the pandemic, Saucy Brew Works, a brewpub and pizza chain whose first location is across Church at 2885 Detroit Ave., has leased the former Cleveland Vibrator building and property for its Vibe Garden, which is open in the spring, summer and fall. Brent Zimmerman, who owns Saucy Brew Pub, confirmed to NEOtrans he will not be involved in this project and instead is expanding along West 29th.

View of the proposed Hanover House building at 2828 Clinton, the Ohio City Firehouse and the alley into 2828 Clinton between them, as seen from the retail promenade at Church + State across Church Avenue (Vocon).
Eleven months ago, a TurnDev-led partnership acquired the property by acquiring 2828 Clinton Avenue LLC, then led by advertising firm AdCom CEO Joe Kubic and Chagrin Falls-based developer Snavely Group. In 2019, Kubic and his backers, through an affiliate 2828 Clinton Avenue LLC, acquired the Cleveland Vibrator property for $3 million, according to Cuyahoga County records.
The now-century-old Cleveland Vibrator moved out that year to 4544 Hinckley Industrial Parkway in Cleveland. Buying 2828 Clinton Avenue LLC, or any other company that owns a property, can offer legal and tax benefits compared to buying the property only. A principal investor in the project is reportedly Ron Leonhardt Jr., CEO of CrossCountry Mortgage, a fast-growing company that relocated its headquarters from suburban Brecksville to the east side of downtown Cleveland.
TurnDev is led by managing partners Mark Luttner and Jon Pinney. Pinney is also managing partner at Cleveland law firm Kohrman Jackson & Krantz LLP (KJK). He opened an email yesterday from NEOtrans seeking comment on the proposed development but otherwise did not respond to it prior to publication of this article. Vocon Practice Leader Michael Christoff will be presenting 2828 Clinton's plans to the Franklin-Clinton Block Club on Sept. 28.
"We are still gathering community input on the project," Pinney said to NEOtrans last January. "Cleveland Construction has been retained for design assist services at this stage. Vocon has been retained as the architect. We plan to meet with neighborhood advocates and nearby property owners to gather input."
Some residents in the area, especially in the single-family homes to the west of it, have expressed concerns about the density and height of buildings in Hingetown. The largest of those nearby buildings are the six- and 11-story Church + State buildings across the street from the 2828 Clinton site that range in height from 83 to 143 feet. Immediately to the south of 2828 Clinton is the six-story Dexter Apartments, 2800 Franklin Blvd.
Start your day the best way by signing up for our free daily newsletter. Arriving in your inbox every morning to keep you in the loop on the best guides, home and style tips, and news briefs for all things Cleveland. Click here to subscribe.