You aren't imagining it. Cleveland has, indeed, been looking a bit smokey these past few days, and it's not just us. Most of the northern part of the United States is feeling the effects of wildfires in Canada.
Need specifics? Check out our city's status on AirNow. Not familiar with the app? No worries, we've got the breakdown.
In short, it's a tool to report on air quality data. It bases its findings on the official U.S. Air Quality Index, which communicates whether or not the air quality is healthy for you.
Why is this helpful now?
With things being a bit hazy in Cleveland, it's good to know how to stay safe.
For those not in the know about Canada's natural hazard situation,"Intense Canadian wildfires are blanketing the northeastern U.S. in a dystopian haze, turning the air acrid, the sky yellowish gray and prompting warnings for vulnerable populations to stay inside," says Kathy McCormack in an Associated Press article.
Northeast Ohio is seeing the effects of this, as our current air quality as of 10 a.m. today is solidly in bright red, "Unhealthy" territory.
"Northeast Ohio along with many states in the Midwest and Northeast United States are experiencing elevated levels of fine particulate matter due, in part, to wildfires in Canada and Michigan," says Chief of Monitoring Bryan Sokolowski for the Cleveland Department of Public Health. "During periods when the air is 'Unhealthy' Cleveland Department of Public Health recommends that individuals with heart or lung disease, older adults, children and teens avoid strenuous outdoor activities or keep outdoor activities short. For everyone else, CDPH recommends that you choose less strenuous outdoor activities and reduce your overall exposure."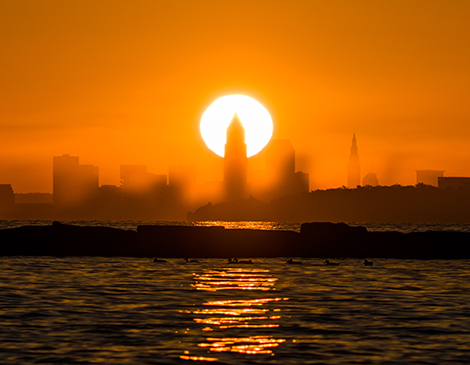 (Photo courtesy Erik Drost via Flickr)
When discussing the specifics, Sokolowski reminds that although this is all good to be aware of, it is currently nothing to panic over.
"It's different from what's going on in New York. New York is seeing unprecedented readings in, like, 400 micrograms, which is 10 times the standard over there. They were recommending people to use masks for elderly people. We're not quite there yet."
Sokolowski says that we are in more of a 'let's hold off for today' phase. "Before you go for your 10 mile run, even if you are a healthy person, and you want to go for it, maybe put it off for today. If you are someone that has asthma, let's stay inside. Let's not do something that might exacerbate your asthma or anything like that. So it's just about being conscious, being aware of the current air quality and making smart decisions."
You can check the daily Air Quality Index and the EPA Fire and Smoke Map at AirNow's website to view hourly updates.
Get ahead of the weekend by signing up for our free weekly "In the CLE" newsletter — your guide to fun throughout The Land. Arriving in your inbox every Wednesday, this weekend to-do list fills you in on everything from concerts to museum exhibits — and more. Click here to subscribe.