This article was published as part of an exclusive content partnership agreement with NEO-Trans.blog.
A few notable developers are reportedly offering several prominent, if not surprising, Downtown properties as options to host what will be a nearly 900,000-square-foot Cuyahoga County Courthouse Consolidation project.
The square footage, not including parking, which will be extra, represents specialty office space that property owners are desperately trying to fill in this post-pandemic real estate market. The sheer size of the courthouse consolidation project may create a competition that bears watching.
The offerings are in response to a request for proposals (RFP) for new or renovated/expanded courthouse space issued by the county in late July, in a project estimated to cost $400 million to $700 million, according to preliminary estimates. The county will only consider Downtown Cleveland sites for a consolidated courthouse. Also, the county is offering up for sale the existing courthouse tower and nearby buildings totaling 2 million square feet in the 7-acre Justice Center block Downtown, 1200 Ontario St.
Existing Downtown office buildings reportedly being offered include The Millennia Companies' 1.4-million-square-foot Centennial at 925 Euclid Ave., plus Bedrock Real Estate's recently acquired 900,000-square-foot Landmark Building, 101 W. Prospect Ave. The former building, which is empty, turns 100 years old next year, and Millennia's ambitious, mixed-use redevelopment that includes residential, hotel, offices, retail and restaurants is struggling to get underway while payments are due on some financial instruments it secured for the project, according to two anonymous sources.
Millennia is led by CEO Frank Sinito. Bedrock is owned by billionaire Dan Gilbert who also owns the Cleveland Cavs basketball team.
The Landmark Building, in the Tower City Center complex, is home to Sherwin-Williams' global headquarters for at least another year while work continues on their new skyscraping home west of Public Square. The Landmark Building is 93 years old and, like the Centennial, would need major renovations to accommodate courthouse facilities. However, both buildings have large, former banking lobbies with tall columns that look like a courthouse's atrium. Centennial is big enough it could also accommodate 400,000 square feet of private law offices and retail spaces for lease within the same building as the court facilities. Landing the courthouse facilities would greatly simplify the financial picture for both pending redevelopments.

The 1.4-million-square-foot Centennial at Euclid Avenue and East 9th Street is more than large enough to accommodate a 893,120-square-foot consolidated Cuyahoga County Courthouse. It would leave enough room in the building for numerous private law offices and retail tenants and provide Millennia Companies with simplified financing to redevelop the 99-year-old building (KJP).

Sources say Bedrock is alternatively offering a new-build site as part of its massive development vision for the Cuyahoga River waterfront below Tower City Center. The site is reportedly just east of the Carl B. Stokes U.S. Courthouse tower, between Huron and Canal roads, and west of a proposed public space that would descend from The Avenue shopping mall to the banks of the river.
The site is roughly 100,000 square feet — big enough so that a newly built courthouse facility that meets the county's needs of 893,120 square feet of usable space could be built here atop a multi-level parking deck without having to erect a high-rise. That could save on construction costs that come with building a skyscraper: pouring a concrete mat foundations rather than digging costly caissons 200 feet down to bedrock, using lighter steel in the superstructure and not having to install larger and more expensive lateral resisting systems.
But Millennia, Bedrock and Geis companies also are apparently interested in the existing Justice Center site that includes renovating and expanding the 26-story, 420-foot-tall courthouse tower that dates from 1977. Their interest may be demonstrated by individual proposals, but sources say they are considering working together to carry out a massive redevelopment of the 7-acre site that includes retaining only the courthouse tower. The rest of the Justice Center's buildings include two jails, the soon-to-be-vacated Cleveland police headquarters, Justice Center atrium and underground parking, all of which were poorly built, according to a report commissioned by the Justice Center Steering Committee in 2019.
"We're looking for the market to basically tell us what it would cost to refurbish and/or build another Justice Center in the range of 800,000 square feet," Michael Dever, Cuyahoga County's director of public works, said at a Cuyahoga County Council meeting in July. "We think some ideas may come back in regards to where the current Jail I and II are located and in regards to what those potential uses could be."

The 900,000-square-foot Landmark Building, at the center of this image, has served as the home of Sherwin-Williams' headquarters since the building was built 93 years ago. It's new owner, Bedrock, will reportedly offer it as one of its options for the county's new Consolidated Courthouse (Iryna Tkachenko).

The current courthouse tower may be renovated but an effective rebuild may be carried out only by completely vacating it and stripping it down to the steel girders, a real estate insider says. That would require providing at least 675,000 square feet of temporary courthouse space for at least two years. The steering committee said renovating and operating the existing courthouse tower could be more expensive over the next 30 years than building and operating a new building. The Justice Center property and the historic Courthouse Square, 310 W. Lakeside Ave.,
were put up for sale last month
.
Information about the Downtown properties that may be part of courthouse proposals come from sources close to the RFP process but who were not authorized to speak publicly about it. Additionally, the information about the interested parties and their offerings was backed up by public records formally requested by NEOtrans, including sign-in sheets of interested parties attending a Courthouse Consolidation RFP briefing meeting held Aug. 7 at the Justice Center.
If the number of attendees was any indication of a party's interest, then Bedrock Real Estate of Detroit certainly announced its presence. Of the 37 people who signed in at the meeting, Bedrock directly accounted for five of them: Chief Development Officer John Costello, Senior Director of Engineering Dave Early, Senior Vice President of Construction Jozef Guziewicz, Senior Vice President of Business Development-Cleveland Deb Janik, and Senior Vice President of Development-Cleveland Christopher Noble. Emails sent by NEOtrans to Chante Jones and Kristin Pohlig, who have the Bedrock account at Cleveland PR firm Falls & Co., were opened but not answered prior to publication of this article.
That doesn't include others who may be part of Bedrock's development team, including Bedrock's construction manager Whiting-Turner of Cleveland. They sent two people to the meeting. And while global real estate brokerage CBRE was hired by the county to assist in the courthouse RFP process and the disposition of the Justice Center property, it is also representing Bedrock in its real estate dealings for its riverfront and Tower City redevelopment projects. CBRE had five people in attendance.
"The RFP is intended to provide the county with a vehicle, a process to hold a transparent, public process and a competitive one for the courts project," Ryan Jeffers, senior vice president at CBRE, said at the July county council meeting.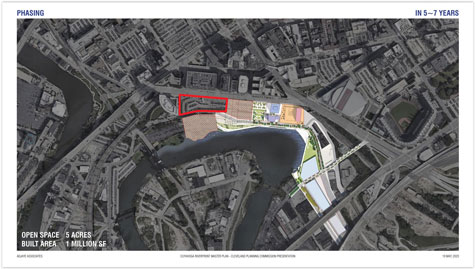 According to sources, a potential new-build site is at Bedrock's riverfront megaproject and unofficially outlined in red to show the approximate location and footprint. The remainder of the riverfront site highlighted here is Bedrock's official phase one with which the developer hopes to move forward soon (Adjaye Associates).

To confirm Millennia's interest landing the courthouse consolidation project, the firm was represented by three people: Tom Kroth, general manager of Key Tower, which is owned by Millennia and houses its headquarters; Tom Mignogna, vice president at Millennia Housing Development, Ltd., who is overseeing the Centennial project; and Millennia President Doug Miller. An email sent to Millennia's media inquiry address was not answered. Millennia's communications director departed in June and apparently has not been replaced.
Geis Cos. sent two people: general counsel Maura Maresh and chief estimator Tyler Mitchell. Real estate broker and owner's representative Rico Pietro was there on behalf of brokerage Cresco and a new, enigmatic firm called DBL Development that was incorporated in March. Pietro didn't respond to two emails inquiring as to who are the principal(s) of DBL Development. Their statutory agent, Doug Paul, a partner at the Aurora-based Reitz, Paul & Shorr law firm, was out of town and unavailable for comment. Cresco President and Managing Director Nathan Kelly was also present at the Courthouse Consolidation meeting but said he had no information on DBL Development or who Cresco was representing.
Also at the Courthouse Consolidation meeting were two representatives of Key Bank, plus business development executives for Premier Development Partners in Independence, The Osborne Group (the commercial arm of Keller-Williams Realty) in Mentor, Turner Construction with an office in Cleveland, Ozanne Construction Co. of Cleveland, and Karpinski Engineering of Cleveland. Architecture firms were there, as well, including representatives of Richard L. Bowen & Associates of Cleveland, HOK of St. Louis, and DS Architecture of Cleveland. Rounding out the attendance list were seven county staff persons from the departments of Public Works, Purchasing as well as Equity and Inclusion.
If the county chooses to build a new courthouse through a lease, the existing courthouse tower could be disposed of much like the former 1971-built Ameritrust headquarters skyscraper on East Ninth Street, which the county owned but sold at a reduced price to help get it redeveloped. That was part of a successful venture by the county to construct a new 220,000-square-foot county administration building that opened in 2014.
Although smaller in scale, the county administration building offers an insight into what kind of ideas the county would like to see from the private sector for a consolidated courthouse. The county paid $25 million up front to Geis Cos. of Cleveland and Streetsboro, which paid the rest of the $80 million construction cost for the eight-story administration building on East Ninth Street. The county is reimbursing Geis by making escalating, annual lease payments over 27 years, starting at $6 million. At the end of the lease, the county has an option to buy the building for $1.
Start your day the best way by signing up for our free daily newsletter. Arriving in your inbox every morning to keep you in the loop on the best guides, home and style tips, and news briefs for all things Cleveland. Click here to subscribe.