This weekend is one of commemoration for the SouthPark mall.

For 25 years, the Strongsville shopping complex has stood out on both a local and national level, due in parge part to its expansive space (it's more than 1,600,000 square feet total), retailers and architecture. And while it, like every shopping center, has adjusted to online shopping and the pandemic, the mall continues to loom large in Strongsville and Northeast Ohio as a large.
On Friday, that presence will be the main focus of a weekend long celebration, as the Mall is hosting a weekend long event in celebration of its 25th anniversary. The weekend celebration opens Friday with Spinoso Earl Estate Group founder Carmen Spinoso presenting Strongsville mayor Thomas Perciak a mural created by area artist Zach Slavin. Spinoso Real Estate Group owns the Mall. Following the presentation of the mural, the mall will be hosting a pumpkin patch along with a fall fashion show, with proceeds benefitting the Strongsville High School music program.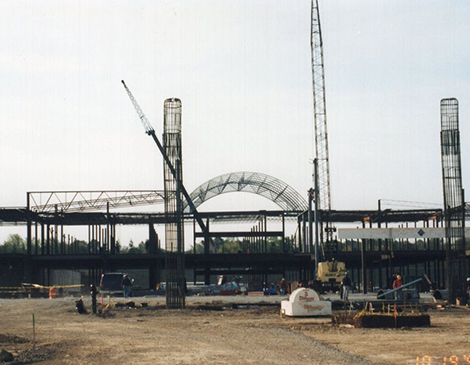 On Saturday, Monica Robins and the Joey Amato band will perform along with a magic show, petting zoo and airbrush tattoos, among other family-friendly activities. The celebration concludes on Sunday with free fitness classes going on throughout the morning and afternoon along with various Minute To Win It games and food trucks.

While it's the mall's 25th anniversary, its footprint on the area goes back to the 1960s when the Royalton Road and Howe Road intersection first emerged as a coveted location for commercial use. After Art Modell's plan to build a new stadium for the Browns in the space failed, the land was sold to the Richard E. Jacobs Group with the plans of building a mall. Ground was broken on the space in 1995 before opening in 1996. With Dillard's, Kaufmann's (re-named Macy's), JC Penny and Sears, among other stores. Its landscaping, architecture. In 2006, the space added a Dick's Sporting Good and a 14-screen Cinemark movie theater as part of a $60 million expansion.
For a detailed list of events taking place throughout the weekend, click here.