Originally published December 2007, this article was republished to remember the life of Fred Griffith, who died July 19 at age 90.

The beloved
Morning Exchange
owed much of its popularity to the camaraderie between the show's three hosts: Fred Griffith, Liz Richards and Joel Rose.
In June 1977,
Cleveland Magazine
's Gary W. Diedrichs noted that the trio acted the same way off camera: "Gentle sexual humor is part of the chemistry of the office, and nearly everyone partakes of it." No doubt, the source of some of this sexual humor was due to the ease with which Griffith seemed to captivate his female viewers.
In April 1985, we returned to the topic of all things good and Griffith, devoting the cover and a feature story to why women love him.
"Part of his attraction to Cleveland women is sex," wrote James M. Wood. "They imagine the lean and lanky West Virginian as a sweet and gentle lover."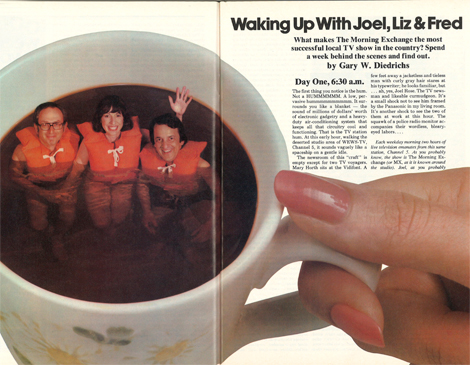 Today Griffith co-anchors another popular Cleveland morning show,
Good Company
, along with Eileen McShea, Andrea Vecchio and Michael Cardamone. We wondered if he's still got his old sex appeal, so we sat down with Vecchio to find out.
So, be honest, is he still a charmer?
Yes! When he compliments you, he always uses a big word and you have no idea what it means, but you know it's good. You walk away and think, "Wow, I'm feeling great about myself today!"

Have any female guests come on to him?
I swear Eileen McShea has a crush on him! Seriously though, I flew out to L.A. to interview Halle Berry and the first thing she said when she found out I was from Cleveland was, "I love Fred Griffith!"

What Hollywood hunk would you compare him to?
Bob Barker because he would love to have Griffith's girls, and he would always want you to spay and neuter your pets.
What pickup line do you think would work best on him?
Your place or mine? You bring the nuts and I'll bring the garlic. [Griffith has co-written books on nuts and garlic with wife, Linda.]