Katie Nageotte was never worried. Nervous? Maybe. Stressed? Absolutely. But worried? Never.
It's easy to see how someone could think she was worried, though. With the entire world watching, Katie started her Olympic career Aug. 5 with two failed jumps in the opening round of the women's pole vault. One more miss, and she would spend the rest of the day as an observer.
Some 6,000 miles away, Diane Nageotte was worried. Like, really worried. Katie's mother was part of a group of 100-some family and friends who had gathered at Fat Little Buddies bar in Katie's hometown of Olmsted Falls. Despite it being 6 a.m., the bar was filled with family and friends clad in red, white and blue, gathered to cheer on Katie.
But then she missed her first jump. And her second jump. Fat Little Buddies went silent.
As the patrons of her hometown bar sent up silent prayers, Nageotte relaxed. For the first time since she started warming up, her left leg finally felt normal. It was bad enough that she still hadn't fully recovered from the food poisoning that had put her in the hospital two weeks earlier, but during her first two jumps her left quad felt tight.
At one point, she was afraid it would tear if she put too much pressure on it. But, as she prepared for her third jump, everything felt normal. And then, everything looked normal, as she easily cleared the 4.55-meter bar.
About an hour later, Diane and the bar patrons traded in those deep exhales for cheers of joy, as Katie cleared a jump of 4.90 meters — a height that guaranteed she'd end the Olympics on the podium. On her way back to the bench, Katie shouted "Cleveland, this is for you" into one of NBC's cameras, an ode to LeBron James' speech after winning the 2016 NBA championship.
"It felt like the right thing to say," Katie says now with a laugh. "I knew I needed to say it to everyone back home."
It was a fitting homage. If LeBron is the King of Cleveland sports, that jump made Katie the Queen.
And everyone back home?
"The place just erupted," Diane says.
Fifty-three days after that celebration, Katie Nageotte sits in Roasted Coffee Shop in Olmsted Falls. At a slender 5-foot-8, the 30-year-old looks every bit the part of an Olympic athlete — a sentiment that's reinforced by the fact she's decked out head to toe in Nike apparel, one of the perks of being sponsored by the swoosh. As she munches on her breakfast burrito, she pulls out her gold medal.
"Right now, I'm keeping it on my bookshelf because I don't know where else to put it," she says with a chuckle.
The journey for that gold medal started a mile away from Roasted at Olmsted Falls High School. It was there that a 12-year-old Katie joined the Bulldogs' middle school track team and immediately gravitated toward pole vault. Neither Diane nor her husband, Mark, were surprised.
"Katie's always been a daredevil," says Diane. "She went to the track and asked herself, 'What's the most dangerous thing I can do out here?' and realized that was the pole vault."
Diane and Mark quickly found themselves learning on the fly as the two of them alternated between driving Katie an hour west to Bellevue (the closest pole vault practice facility) two times a week for practice. While there, Mark tried to soak up as much knowledge as possible, whether that meant repeating what he heard one of Katie's coaches say or volunteering at meets so he could learn more about the inner workings of track and field.
"He was super involved," Katie says.
And then, at the beginning of her junior year, tragedy struck.
While out on a golf outing with his friends, Mark began feeling what he initially thought was a panic attack. Not long after he was loaded onto an ambulance, he went into full cardiac arrest and died of a heart attack.
After Mark's death, Katie was lost. In the blink of an eye, her best friend and biggest supporter was gone. The grief truly set in a few weeks later, at her first golf lesson after her dad died. Katie had taken up lessons at his behest to learn his favorite game. With him not there, she broke down.
But instead of falling apart completely, Katie dedicated the last two years of her high school track and field career to her dad. In her final year with the Bulldogs, she rewrote Ohio's record books, jumping a state record 3.97 meter (13 feet) — the school's first state championship in the pole vault. Before every meet, she tapped the spot where she'd written her father's name on her spikes.
"I never thought about quitting," Katie says. "I knew I had to go do this for him."
Then, it was on to college.
Katie spent two years at the University of Dayton before transferring to Ashland University. While she had the talent to attend — and star — at most Division 1 programs, she knew she needed a smaller program. She was homesick and uncomfortable in Dayton and, when considering a transfer, Ashland University stood out.
"Track and field is such an individual sport that it doesn't really matter where you go," she says. "I learned you just need to go to a place where you get a good vibe and feel like you're going to thrive."
And that's exactly what she did. In her two years in the Eagles' program, Katie won two NCAA Division II national championships.
From there, she entered the Wild West that is the world of professional track and field. With no league like the NFL or NBA to guide the sport, Katie's future depended on her connecting with the right coach.
For two years, she lived in Knoxville, Tennessee, and worked with coach Roman Botcharnikov in preparation for the 2016 Olympic Trials, where she came in fifth — two spots away from qualifying for the Olympics in Rio de Janeiro.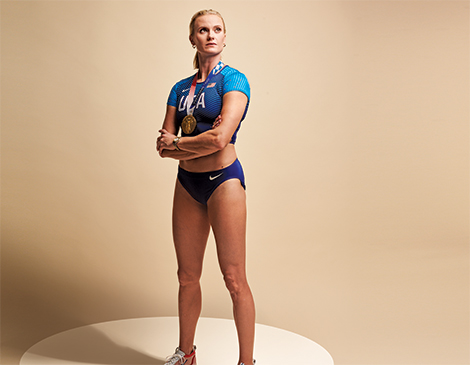 "That was the first time I had a great meet and didn't get my goals," Katie says. "I knew I needed to trust my gut to figure out what was next."
Katie's gut took her to the Pacific Northwest to work with former pole vaulter Brad Walker. From there, she followed Walker to Atlanta, where the two worked to prepare for the 2020 Olympics. At first, everything was going great, as Walker's coaching helped Katie become the No. 1 pole vaulter in the world going into 2020.
Then, in March 2020, Katie's world, much like everyone else's, shut down.
In the span of a week, she went from preparing for the 2020 Olympics to … nothing. For the first time since she was in middle school, her athletic life was stagnant. There were no tournaments, competitions or championships. There was just training.
For nearly a year, Katie holed up at her training facility in an abandoned warehouse outside Atlanta with Walker and fellow professional pole vaulters Robin Bone and Kristen Brown. For eight hours a day, Katie and her fellow vaulters practiced the fundamentals — something that can sometimes get lost in the grind of the competitive season.
"Being able to keep training was the best thing to happen to me," she says.
But a COVID-19 diagnosis in December 2020 pushed training to the side. While her physical symptoms were mild and her fitness came back almost immediately, she needed months to recover from the mental toll. Between her lack of sharpness on the track and her inability to answer simple questions on Jeopardy!, Katie knew something was off.
"I actually ended up going to a concussion clinic because a lot of my symptoms were similar to post-concussion symptoms," she says. "It wasn't until April I truly began to feel like myself."
In May, with the Olympic Trials less than a month away, Katie traveled to Ohio for a competition, and a chance to see friends and family. When she arrived back in Atlanta, she found herself in every pole vaulter's worst nightmare — her poles had snapped somewhere in transit.
Every. Single. One.
She sat down and caught her breath, trying to hold back the wave of sickness she felt. But in a twist of irony, Katie's nausea paved the way for her Olympic euphoria. The broken poles gave her a chance to switch brands, electing to go with ESSX, a pole vault company based in Fort Worth, Texas.
It was one of the best decisions she's ever made — ESSX's pole did most of the heavy lifting on her Olympic-winning jump.
"It was a horrible jump," she laughs.
Instead of launching straight into the bar — something Katie swears would have happened with her old poles — the chemistry of the pole allowed for her to corkscrew over the bar and into United States track and field glory.
"We've talked about how there might have been some divine intervention involved," Walker says.
But in Olmsted Falls, all anyone saw was an Olympic champion.
Before her winning jump, Katie tapped her dad's name on her shoe, took 16 steps and vaulted herself to Olympic gold, cheering on the descent of her jump.
When Mark walked into the ambulance moments before his fatal heart attack, he had started a "USA" chant, a nod to the mini-Ryder Cup he had set up with his golf buddies. At some point in the aftermath of Katie's winning jump, her friends and family back home started their own "USA" chant to celebrate the win.
It had been 14 years in the making.
This fall, Katie took a much-needed six-week break — and got engaged on Thanksgiving to Hugo Moon, a rowing coach she met while training out West.
Now, she's back at it, preparing for the 2022 World Championships. Once that's done, she'll begin training to defend her gold medal in Paris in 2024. Given that she'll be 34 by then, it could be her final chance at gold. Not that she needs any reason to push herself.
"Going out and competing in memory of my dad," she says, "has been all the motivation I've ever needed."