Thirty-four years ago, Lt. Justina Saxby didn't yet have the confidence to drive a fire truck. The biggest thing the 23-year-old — one of the first 10 female firefighters to join Cleveland's department — had ever maneuvered was a mini pick-up truck.

But instead of sexism when she admitted to her company officer that she didn't yet feel comfortable driving the truck, she got her first taste of brotherhood.

"I remember him and the crew taking me to a parking lot and letting me work through my fear," she says. "They taught me how to use my mirrors and how to use my judgement without any criticism or judgement."

When Saxby retires today at 61 years old, the moments of camaraderie are what she'll miss the most, she says. Inside jokes over shared dinners that were so funny you nearly spit out your food made life on 24-hour shifts easier.

That bond also made it easier to deal with the distressing and draining moments that come with the job.

"Everyone knows it's a traumatic event and everyone deals with it together," she says. "When your life is on the line and you're in danger, you're relying on the other person to help you and to make right decisions. That creates a bond whether you respect that person or not."

That's not to say it's always been easy or that the reception was always welcoming. Even today, female firefighters are extremely rare in Cleveland — much more so than police officers, EMS or other first-responder jobs. Saxby's departure leaves just three women in the department: Daphne Tyus, Lauren Phillips, who was hired last year, and Deberra Schroder, who is set to retire next year. Schroder was a classmate of Saxby's in the first group of female firefighters hired — a class of 10.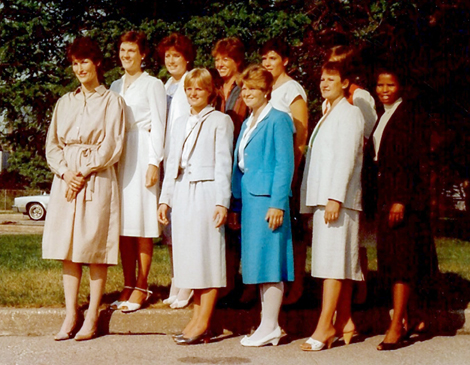 Saxby joined the department in 1985. She had been a gymnast and was coaching the children of a firefighter. The department was looking to hire female firefighters, and he encouraged her to take the test. She started taking the tests for some of the suburban departments. She was the only female competing. She'd place 40th or 50th, but never had a chance at beating the other men in a test of speed, which was used back then.

"I was 23 years old, and I was like, 'Oh my God, I'm meeting all these really athletic guys,'" she says. "It was a really fun experience, but I didn't have a chance to pass that physical."

Eventually, Saxby passed. In recent years, she's joined other members of the department in reviewing the physical fitness test to find out why women aren't successfully passing it more often — without watering down the quality of the fire department.

"After 34 years, I realize I didn't have to beat all those guys to do this job," Saxby says. "I just had to have a certain mental and physical ability to do this job. There's always going to be a guy at the top and a guy at the bottom. You just need to work the guy at the bottom a little harder."

In this regard, she believes the department is trying hard to move in the right direction.

"I think the training academy has a really progressive chief [in Tom Schloemer]," Saxby says. "When the department hired its first woman in years (Philips), the instructors were so amazing and so supportive."

But training wasn't the only place she had to prove herself. Saxby always had to prove she could do the work. In her early years, she was detailed to another company, which was short a few guys. Together, they fought an apartment blaze and saved an unattended child, who had been left by her mother who'd gone to the bar. When the local news TV cameras showed up, some of the men didn't want Saxby shown.

But her hard work had impressed someone important.

"The boss looked at me and said to the others, 'She did her job just like you did. She deserves to be here,'" Saxby says. "He saw I could do my job as well as other guys. I'll never forget that guy because he put himself out there, and it was a big risk to back me up."

No matter what she faced. The reward of helping others was always worth it. Saxby's training helped her save children and deliver babies. It even kicked in off the job. When she was visiting her son in Columbus, a man had a massive heart attack outside a restaurant where they were eating. Using CPR, she brought him back three times until the Columbus fire department came. He survived and met and thanked Saxby, who was honored with a Silver and Gold Award for her courage.

"My on-the-job training just kicked in," she says. "I had a lot of that first responder-type training, and I knew what to do and how to do it under extreme pressure. It sounds a little cliché, but seriously, it's just been so rewarding to help people."

Saxby isn't quite sure how she'll spend her time now that she's off the force. She does a little volunteer work, and she runs a vibrant photography business, taking portraits and pictures at the Fire Academy, so the trainees' parents can see what prospective firefighters do.

No matter what, she'll always cherish her time as a firefighter — and she'll always be a Cleveland trailblazer.

"It's a big deal when you go into a nontraditional job that you've never seen anyone your gender do. I'd never seen a woman firefighter in my entire life," she says. "I'm most proud of the fact that my kids saw their mother do something that wasn't traditional. They also grew up knowing that if there's something that you want to do you can do it."