It would be difficult to describe Shammas Malik without mentioning his charisma.
His public speaking abilities set him apart in debates during the Democractic Primary. Malik won that primary in May with 43% of the vote against the the other six candidates running to be Akron's next mayor. With no Republicans or independent candidates in the general race, he is all but guaranteed to win the mayoral election in November.
When I met Shammas on the patio of Nervous Dog Coffee Bar in West Akron in late May, he spoke with the same professional yet authentic tone he displayed on the campaign trail. At 32, he also has the kind of youthful spark that evokes hope when he speaks about his bold plans for his hometown.
"It's funny because when we were running, it felt like being younger was both the biggest strength and the biggest weakness," says Malik, who will potentially be Akron's youngest mayor (though, some fact-checking of all the 1800s mayors is still required, he says).
He's also the city's first millennial mayor, putting him in a league with Cleveland's Justin Bibb and Cincinnati's Aftab Pureval, both of whom are also politically progressive. Malik identifies as an "Elizabeth Warren Democrat," and ran on a platform that included equitable development, addressing housing issues and reforming the police department after the police shooting of Jayland Walker.
"Voters are looking for someone who's offering something different, and offering a positive and affirmative vision for what the city can be," Malik says. "And frankly, the city is not doing a very good job as an institution at providing some basic things. That's not any fault of any one person, but it's a system that isn't as coordinated or strategic as it can be. In terms of Aftab and Justin, I think that people are looking for that new energy all across the state."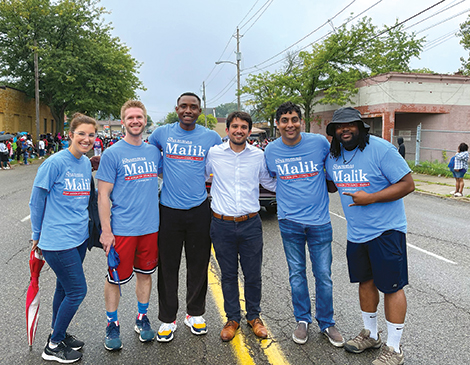 Malik will likely succeed Dan Horrigan, who has been mayor since 2016 after the 28-year reign of Don Plusquellic, who was 38 when he was elected. Malik added that former mayor Tom Sawyer was also elected at 38. "So, it's not the first time we've had a mayor in their 30s," Malik says, flashing his boyish grin.
"I think the most important thing for me is that I have a strong vision for where the city is going," he says. "And without a vision for where the city's going to go, even the best manager, even the most experienced person, is going to be stuck with what has happened over the last several decades — my entire lifetime — which is managing decline."
Building Up a Hometown
Some of the people who know Shammas best are quick to attest to his intelligence and maturity at a young age. Gary Rosen is an Akron attorney who met Shammas nearly 20 years ago, as a freshman in high school and a friend of Rosen's youngest son. Since then, they've been close family friends: Rosen says he and his wife joke that Malik is in the running to be their fourth son.
"He's always been much older than his chronological age," Rosen says. "He was the oldest 14-year-old I've ever met, and he's a very old 32-year-old now, because he is not only very bright, but he's also exceptionally understanding of the world around him, and very, very mindful of other people, their concerns, their issues, their anxieties, their desire to have a better life."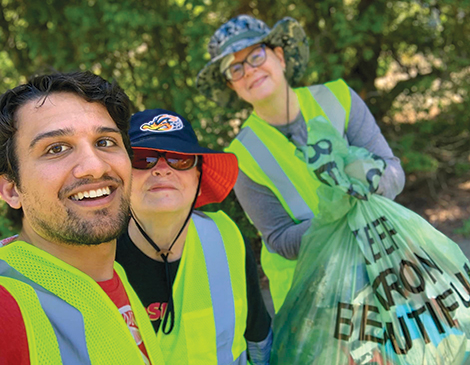 Malik could also be Akron's first mayor of color (half Pakistani, half Irish) and first Muslim mayor.
"I was 10 when 9/11 happened," Malik says. "I remember opening up the Akron Beacon Journal and looking at these pictures of these hijackers, looking at their names and thinking that their skin is the same color as mine, and their names are kind of like my name. Is there something about the religion we share that has something to do with what happened in this terrible tragedy?"
The political climate sparked Malik's interest in foreign policy and national security. While studying political science at Ohio State University and then at Harvard Law School, his internship experiences included stints at the Pentagon, the Muslim Public Affairs Council, and the Center for American Progress think tank. He came back to Akron in 2016 for a law department job and was elected to City Council in 2019.
Rosen says those around Malik have always witnessed a sense of bursting potential.
"He was focused on coming back to Akron from the very beginning, and he saw going to Harvard as an opportunity to do that," Rosen says. "He had unlimited opportunities in front of him, especially after he got to Harvard Law, and I remember talking to him about some of those opportunities, and he did not want to hear about it.
"Life is not like some of the betting sites that we have now, where you can wager on anything," Rosen adds, "but boy, if that was something that was possible, I would have wagered whatever I had on his likelihood of success, of coming back to Akron and changing our community."
Political Beginnings
Sipping a cold brew, Malik reflected on how he got involved in politics when he was a student at Akron's Firestone High School.
"I was a nerdy kid watching The West Wing DVDs," he says. "President Obama ran for president when I was a senior in high school, and he came to the John S. Knight Center on a very cold day in 2008, right before the Ohio primary, and I waited in line for hours to hear his incredibly inspiring speech."
Judy Harrison, a retired teacher and former coordinator for Firestone High School's International Baccalaureate Diploma Program, recalled how Malik was a star student, in addition to excelling in an engineering program and extracurriculars, including the Academic Challenge, debate, mock trial and tennis teams.
"He's one of those students that comes along that you have such a great respect for, and really want to see him succeed," she says. "He's got a humility about him that sometimes you don't find with truly gifted students, but he's always been very humble."
Harrison reflected on Malik's oratory talents. "It's one thing to be a good communicator, and I think he speaks very well. But he's also an amazing listener — which, I think in this climate, we need more people who are active listeners."
It was also during high school that Shammas' world changed forever. On his last day of junior year, he learned his father had been arrested by the FBI on wire fraud charges that involved blackmail.
"And not only that, but I learned that he had other children that we didn't know about," Malik says. "He had basically been living a double life."
Shammas' parents had separated when he was about 10, and his mother raised him and his brother, Najjam, as a single parent. But despite their separation, the trauma of the betrayal still stung and continues to impact Shammas and his intolerance for dishonesty. His father was arrested at the same time that his mother was sick with cancer, which ended up being terminal, so, "in some ways," he says, "it was a process of losing both parents."
His mother passed away when he was 21.
It was during this conversation about his parents, especially his father, that Shammas' public-facing persona faded away. His notorious communication skills started to slip with stutters and vocal fumbling. He had only just publicly spoken about his father's arrest for the first time about a month prior. During the April 12 mayoral debate, when he was asked about what integrity means to him, he answered that he had "an amazing mom," but his dad is "a very dishonest guy" who he grew up talking to through prison glass. Later, he discussed the incident in detail with the Beacon Journal.
These events molded the future mayor. Peeling back that charismatic first layer reveals a complexity to Malik that he rarely lets on — and a wisdom he earned long before the Harvard Law degree.
Growing Up Quickly
Dr. Omar Nemer has been friends with Malik since they attended a Copley private primary school, Ghent Academy For Boys, and later Firestone High. Nemer, now a University Hospitals physician, supported Malik as he was forced to grow up quickly.
"It was really, really, really tough for him because his father always kind of preached a sense of morality to us about things that we shouldn't be doing," Nemer says. "That kind of flips your world a little bit upside down, to find out that this person is actually not a very good moral compass at all."
Nemer described how Malik's late mother, Helen Killory Qammar, was — and in some ways, still is — one of the most important people in Malik's life.
"His mom is his everything," Nemer says. "It was tough to see her sick like that, and yet she still dedicated all of her time and her energy to her kids and her work throughout everything that she was going through. I think he really drew a sense of determination out of that and was able to focus on his concept of right and wrong, as he examined his mom's and dad's lives, side by side."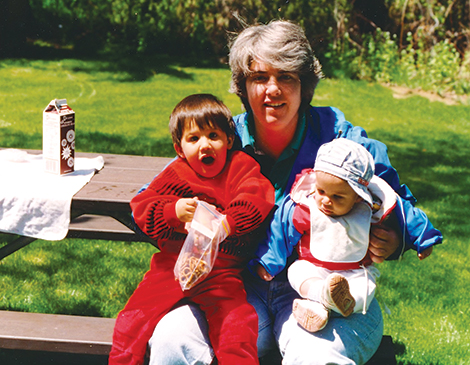 Nemer lives in Bath, 10 minutes away from Malik, who sometimes helps care for Nemer's two young children. "He's the best uncle," Nemer says.
"It's just so incredible to see how far he's come and he's never given up on his aspirations and I don't think he ever will," Nemer says. "I think he has a great outlook for the city of Akron and I think every member of Akron stands to benefit from him leading the city. I'm hoping that one day he extends far beyond that: Ohio, nation, world."
It wouldn't be terribly surprising if Malik pushes forward to have a future career on a larger political stage. But he says his only ambitions, for now, are focused on running Akron and implementing his progressive vision for the city.
"That work does not happen in four years, and it's only started in eight years," Malik says. "Like anyone, I want to make the greatest impact that I can in my career. But I'm focused on doing the job that I'm incredibly honored to hopefully, presumptively have."
In what remains of his free time, the presumptive mayor is watching Succession and The Mandalorian, jogging and listening to music: Vampire Weekend, Nipsey Hussle and Taylor Swift are on repeat. He sometimes attends Shabbat dinner with Rosen's family (so often, Rosen says, "He's probably been to more Shabbat dinners in our house than my kids have. At this point, I feel that he could do the Friday night prayers probably better than my kids.")
And he continues to attend community events and speak with Akronites as he builds his transition team ahead of taking office in January.
"Let's get as many people plugged in as possible because it's truly not about me," Malik says. "It's about building a city people can get excited about."
For more updates about Cleveland, sign up for our Cleveland Magazine Daily newsletter, delivered to your inbox six times a week.