After hosting the Republican National Convention in 2016, Cleveland once again takes center stage as the first of three presidential debates visits Northeast Ohio. Here's everything you need to know about tonight's debate.

Where To Watch The Debate
The debate will air live on all major broadcast and cable news networks, including Fox News, Fox Business, Fox 8 News, Cleveland 19 News, 3 News, News 5 Cleveland, WVIZ/PBS and C-SPAN. It will also be streaming online on services and devices such as Roku, Amazon Fire TV Stick, Hulu Live, Apple TV, Twitter and more. An audio broadcast will stream online and on the radio at 90.3 Ideastream.

Here's a livestream provided by C-SPAN:



What Time Is The Debate?
The 90-minute debate will air at 9:00 p.m. Most channels are also hosting pre- and post-debate coverage.

Where Is The Debate Being Held?
The debate will take place at the Health Education Campus of Case Western Reserve University and Cleveland Clinic, an educational collaboration between the two organizations. It was originally supposed to take place at the University of Notre Dame. But the school withdrew July 27 amid concerns over COVID-19. For more on COVID-related safety precautions in place for tonight's event, check out this August interview with Cleveland Clinic chief clinical transformation officer Dr. James Merlino.

For information about road closures and parking around the Cleveland Clinic, click here.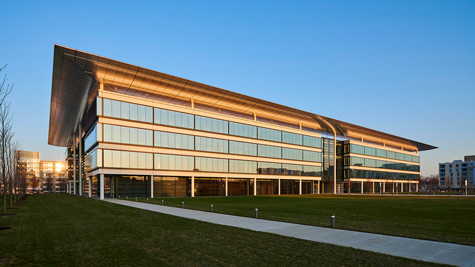 Who Is Moderating The Debate, And What's The Format?
Fox News' Chris Wallace, host of Fox News Sunday, is tonight's moderator. Wallace also moderated a 2016 debate between then-candidate Trump and former Secretary of State Hillary Clinton in 2016. He'll ask the candidates questions about their personal records, the U.S. Supreme Court, COVID-19, the economy, race and violence in American cities and the integrity of the election, in no particular order. Each of these six segments will receive 15 minutes of coverage, and there will be no opening statements. There will be no commercial interruptions.

Has Cleveland Ever Hosted A Debate Before?
Yes. Cleveland's Public Music Hall hosted the 1980 presidential debate between Democratic President Jimmy Carter and Republican presidential candidate Ronald Reagan. More recently, Case Western Reserve University hosted the 2004 Vice Presidential Debate between Vice President Dick Cheney and Sen. John Edwards. Rocket Mortgage FieldHouse, formerly known as Quicken Loans Arena, also hosted the first 2015 Republican Primary Debate in which Donald Trump infamously insulted Megyn Kelly.



What Are The Sites And Sounds In Cleveland Today?
Follow us on Twitter at @ClevelandMag for more. Here are some of the best tweets we've seen so far.

What Should I Read About Tonight's Debate?
Cleveland Hotel Manager Says This Could've Been Big Week With Indians Playoffs And Presidential Debate, via Cleveland 19 News

A Major Tradition, The Presidential Debate Handshake, Will Not Happen At Tonight's Debate, via 3 News

Joe Biden releases 2019 Tax Returns, via cleveland.com

Cleveland Clinic Thrives While Its Black Neighborhood Falls Behind, via bloombergquint.com

What Trump And Biden Should Debate At The Cleveland Clinic: Why The Hospital's Private Police Mostly Arrest Black People via Cleveland Scene, Pro Publica

As The Presidential Debates Start, What About Climate Change via Cleveland Scene, Ohio News Connection

Joe Biden Will Bring Two Northeast Ohioans As Guests To First Presidential Debate, via cleveland.com

They Wanted Disruption In 2016. Now, They're Trump Defectors, via cleveland.com

Barriers Up, National Guard Arrives At Cleveland Clinic For First Presidential Debate, via cleveland.com

City Expanded Restricted Zone Around Debate To Include Wade Lagoon, Where Protest Is Planned, via Cleveland Scene