By day, Ryan Phillips works full-time for Nordson, an adhesive technology company based out of Westlake. But if you'cw recently tuned in to TBS on a Wednesday night at 10 p.m., you probably know Phillips better as "The King of Kings," professional slap fighter and contestant on Power Slap: Road to the Title.
"Life was good before Power Slap," Phillips says. "I actually got promoted [just] before I joined."
Power Slap is a controversial new combat sport from UFC owner Dana White, and on its stage, Phillips goes to war with his right hand and a defenseless chin. Phillips is one of two fighters representing Northeast Ohio, the other being John "The Machine" Davis of Salem. He describes his strikes, which come in with a velocity of 29.5 mph, as "vicious … pure violence."
Originally from New Jersey, the 39-year-old moved to Lorain in 2005 in his early twenties. Despite his current status as a professional athlete, Phillips wouldn't describe himself as being much of one growing up.
"I really liked skateboarding and surfing more than anything," he says, "but before that, I played baseball and basketball for my school."
It wasn't until he got older that he gave any mind to combat sports, but they became his top athletic interest after taking taekwondo. He took notice of the sport the way most of the internet has, through viral videos of mostly unregulated competitive leagues.
"When I saw it online, it really caught my eye, and I was really interested in it," Phillips says. "Then I could see that it started to progress with more rules and became more of a legitimate sport."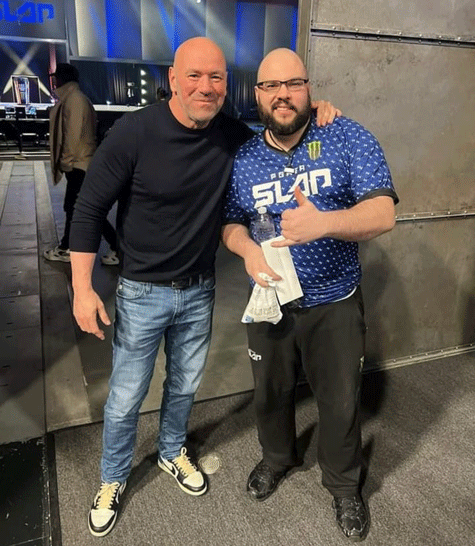 Slap Fight has faced heavy controversy since its domestic debut in 2017 with New York Times columnist Kurt Streeter recently shaming the Nevada Athletic Commission for sanctioning it and TBS for airing it. For many potential fans, photos of competitors with faces swollen like red balloons and videos of brutal knockouts overshadow any athletic value. Many contestants are first-timers, and some have suffered concussions and serious injuries.
"Honestly, from actually being a competitor and having my face look like that and look like a big salami on my head, it goes away," Phillips says. "My day-to-day life is not affected. I can still think straight. I'm talking to you right now. I think people are just being overly sensitive."
Contestants are only allowed a "flat, open-handed strike of the palmar side of the hand" to the cheek. Power Slap also always has doctors on the fighting stage, ready to jump into action at a moment's notice.
Yet, the rulebook doesn't allow competitors to move or give themselves any leeway from the full force of the hit. It's led to competitors showing concussion-like symptoms but no public diagnoses. While only one striker, Alex Asbury, has been "medically suspended" from Power Slap, experts believe it's only a matter of time before there's more.
White, however, defends the young sport, which some compare to the early days of MMA.
"Morons," he called detractors in that New York Times column. "In Slap, they take three to five slaps per event. Fighters in boxing take 300 to 400 punches per fight," he says.
Phillips originally tried to join the SlapFIGHT Championship League, the original domestic league, but was unable due to his work schedule. The league, co-promoted by Arnold Schwarzenegger and Logan Paul, had its championship event in Columbus last year at the Arnold Sports Festival. It will not return for this year's festival, being held from March 2 to 5.
After Phillips failed to join SlapFIGHT, he spoke to a friend of his that worked on The Ultimate Fighter. That friend ultimately connected Phillips to the right people, granting him a spot in Power Slap.
"He knew I was trying to join the SlapFIGHT Championship [League]; he gave the people my name and told them I would be perfect for it," Phillips says. "They [later] gave me a call, I tried out and I ended up doing a great job. Now I'm under contract."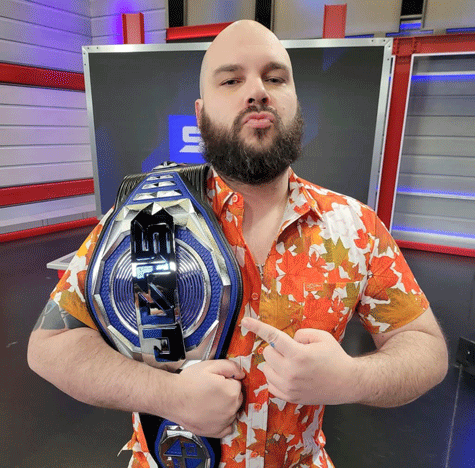 Phillips suffered a torn bicep injury in episode five of the show while preparing for a match. Despite competing with his left hand instead and standing strong through his opponents slaps, he didn't make it to the next round.
Power Slap: The Road to the Title is also in murky water as TBS has quietly distanced itself from the show. You can still watch it on the TBS website, but the finale is now airing on online video platform Rumble on March 11.
Still, Phillips hopes to slap again. Despite being a transplant, Phillips views Lorain and the greater Cleveland area as his hometown. And as long as he's still swinging, Phillips plans to rep CLE.
"I want to represent Northeast Ohio and Ohio as a whole, but especially Cleveland," he says. "I want to give them something to cheer for. I want to be someone that they can look at and be like, 'I'm proud to watch Ryan on stage and proud to see him go up there and compete in our name.'"
Stay up to date on all things Northeast Ohio with our free weekly "In the CLE" newsletter. Arriving in your inbox every Wednesday, this weekend to-do list fills you in on everything from concerts to the latest news. Click here to subscribe.