Once upon a time, sports gambling existed in the dark underbelly of society, eliciting images of a cigar-chomping bookie beating a degenerate gambler silly over an unpaid debt.
But today, the practice has gone legit. Sports betting is now legal in more than 30 states, and a recent Pew Research Study estimated that 19% of Americans gamble on some sports contest — be it an office pool or placing a bet at a sportsbook. Modest bets of $10 or less keep most of them from having to leverage the house.
And now, the Buckeye State is going all in on the action. At the end of 2021, Ohio Gov. Mike DeWine signed a bill legalizing sports betting in the state starting Jan. 1. Since then, local gaming companies and sports teams have been ramping up in preparation, aiming to draw in potential new customers. A sports-crazed region, Ohio is prime to instantly become one of the biggest sports betting states in America. In fact, PlayOhio, a gaming industry trade publication, expects wagers totaling $8 billion in 2023. (By comparison, the budget for the city of Cleveland for 2022 was $1.8 billion.) Most wagers will be on football or basketball.
"People who bet on sports might not be your typical slots player," says Adam Suliman, Jack Entertainment's senior vice president of sports and digital gaming. "I think there will be a new customer base that will be attracted. It's fun just to have $20 down on a game."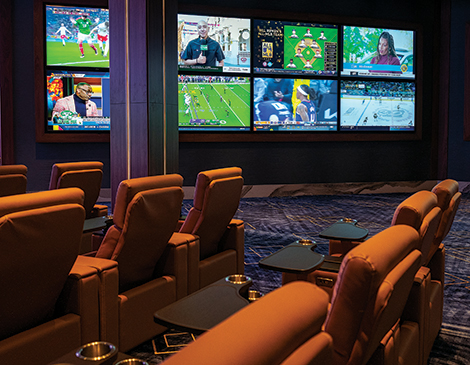 Of course, you won't be able to legally bet on everything in Ohio. You can bet on sporting events, but not, say, the Oscars. A lot of prop bets — such as an individual player's performance rather than the outcome of the game — will be off the table. And though it's popular on the black market, betting on high school games or any contest where more than half the participants are 18 or younger is prohibited.
But other than those few restrictions, gambling on sports is incredibly simple. Of course, you'll be able to pick a few games before heading to the blackjack table at Jack Casino, which just revealed a movie theater-style area to watch and bet on games. Many places with existing liquor licenses — including Hooley House and the Clevelander Bar downtown — are also permitted to have gambling kiosks, much like Keno machines in bars. Guardians, Cavs and Browns fans can look forward to putting a little money where their mouth is ahead of games at Progressive Field, Rocket Mortgage FieldHouse and FirstEnergy Stadium. And it truly doesn't get easier than the mobile apps offered by BetMGM and DraftKings.
If you're itching to get in the game but are not sure where to start, follow our guide to gambling in the state of Ohio. Oh, and good luck!
Betting In Person
BetRivers Sportsbook: Part of the multimillion-dollar Pro Football Hall of Fame Village project, the sportsbook sits in the Fan Engagement Zone, a plaza including Don Shula's Steakhouse and the Brew Kettle. 2626 Fulton Dr., Canton, betrivers.com
Jack Cleveland Casino: The Las Vegas experience comes to Cleveland at the downtown casino. Recliners and banquette booths let you lounge as you place live bets, play video and table games and watch all the action on a 35-foot wall of TVs. 100 Public Square, 216-297-4777, jackentertainment.com/cleveland
Jack Thistledown: Expect a similar experience to the casino but without the table games. 21501 Emery Road, North Randall, 216-662-8600, jackentertainment.com/thistledown
Mahoning Valley Race Course: The horse track that also offers slot machines partners with Barstool to offer in-person sports betting. 655 N. Canfield Niles Road, Youngstown, 877-788-3777, hollywoodmahoningvalley.com
Rocket Mortgage FieldHouse: Through a partnership with Caesar's Entertainment, the Cavs are on target to open a 10,000-square-foot sportsbook at the northwest corner of the arena, near Ontario Street and Huron Road. With a bar and lounge, the entertainment space plans to hold regular hours, in addition to being open on game days. 1 Center Court, Cleveland, 216-420-2000, rocketmortgagefieldhouse.com
Additional sportsbooks are being planned at the two other major league sports venues in Cleveland — FirstEnergy Stadium and Progressive Field — as well as Northfield Park. Expect them to open in 2023.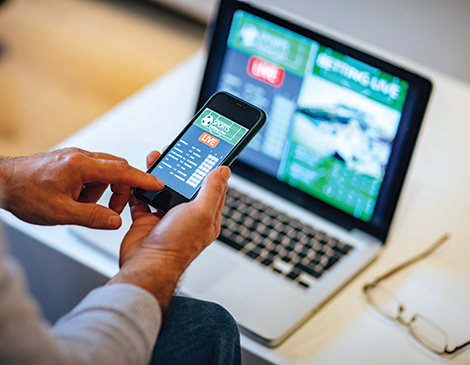 Mobile betting
The legalization of sports gambling also allows Ohioans to place bets with a variety of online sportsbooks, many affiliated with in-person betting sites. A few things to note. For one, odds may vary on the same game from site to site. Additionally, most apps and sites are linked to bank accounts or credit cards, so bettors are urged to use care with their phone access.
Betjack: Jack Casino's online component, the virtual sportsbook includes a "training camp" to help guide novice gamblers through what can seem like an onslaught of information.
betjack.com
Bally's: Currently available in five states, the Bally's app and site offer a series of "predictor" opportunities, with questions that can be bet on individually or as a parlay. ballybet.com
Barstool: The brash "Saturdays are For the Boys" media company has ventured into sports betting as well. (They're partnering with Mahoning Valley as well as Hollywood Casino in Toledo.) barstoolsportsbook.com
BetMGM: A one-stop shop for everything from in-game wagering to parlays — which are relatively easy to build on the app, compared to others. oh.betmgm.com
Caesar's entertainment: With the acquisition of the legendary William Hill sportsbook, Caesars has become a major player in online sports betting, with an easy interface and good (if high-priced) bonus offers. caesers.com
Draftkings: Already a popular daily fantasy sports site — where users can assemble a fantasy sports lineup for one game, instead of an entire season — DraftKings has already ventured into sports gambling in 14 other states. draftkings.com
Fanduel: Another daily fantasy sports site, FanDuel has one of the largest ranges of sports to bet on, from badminton to rugby. fanduel.com
Gambling glossary
Moneyline: A wager that is placed on who will win a game, with no point spread.
Point spread: A wager that considers a margin of victory. If the Browns are favored by seven points, that means that you are wagering that they will win the game by more than that margin. If they do that, it's known as covering the spread.
Pick'em: An instance where two teams playing are so closely matched, there is no point spread.
Bad beat: When an expected gambling win becomes a loss late in the game. Many bad beats are the result of a backdoor cover, which is when a late score by a team doesn't affect the final outcome of the game but makes a difference to gamblers who are betting with a point spread.
Favorite: Team that is predicted to win. Also sometimes called "the chalk." The team that isn't predicted to win is the underdog (dog for short).
Futures bet: A wager on a future event. For example, placing $20 on the Guardians to make the World Series during spring training.
Live betting: Betting on a game while that game is going on. Also called in-game betting or microbetting.
Over/under: A number that reflects the cumulative score of two teams in a game. If you're betting the over, you're betting the combined score will be more than that number. If you're betting the under, you think they'll score fewer.
Parlay: A wager that involves several games and outcomes, with cumulative results. If you bet on a three-game parlay for the Cavs, Pistons and Bulls, you're betting that all three teams will win.
Prop bet: A wager that isn't necessarily dependent on game action. They're popular during the Super Bowl. Examples: The coin flip result, the length of the national anthem, what team will score the first touchdown and what color the Gatorade dumped on the winning coach will be.
Safe betting
Betting can be a fun way to watch sports. It can also potentially be a dangerous addiction. Here are some tips to ensure that you bet safely.
Never bet more than you can afford to lose — and never chase your losses. "Chasing your losses" is a term for increasing the amount that you wager to recoup what you've already lost.
You're playing for entertainment, not
money. It's fun to have a little action on NFL Sunday, or play a pool for college football bowl games. But remember: You want to win. You shouldn't need to win for your own financial health.
Remember: You're going to lose sometimes. The outcome of sporting events combines skill, talent … and chance. Just like the ball doesn't bounce your favorite team's way sometimes, the ball won't always bounce your way as a bettor. A healthy relationship with losing means a healthy relationship with betting.
Not all gambling losses can be financial. You may not be betting more than you can afford to lose, but if gambling is taking over your life at the expense of your job and personal relationships, that still may be a sign you have a problem.
If you do develop a problem, don't be afraid to reach out for help — it's just a phone call away. The Ohio Problem Gambling Helpline, which connects players with counselors, can be reached at 1-800-589-9966.
Get ahead of the weekend by signing up for our free weekly "In the CLE" newsletter — your guide to fun throughout The Land. Arriving in your inbox every Wednesday, this weekend's to-do list fills you in on everything from concerts to museum exhibits — and more. Click here to subscribe.