If there was one takeaway from Firestone Country Club's presentation of the newly-opened BigShots Golf facility in Akron, it was that BigShots is not TopGolf — it's better. From our limited trial with this budding brand's premium driving range experience, this is true enough to warrant consideration of the extra hike South when compared to its spiritual predecessor's popular location in Independence.
Located just around the corner from Firestone's world-class courses, BigShots adds a casual option to a corner of Ohio's golfing ecosystem most known for featuring elite competition. While top golfers on the Senior Tour duke it out in the KauligCompanies Championship at the country club this July, weekend warriors and families alike can play a simulated version of Firestone's fabled South Course at a fraction of the standard cost.
"We're a private country club first, so this is a way to offer someone who may not have access to something like (the country club) the ability to come play at a facility where the PGA tour played," says Dale Davis, Director of Golf for Firestone Country Club.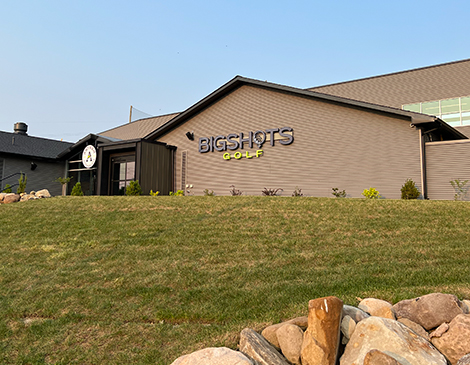 Compared to TopGolf, BigShots prides itself on its use of superior golf balls and TrackMan-assisted ball tracking systems, be it for a "closest to the pin" challenge, or a fully simulated round of golf, on the nation's most prominent courses. Where TopGolf features netted targets through which golf balls disappear, BigShets' targets resemble more a standard driving range: target zones here are brightly-colored circles with flags at their center.

During our trial, we found that the TrackMan technology was snappy and accurate, showing the exact ball flight we expected to see on the touch screens available just outside of the hitting area. The hitting zone features a sensor that automatically distributes a ball when the player takes the ready position and tee height can be adjusted to fit different-sized woods or to accommodate irons and hybrids.

Between shots, or for anybody without an interest in golf, BigShots' "Anthem Kitchen + Bar" restaurant features the standard bar-food fare, available through local take-out services. On this menu, special attention should be paid to its boneless Buffalo chicken wings, hand-breaded each morning, and Dirty Dr. Pepper cocktail.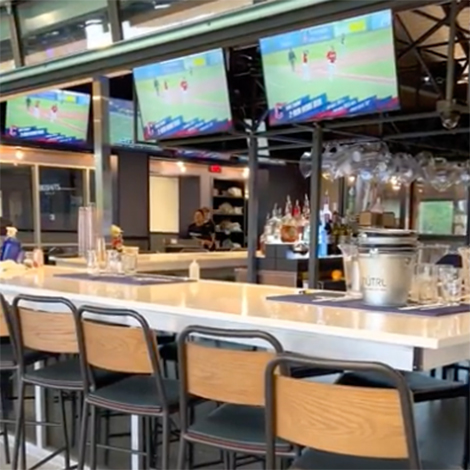 Perhaps the most compelling argument for opting to rent one of BigShots' 44 heated bays is its price point, where a single individual can rent a bay on a weekday evening for $11 per hour, compared to TopGolf's rate of $52 for the same span of time.
This pricing is closer to what one may have paid at Hackers Bar and Grill, the former driving range upon which this BigShots location was built, than to other premium simulator experiences — and it has helped to keep locals flocking back.

"Because this location was a driving range before, it does really well Monday through Thursday, because you have this base of golfers who have come here forever hitting balls," says TJ Schier, BigShots Golf's Chief Operation Officer.
Get ahead of the weekend by signing up for our free weekly "In the CLE" newsletter — your guide to fun throughout The Land. Arriving in your inbox every Wednesday, this weekend to-do list fills you in on everything from concerts to museum exhibits — and more. Click here to subscribe.