The Cleveland Crunch were a big part of Luciano Ruscitto's childhood. Now, he wants the same for the current generation of kids growing up.
"That starts with creating a family atmosphere," says Ruscitto. "We're at a level where you're picking between going to see a movie or going to a Crunch game on the weekend. It's a party, not a game."
Ruscitto was part of a group during the early days of the COVID-19 pandemic that brought the Crunch (and indoor soccer) back to Cleveland. (He now runs the team with his father, Lou, and his sister Andriana handling public relations.) Ruscitto says the group looked at bringing back the Cleveland Force name, but the legal issues prevented it. The Crunch, meanwhile, were available and still had a connection with Cleveland.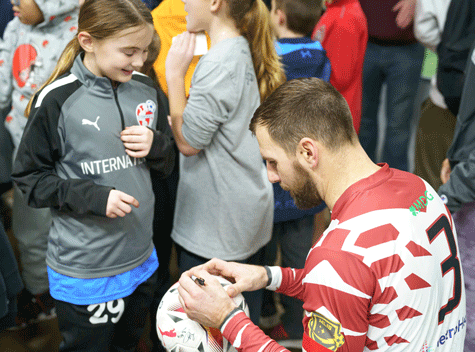 From the 1990s into the mid 2000s, the Crunch were a niche in the Cleveland sports scene with a dedicated fan base. Led by stars Zoran Karic, Hector Mariano and Otto Orf, the team played for over a decade at the Cleveland State Convention Center. The Crunch were winners, too — securing three National Professional Soccer League titles in the mid 1990s. The team, and indoor soccer in Cleveland with it, folded in 2005.
That's where the efforts to bring the Crunch back begin for Ruscitto. He wanted involvement with indoor soccer — a sport he calls a cross between normal soccer and hockey — because of how dynamic it is. In a normal, outdoor soccer game action isn't guaranteed. Goals and dynamic play can be limited as teams focus more on possession and controlling the flow of the game. Indoor soccer doesn't have inaction in its DNA — shots come early and often.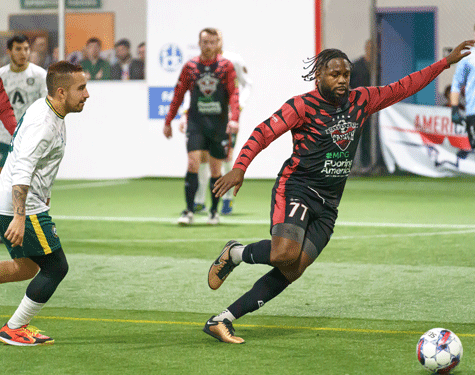 "The games are high scoring," Ruscitto says. "The ball rarely goes out or stops play. The guys are checking each other into the boards and it's just high-flying with a lot going on."
The Crunch are scoring 9.9 goals per game on average. Four players — Admir Suljevic, David Jordan, Ryan Minic and Tom Beck — have 10-plus goals this season.
"We have really special talent," Ruscitto says. "Admir is having a great season. He has 17 goals and 18 assists this year, and he's been doing this for three years now. We have guys like that putting up video game numbers."
Since returning, the Crunch have been winners. In their first year, they won a title playing in Major Arena Soccer League 2. In year two, they lost in the championship game. For year three, the team moved to Major League Indoor Soccer. With two regular games to go — one on March 18, one on March 19, both at home — the Crunch are in the playoff hunt and have a chance to make a title run.
"[Winning] provides legitimacy," Ruscitto says. "They aren't just out there supporting because they are the Cleveland faithful or because it's the Crunch. We actually win games. And winning sells. It's fed into us getting a bigger fanbase and newer fans because fans coming to the game are expecting to see a win."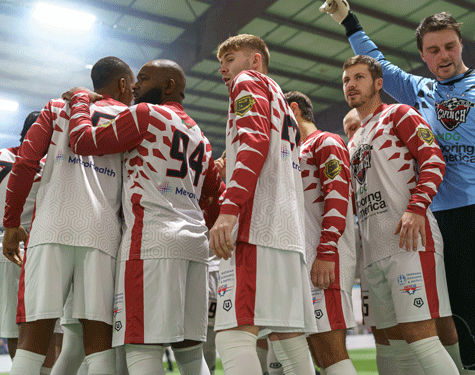 It's a good time to build a futbol fan base around a winner, too. In November, MLS Next Pro, a developmental outdoor league for the United States' main professional soccer organization, announced that it would launch a new team Cleveland. That yet-to-be-named club, which plans to kickoff in 2025, is sure to have Cleveland's soccer abuzz.
"It's one of the motives for bringing it back — creating an environment where youth soccer players can have that connection and interpersonal relationship you can't get at a large sporting event," says Ruscitto.
Attendance has grown, he says. This year, they played a few sold out games at the IX Center, but have played most of the season at the Soccer Sportplex in North Olmsted. At the Sportsplex, he says, they can seat up to 600 fans. For next year, he says the team is looking for a bigger, more permanent home — one that accommodates a growing fan base.
"It's our No. 1 priority in the offseason because we have outgrown the space we are in, selling over 500 tickets a game and packing people in there as much as we can," Ruscitto says. "The IX Center proved to ourselves that we could go further than that. The next step is expanding and continuing to grow and doing it the right way."
Get ahead of the weekend by signing up for our free weekly "In the CLE" newsletter — your guide to fun throughout The Land. Arriving in your inbox every Wednesday, this weekend to-do list fills you in on everything from concerts to museum exhibits — and more. Click here to subscribe.