Clevelanders still might not be ready to relive The Decision, but 10 years after LeBron James uttered the infamous words "This fall, I'm going to take my talents to South Beach" on July 8, 2010, ESPN is reexamining one of the most scrutinized moments in sports television history in this Sunday's episode of Backstory: The Decision.

The 50-minute documentary, which airs June 28 at 9 p.m. on ESPN, examines the months, weeks and days leading up to the show's airing through interviews from Cleveland-native and author Scott Raab, former ESPN president John Skipper, ESPN executive Vince Doria and ESPN hosts Michael Wilbon, Bomani Jones and Chris Broussard.



In front of an audience of more than 10 million TV viewers, James fidgets in his chair as host Jim Gray asks 28 minutes of mostly inconsequential questions. Now a fashion icon, the NBA superstar wore an ill-fitting checkered button-up with an undershirt sticking out. Now an orator whose every word is impactful, the 25-year-old star stumbles over his words and delivers responses that lack substance. The production was hurried, disorganized and as unscripted as it appeared. Few in the crowd at the Boys and Girls Club of Greenwich, Conn., a crowd which included stars such as Kanye West, even clapped or cheered.

"I winced," says Buzz Bissinger, a Pulitzer Prize-winning journalist who wrote two books on LeBron James. "You're watching one of those indelible moments in sports where it is a live trainwreck."

Produced by James and Maverick Carter, James' childhood friend and longtime business partner, The Decision was an unprecedented moment in television news. ESPN was criticized for trading a free hour of primetime television to an athlete, his brand partners and to the interviewer of James' choice in exchange for an exclusive. Many feared James, who began preparing just hours before the show, would bow out.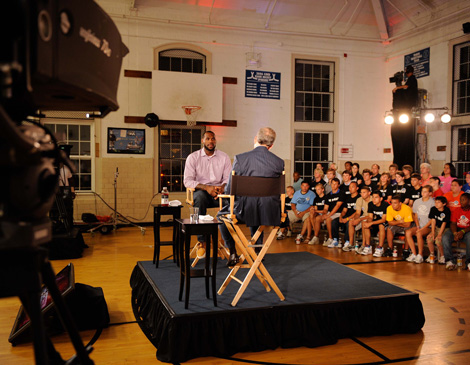 Furthermore, no one in James' camp accurately predicted the vitriol the basketball superstar would face from his decision. The production, which raised $2 million for the Boys and Girls Club of America, was supposed to make James a hero and a superstar. Instead, it made him a villain.

"If you're going to make a decision, make a decision. If you're going to raise money for charity, respect," says Raab. "But all of that was steamrolled and buried and what was left was the stench of someone taking another huge dump on a city that I still love very much. It's reinforced to the general public and to Clevelanders that sense that we are losers from loserville, and it was never anything but that and it never will be."

But watching as a Clevelander, the moments that follow The Decision are difficult and uncomfortable to watch, especially with the 2020 hindsight of knowing James would eventually return to Cleveland and win the city a championship. Though fans were justified in feeling strongly in the moment, the images of burning jerseys, the disparaging remarks and middle fingers toward a 25-year-old athlete on live TV now feel gross.

But those embarrassing images are quickly overshadowed by Dan Gilbert's famous comic sans letter, in which he calls James the "so-called king." As the nation yet-again reckons with its racist past and present, Gilbert's letter is reminiscent of a white man discussing his "runaway slave," says Broussard in the documentary. The moment highlights the on-going power struggle between the mostly black professional athletes and the mostly white owners of sports teams.

"[White America] didn't want to see [James] controlling this," says Wilbon. "It goes back to that plantation mentality. You can't start anything and go down a different path and be independent."

In retrospect, Carter and James' production of The Decision, as poorly executed as it was, is ground zero for the media empire the duo continues to build today through multimedia production companies Uninterrupted, which nods to The Decision in its name, and SpringHill Entertainment, which just this week raised $100 million in funding for a new venture.

"Despite all the criticism that LeBron James and ESPN received, the one-hour show had a far-reaching impact on LeBron and his inner circle while beginning a trend of star athletes telling their own stories through their own media and production companies," said Don Van Natta Jr., the three-time Pulitzer Prize-winning investigative reporter who is the featured reporter for the periodic Sunday show. "LeBron's experience on The Decision was the launching pad for his own shows sold to multiple networks and helped him sharpen his voice on a wide array of important issues beyond the basketball court."

Not only did The Decision launch James' foray into the media world, his move to Miami and the unnatural way it was orchestrated by the athletes instead of the executives forever shook the power structure of modern sports. To this day, the show is the highest-rated studio show in ESPN history.

"As bad as it was, it was a total innovation," said Carter in a commencement speech to the students of USC Annenberg. "I thought I destroyed LeBron's image and totally failed my best friend's career. But under all that criticism, it became totally clear that the athletes should be in power."

More Info: Backstory: The Decision airs June 28 at 9 p.m. on ESPN. You can catch it again at 11 p.m. on ESPN2 and on-demand on the ESPN app or ESPN+.