Zack Meisel's first sports-related memory is watching Game 6 of the 1995 World Series, which the Atlanta Braves won over the Cleveland Indians 1-0 to clinch the championship. Some details are vivid — he was with his grandmother, and the living room was dimly lit. Others are fuzzy.

"It wasn't even her house," says Meisel, who covers the Tribe for The Athletic. "I think it was a friend's house."

Meisel grew up with the team and its big personalities, from Albert Belle and Carlos Baerga to Manny Ramirez, Kenny Lofton and Omar Vizquel, as it continued to contend through the '90s, always coming up just short.

"Every year, they're really good," he says, "and they go to the playoffs, and they have a chance to win the World Series. Little did I know that the team had been dreadful for 40 years."

Meisel's new book, Cleveland Rocked: The Personalities, Sluggers, and Magic of the 1995 Indians ($28, Triumph Books), examines the team that embedded itself in his memories as a 6-year-old, and thrilled a city with the home runs, come-from-behind wins and one of the team's most successful regular seasons ever. We caught up with Meisel ahead of the book's May 12 release to talk about why he wrote it, the 1989 trade that setup the team's success and more.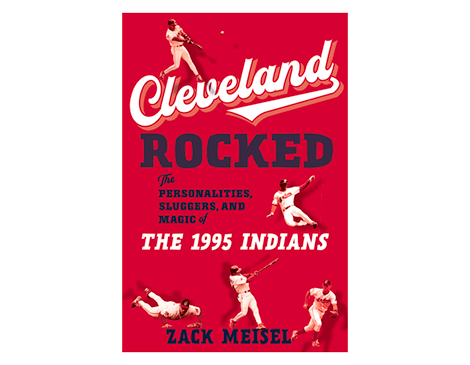 Q: Why did you want to write this book?
A: I've gotten to know a lot of the players and coaches and front office people involved with that '95 team, just because a lot of them are still around. Some of them still work for the Indians in some capacity. They come back during the summer for a weekend, or they have these reunions. I've heard so many stories. … It's the 25-year anniversary now, and I know enough of these guys pretty well. And I thought — just from my perspective of this was my introduction to the sport that would become such a huge part of my life — it just seemed like the perfect fit.

Q: How did the 1989 Joe Carter trade setup what happened in the '90s?
A: That was their first commitment to identify prospects and build a group. They finally committed by trading Joe Carter and getting back Carlos Baerga and Sandy Alomar Jr. It was something that certainly worked because Sandy Alomar came up in the next year. He was the Rookie of the Year. Carlos Baerga, I think in '92 was his first really good year. So, you could start to see the foundation.

Q: How did the team make it work with so many personalities?
A: It goes back to the [strike-shortened] '94 season. They got a taste of [success]. You have all those personalities where you have like different cliques in the clubhouse. Some guys are listening to salsa music, and you can't even hear yourself think. Albert Belle, you're just trying to stay out of his way. Kenny Lofton has tons of personality and flair or Omar Vizquel is dancing. Manny Ramirez is asking people for loans even though he has uncashed checks in his locker. But even with all of that, because they were all on this mission, and they all had this common goal. It was like once it got to game time, all that goes away.

Q: Who were some of that team's unsung heroes?
A: There were guys who I think the common fan probably doesn't even recognize the name of: Wayne Kirby or Alvaro Espinoza. Those two guys were key. If you ask anybody on that team who kept order in the dugout or in the clubhouse, it was those guys. So it was just like the perfect blend of young, arrogant, talented core players with complimentary veteran pieces.