Brad Hamilton ('14)
Respected leadership and influential teachers helped shape a rewarding career pathway for Brad Hamilton. In August, he joined Fox 8 as a news reporter, after spending time at the Madison, Wisconsin, CBS affiliate.
"We have so much pride in Avon Lake, and I've moved to different parts of the country and the community really is a one-of-a-kind place," he says.
Dialing back to his Avon Lake days, Hamilton credits teachers Kevin Fitch and Matt Perry at Learwood Middle School and Jeff Stratton at the high school for helping him succeed.
Throughout school, Hamilton played baseball — and he moved on to Kent State University, where he studied journalism and played his favorite sport, a love he shares with his father, Tom Hamilton, known as the chief radio play-by-play announcer for the Cleveland Guardians.
"I've always enjoyed talking with people — communicating," Hamilton says of his interests in English and history, which he relies on daily in his line of work.
Tani López ('10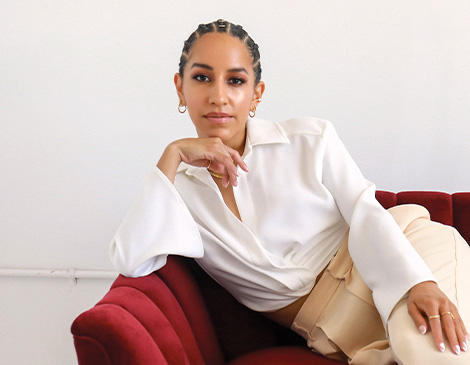 Tani López is the founder and CEO of her marketing agency, TANIcollective. As a social media consultant and coach with an international reach (she has lived in New York City, Miami, South Africa, Spain and Portugal), López leverages her remote online business as a way to experience different cultures.
"I have the freedom to work from anywhere in the world, and I get to help people from all over," says López, who moved to Avon Lake with her family when she was 10 years old. Her father, Kiko López, was the soccer coach for the ALHS varsity girls program and was the soccer coach and technical director for the Avon Lake Soccer Organization. Today he trains kids and offers consulting to local soccer coaches through his business, Kiko's Dribbling Soccer School, established in 1980.
López launched TANIcollective in 2016 after working in digital media and studying at The Ohio State University. She started growing her business at home in Avon Lake, taking on local clients, including Peace, Love & Little Donuts and Kiko's Dribbling. She had experience working with Nike, L'ORÉAL, celebrities, fashion brands and high-end restaurants in Miami, Florida, and continued building her portfolio while growing her online business.
López thinks back to her time at Avon Lake High School, recalling how she was a natural connector who was either instant messaging or actively exploring the social platforms of the time. "I was that kid in class who always liked to communicate," she quips.
She participated in Spanish Club, played soccer and loved helping her dad coach kids through the summer foot skills camps. "My mother and father chose Avon Lake to live because they knew my sisters and I would get a good education, would be safe and be prepared to go to college," she says.
Douglas Puskas ('11)

Douglas Puskas is living his dream — and it started in the Avon Lake High School drama department, where he was a student leader passionate about set design and production. "The skills I learned then are still what I use the most today," says Puskas, who went on to earn a bachelor of fine arts degree in scenic design from the Cincinnati Conservatory of Music.
Puskas' first big break on Broadway was Mean Girls. "I got to see the show go from words on a page to a workshop, then out-of-town tryouts in Washington, D.C., and back to rehearsal in New York City — and then the Broadway production," he relates. "I knew I wanted to travel, so I joined the national tour of The King and I and we played 52 cities in a year and a half."
Puskas moved on to Jurassic World Live Tour, a stunt show featuring a 53-foot dinosaur that had to be assembled, disassembled and shipped across the country. Now, he's back on the road with Ain't Too Proud, which is booking into 2024 "with no end in sight," he says.
So far, Puskas has been involved in productions at five of the seven Playhouse Square theaters. Also notable, in 2021, he worked on the HBO series Euphoria, which won an Emmy.
When he's working on Broadway productions, he's a "shopper" running into fabric stores for swatches. "I am picking up props and items, so having knowledge of a city is really important," he says.
Amy Ringholz ('95)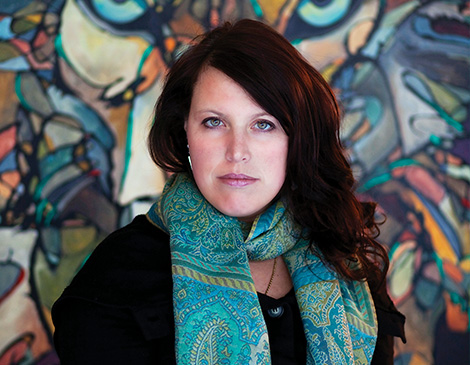 Amy Ringholz's gallery and studio in Jackson Hole, Wyoming, is an inspiring showcase of her contemporary wildlife paintings. She is committed to sharing her love of art.
"My education in Avon Lake was superior, and I had teachers who cared about me and encouraged me to go forward," Ringholz says. "That base and grounding of who I was built to be, my character-building, happened in Avon Lake and has taken me through life to help me achieve and succeed in whatever my heart has dreamed of."
When Ringholz was a junior, she entered the Scholastic Art countywide competition and won 16th place. Her senior year she came in first. "That gave me direction and the permission to go into the arts," she says. She attended Bowling Green State University, studying Fine Art and Art Education, upon her parent's request. "I was dying to make it as an artist before going into education so I moved to Jackson Hole at age 24 and worked around the clock for 20 years," she relates.
She launched the RASA scholarship — the Ringholz Art Supply Award, a $1,000 gift for a high school student pursuing an art degree. She awards 10 per year, and one to an Avon Lake High School student.