As people return to their offices after working from home, businesses are findings creative ways to get employees reacquainted.
Almost nothing will stop Sarah Lang, director of contracts and associate general counsel at ALL Erection & Crane Rental Corp., and her colleagues, Marcie Foley, administrative assistant, Tiffany Rimac, assistant general counsel, and Thomas
Ruszkiewicz, accounts payable manager, from taking their 40-minute walk along Oak Tree Boulevard at lunchtime. "Independence has been great about landscaping the boulevard, filling it with benches and hanging baskets of seasonal flowers and keeping the sidewalks in good shape," Lang says. "As a result, we meet many people from other businesses who have the same idea we do about using their lunch break to exercise."
An avid runner, Foley launched the walking club five years ago. "Our jobs can be pretty sedentary," she says. "We decided it would be nice to get out, stretch our legs and start moving.
"It gives us the chance to chat and get know each other better," she adds.
Food Fete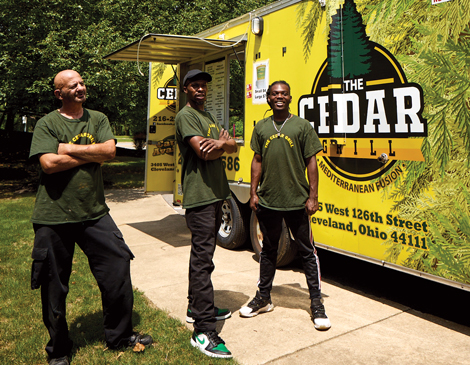 Colleen Foster, manager of the Independence Corporate Center owned by franchising and technology firm Merrymeeting Group, has made it her mission to provide a once-a-week smorgasbord of culinary favorites for the building's tenants.
On Food Truck Thursdays, which take place April through November from 11:30 a.m. to 1:30 p.m., the food truck she's scheduled for the week pulls into the corporate center's East Pleasant Valley parking lot to offer lunch.
"This is a no-budget operation," Foster says with a laugh. "We don't pay the trucks to be here, and they don't pay us to be here. They participate because it's good for their business."
Foster maintains a spreadsheet of more than a dozen food trucks that have signed on to rotate visits throughout the year, and she posts menus from the one that'll be in attendance during the upcoming week. On average, trucks serve 70 to 90 meals during their visits.
Foster also invites employees who work in neighboring buildings. "It's a great way to meet people who work nearby," she says.