North Ridge Sports Complex
Devotees of tennis, pickleball and indoor golf find everything they need to perfect their technique at North Ridge Sports Complex.
Following a devastating fire in 2020, new owner Michael Boukzam purchased and rebuilt the complex to create a family-friendly environment for athletes of all ages and skill levels. It includes indoor golf simulators, five indoor tennis courts and 10 indoor pickleball courts. A staff of 20 welcomes members and guests to ensure they'll have a good time on and off the court.
"One of our biggest luxuries is our comfortable lounges," Boukzam says. "Court cameras display the action on five large TV monitors in the upper lounge so you don't miss a play. In addition to our three lounges, we have an outdoor covered patio featuring more entertainment, as well as a Weber grill that our guests can use after they play. It's the ideal spot to socialize with team mates and loved ones."
NR Racket & Paddle, 5475 Mills Creek Lane, 440-327-2114, NRrackets.com; NR Indoor Golf, 5495 Mills Creek Lane, 440-327-8860, NRindoorgolf.com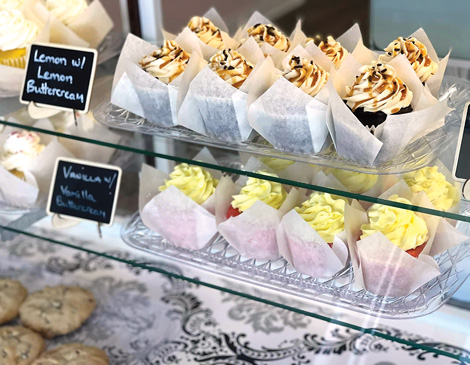 The Treat Shoppe & Bakery
Imagine a place where your sweetest wish is fulfilled. That's the irresistible world Lisa Uhrina and her husband, Mark, have created at The Treat
Shoppe & Bakery, the luscious emporium that opened in April. Uhrina credits her grandmother with perfecting the recipe for the scones her customers love, and her mother for teaching her the fine art of chocolate making. A third-generation chocolatier and proud owner of 4,000 chocolate molds, Uhrina readily shares her artistry with customers — especially when it comes to creating personalized orders to mark life's milestones.
"I love working with people to help make their vision come true, whether it's designing a dessert table for a baby shower, or helping a bride choose a cookie as a favor for wedding guests that's iced in colors to match her big day," she says. "My heart lies in wanting to make special moments even more special."
The shop itself is a labor of love. Determined to create an old-fashioned ambiance, the couple acquired and restored antique display cases that once graced a bakery in Sandusky. They also installed cozy booths for intimate seating.
"As Mark and I were looking at places to open our business, we were immediately drawn to North Ridgeville," Uhrina says. "The city is making great economic development strides, and we want to be a part of it. Best of all, the town is so welcoming to small businesses."
35522 Center Ridge Road, 440-732-1391, thetreatshoppeandbakery.com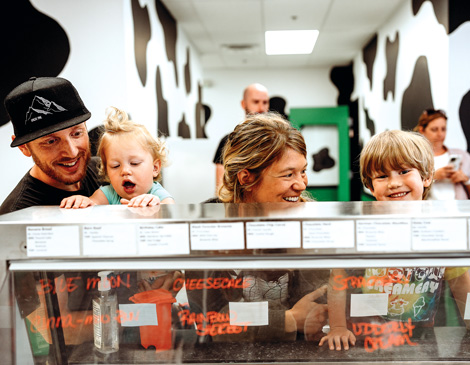 Mootown Creamery
In her role as CEO of A Christmas Story House & Museum, Angela Brooks spent 11 years spreading tidings of comfort and joy to fans who made the pilgrimage to the beloved Cleveland landmark. When it came to choose a new career path, Brooks, a North Ridgeville High School alum, knew she wanted to continue sharing happiness in a business that would be all her own and located in a place she loves.
In 2017, Brooks purchased Mootown Creamery in Berea from its previous owner. When it came time to expand, North Ridgeville beckoned. In July, Mootown Creamery opened its doors in North Ridgeville.
"My landlord in Berea mentioned that a spot near Giant Eagle had opened up, and it would be an ideal location," she says. "He was right. It's perfect."
Along with 24 mouthwatering flavors, including dairy-free and vegan options that can be enjoyed in custom sundaes, ice cream cakes, milkshakes and malts, Mootown also offers an array of 75 mix-ins and toppings.
Brooks is dedicated to making her creamery a place where everyone is welcome. She serves as a mentor to the teens who work at the store and is committed to making their jobs enjoyable and judgment-free.
"For many of these kids, this is their first work experience, and I want to make it a positive one," she says. "It's really important to me that I create an environment conducive to learning, where they can try new things and make mistakes without fear."
34259 Center Ridge Road, 440-353-1673, mootowncreamery.com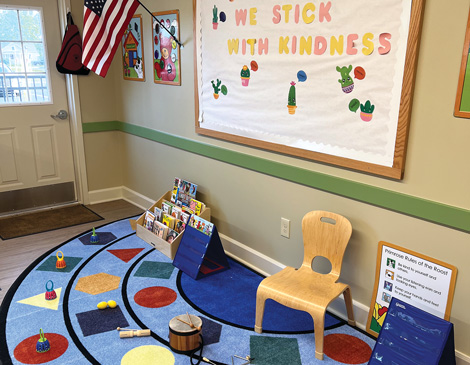 Primrose School of North Ridgeville
Divya Singh and her husband, Jai, have three daughters between 6 and 12 years old. They understand the anxiety that can occur when it comes to finding quality day care for children.
"It's important to choose a place where loved ones know their children are happy, safe, secure and — more than anything — enjoying their day," says Singh, an occupational therapist and owner of Primrose School of North Ridgeville. She handles the day-to-day operations and works closely with parents, children and staff. Her husband plays an active role in supporting the new school, while continuing his
career in technology sales.
Offering a Balanced Learning curriculum for kids 6 weeks to 6 years of age, Primrose centers on children's cognitive, social and emotional well-being, accompanied by purposeful play and character development. The school, which opened in February, offers part-time and full-time day care, as well as before- and after-school activities for children ages 12 and under. A private kindergarten program will begin in fall 2023.
Currently, 18 staff members are based at Primrose North Ridgeville to care for the 60 children registered there. The waiting list has grown to 120, and Singh expects staff size to increase as well.
"North Ridgeville is booming with new families, young families and working parents who embrace all the city offers," she says. "We're looking forward to providing and sharing the quality of care we've made sure our own children experience."
32121 Cook Road, 440-941-2567, primroseschools.com
Young Explorers Montessori of North Ridgeville
Will and Rita Scott are helping today's children chart their own course at Young Explorers Montessori of North Ridgeville. The couple, who launched their first Young Explorers school in Aurora 20 years ago, opened their fifth location in North Ridgeville in June.
"We started noticing that dozens of families from North Ridgeville were coming to our Avon location," Scott says. "We wanted to do all we could to help residents find the child care they were looking for right in their own hometown."
In addition to infant day care and preschool offerings, the school also hosts an after-school club filled with language, math and science activities tailor-made to participants' ages and interests. STREAM (science, technology, religion, engineering, art and math) curriculum includes music and dance classes that culminate in performances for family members and friends. The Scotts embrace the Montessori philosophy that makes Young Explorers a place where children ages 6 weeks to 12 years old are "happy to learn and feel the love."
"We build the classroom community through grace and courtesy to all, a key Montessori value," she says, adding that at Young Explorers, "children build confidence, leadership and
eagles to soar."
The North Ridgeville school's staff of 24 are devoted to the individualized attention they give each of the 40 children in attendance. Scott expects that enrollment to increase this school year.
"The world's creative elites use the Montessori method for their children," she says. "It's absolutely the best way to foster a love of lifelong learning."
36516 Center Ridge Road, 440-309-1782, yeschools.com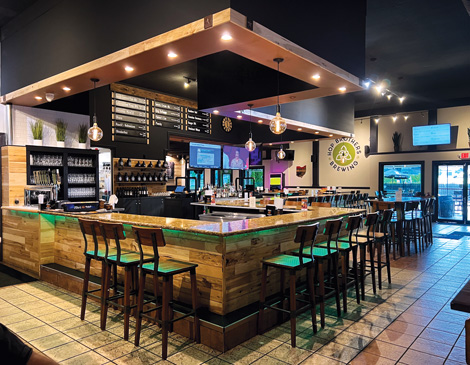 Hop Brothers Brewing
Family-owned Hop Brothers Brewing was founded in October 2021 with one mission in mind: "To bring great craft brews and tasty eats to North Ridgeville."
Their talented group of more than 30 teammates does not disappoint and feels fortunate that the community has welcomed them so warmly.
Amid a rustic, industrial vibe, Hop Brothers brews on-site and always has a dozen beers on tap. Flights are popular among patrons who want to sample a variety of brews, and customers can purchase growlers and howlers to go. And unlike many others, this microbrewery also offers a full bar and a variety of popular national beer brands.
The accompanying menu offers a generous selection of appetizers, including beer cheese fries, pickle chips and Bavarian pretzels, as well as burgers, dinner entrees, salads, soups, wings, pizza and daily specials.
With a dog-friendly outdoor patio and expansive indoor and outdoor bars, Hop Brothers has become a gathering place for locals, out-of-towners and well-mannered four-legged friends. Locally owned and family-friendly, Hop Brothers is a much-needed addition to a rapidly growing community with few sit-down dining options.
32650 Lorain Road, 440-281-9353, hopbrothersbrewing.com