Bennett Hickey Floral Design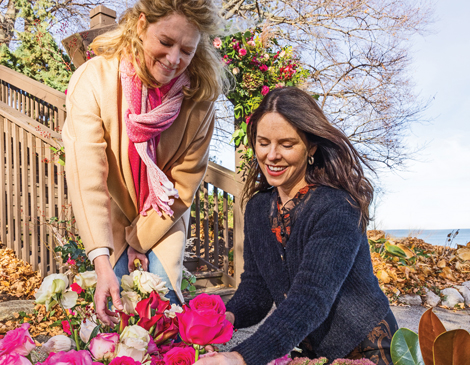 Since 1985, customers have relied on Maison Maison interior design shop to furnish the home-decor look of their dreams. Those touches of elegance now include the fresh flower arrangements that Bennett Hickey Floral Design has quickly earned a reputation for.
"What we carry is very different from what most people are used to," says Christy Bennett, who launched the business inside the store in July with co-owner Beth Hickey. "The quality and size of our blooms have resulted in customers coming back two weeks later to tell us the flowers they purchased here are still fresh."
Friends since their kids were kindergarteners in the Rocky River School District, the duo painstakingly hand-select blooms to create personalized arrangements tailor-made for milestone family celebrations and corporate gifts. Customers can also purchase hand-tied bouquets and build their own arrangements at home in their favorite vase. Subscription packages are available for regularly scheduled delivery to Cleveland-area homes and offices.
The selection changes weekly and seasonally. Popular varieties include tulips imported from Holland, dahlias, ranunculus, anemones and hydrangeas.
"It's important to us that quality be in every bloom we sell," Bennett says. "Flowers are an expensive, luxury item. You don't want to give the gift of flowers and have them not last in someone's home."
Bennett and Hickey also use their talents to beautify the city they love by installing what they call Belle Surprise floral arrangements on archways and benches throughout the community.
"Our shop is truly a garden-style floral shop," Hickey says. "We love mixing colors — that's our signature style."
19126 Old Detroit Road, 216-399-7011, bennetthickey.com
River Plant Co.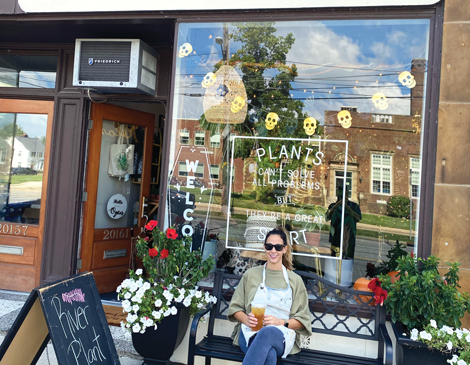 "It's never too late to start the day over." For Jennifer Hihn, founder and CEO of River Plant Co., that personal belief is one that customers quickly embrace upon entering her emporium filled with what she calls "happy, local house plants" ready to head to good homes.
Hihn, a potter who opened the shop in August 2020, carries myriad varieties ranging from philodendron, snake and ZZ plants that are easy to maintain, to more exotic Bird of Paradise, dracaena, ficus and String of Pearls. Selections change with the seasons and, during the holidays, include Christmas cacti and poinsettias.
"I'm an avid shopper who doesn't want to go into a store and see the same sweater on the rack week after week," she says. "So I take pride in finding new and different plants to feature so my customers will never be bored."
River Plant Co. also doubles as a one-stop gift shop, carrying items that include candles, tea towels and Hihn's handmade pots. As a way to give back to the community she loves, the proprietor also hosts Small Business Saturday pop-ups, that highlight a different local business each week.
"People are amazed when they walk in the door," Hihn says. "I've heard comments that range from 'This is heaven' to 'This is so beautiful, I want to live here.' That makes my day and the work I do all worthwhile."
20161 Lake Road, 440-857-0707, riverplantco.com
Beach Cliff Garden Club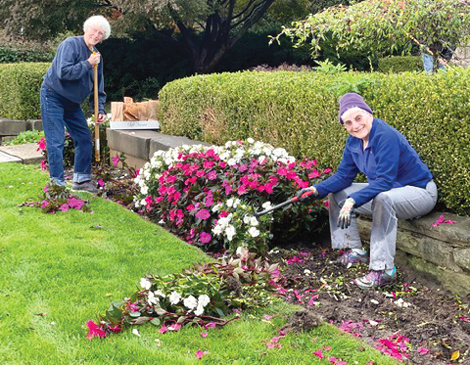 For almost a century, beauty has abounded in Rocky River, and the 55 members comprising Beach Cliff Garden Club are dedicated to ensuring that ambiance continues. They can be found planting seasonal flowers while sprucing up the garden that graces the base of the city's iconic clock tower, and hosting flower shows throughout the city.
But, as club president Michelle Cox — who's been a member since 1995 — explains, there's so much more to the organization's mission.
"Of course, we like to follow in the footsteps of the women who founded the club in April 1929 and create beauty with flowers and gardens. But what we really cherish are the educational opportunities we sponsor that lead participants to develop earth-friendly habits."
They include monthly meetings at Rocky River Memorial Hall focusing on ways to create environmentally friendly tablescapes and donating books about gardening and flowers to the library.
"Community outreach is a key component of what we do, too," Cox says.
Members teach Rocky River students about horticulture by planting flowers with them at their school. The club also received an award from the Garden Club of Ohio for the butterfly garden that members created at the Rocky River Public Library in 2021.
"If you love flowers and gardening, the club is a wonderful community to be part of," Cox says. "We like to say we sow the seeds of friendship around a common interest. Some of us love gardening, some of us are more analytical about the process, others are into flower arranging and landscaping. No matter the interest, we all learn from each other."
A Fond Farewell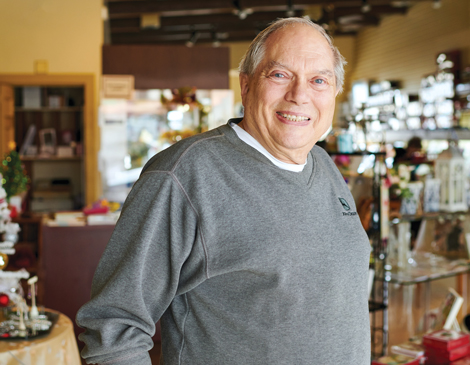 Jan Dell Flowers has been one of Rocky River's most iconic and beloved businesses for as long as most people can remember.
"I love living and working in this community," says owner Jim Lewis, whose parents, Jane and Bob, purchased the shop from the previous owner in 1945. "We're very tightknit. Everything is always just right in Rocky River — right down to the city services."
Generations of families have relied on Lewis and his team to create and deliver exquisite bouquets and arrangements for special occasions. Residents have also appreciated Jan Dell's timely and thoughtful delivery to Lakewood Park Cemetery for placement of flowers on gravesites.
But in 2022, at age 74, Lewis made the difficult decision to retire and close Jan Dell Flowers at the end of December. It wasn't a decision he took lightly.
"Over the years, we've gotten to know exactly what our customers are looking for," he says. "We've been here so long, they're like family to us."
And customers will certainly miss that personal touch.
"Rocky River is lucky to have been home to Jan Dell Flowers for so many years," says Mayor Pamela Bobst. "The business will be sorely missed, but we'd like to thank Jim and his team for their years of dedication to our community. We wish them all the best."