It was clear from the beginning of my conversation with Layr Official's co-founder and creative director Ed "Smallz" Givens that he was in the thick of preparation mania.
The prep work in question was for the premier fashion label's first annual summer show, justly titled "A Layr Vibe," with surprise last-minute troubleshooting at the forefront.
"Unfortunately we had a thunderstorm, so we've had to salvage and prep a little bit more in order to be ready to go this week."
I remembered learning through their Instagram feed a few days prior that the show and corresponding after-party had been rescheduled away from its original July 20 date due to, "inclement weather and conditions out of our hands," read a post published Tuesday of last week.
The new date was set for Thursday, July 27.
"It was a setback, but it kind of put us in a better place preparation-wise … just a lot of cosmetic redoing. We'll be okay," Givens says, as much to me as to himself.
Taking a beat from on-site maintenance, he assured me that he had plenty of time for a phone call. In other words, no need to rush through questions, we're off the clock.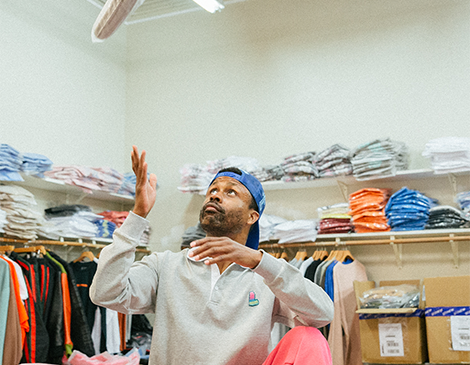 (Photo courtesy Layr/Chris Walter)

"It's titled 'A Layr Re-vibe.' I'd love to know what that means to you and to the Layr brand—," I say, but before I could round out my sentence, Givens chuckles, "Oh, no that's actually just the secondary marketing because everyone was anticipating the show to come earlier. We're just [colloquially] calling this [re-vibe] as a cool way of saying, 'Hey, we're coming back this Thursday. Officially, it's really just a vibe, 'A Layr Vibe.'"
The meaning, he notes, stays the same regardless of the cheeky, on-the-fly promotional additions. "It's a vibe of culture, both fashion and the Layr brand itself. It's an expose of our current collection, as well as some of our upcoming work and collaborations. Really, the fashion piece is just a vessel for bringing people together. I feel like we have five of the best DJs— not only in the city and state but in the country. They'll be curating music before and after the show, and we'll just be blending a lot of different layers of culture and a lot of different people with different dynamics and backgrounds. We'll be celebrating our brand, community and Cleveland, in general."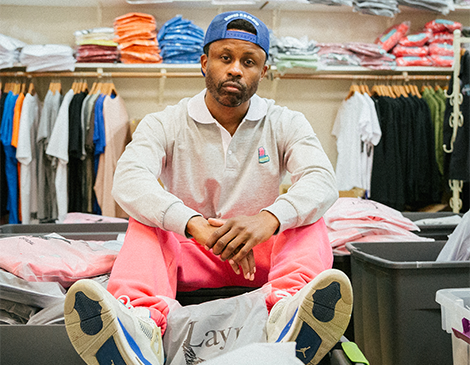 (Photo courtesy Layr/Chris Walter)

He adds further, "I think this kind of event has been lacking from our area for a while."
This, Givens knows. He's been in the event business for over 20 years in the city, championing the culturally empowering spirit from the ground up. "I had a company called EIGHTY81 where we did lifestyle events. It was myself, Rich Paul, Kelton Crenshaw, Jameel Davis, known as DJ Meel, and DJ Steph Floss. We did a bunch of parties; our own, as well as for local athletes and the 'who's who' of Cleveland. From there it grew to the 'who's who' from out of the city, the Virgil Ablohs to the Meek Mills, people that we respected—our peers, that would come in for concerts or a game just to hang out with us because of the vibes that we had; the blended music, the blended fashion and the blended culture."
"It was kind of a star-studded situation in Cleveland and we owe a lot of it to LeBron and what he was able to do to start that fire. To bring these opportunities to myself and our whole crew that we were able to run with. It was a great situation."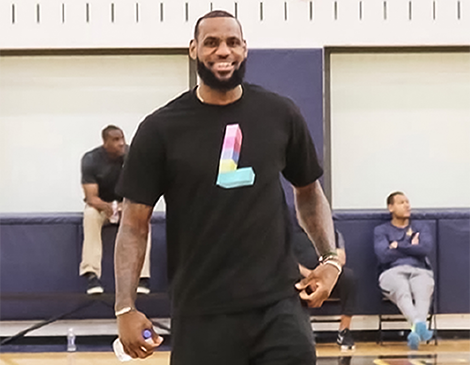 (Photo courtesy Layr/Chris Walter)

As time went on, the dynamic team gradually spread out to focus on individual pursuits. "Rich was already a part of LeBron's core when it came to business, and he started his own agency among a lot of other things. Kelton Crenshaw became a lawyer and now he's a top NFL agent at Klutch Sports, and DJ Meel moved to Los Angeles where he's the who's who guy over there. He does all of LeBron's parties for Uninterrupted and SpringHill, as well as all of the Lakers events. Steph Floss, as we all know, is Mr. Cleveland."
As for Givens, he had a successful run with the well-known brand TACKMA, which he started alongside Jeffrey Schottenstein and Danny Victor, and pursued a music career that caught local attention. After an amicable parting of ways in 2016, Givens left his role as creative director of TACKMA to repurpose and refine his skills, pushing the boundaries for what he, and perhaps others, thought he could do.
It was later in 2017 when the vision ultimately came through. That vision was Layr.
"I wanted to start small in order to organically create something that felt like me. I have a partner from Akron by the name of Lavert Finney, and we founded the brand on this idea of being able to layer your aesthetic. From a fashion component, I feel like there's infinite layers to how people can express themselves whether it's the actual garments, how you choose to wear them, or even the colors you see. In life, everybody has their own layer of individuality and a life that's all their own. That's what the brand is, and where the name comes from."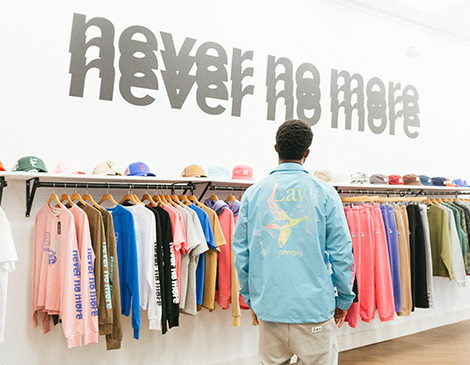 (Photo courtesy Layr/Chris Walter)

The fashion label features streetwear, which to Givens, is just another way of saying, "lifestyle."
"A lot of people get the word streetwear confused with a certain and specific type of view of the streets, but really, streetwear is just what people wear on the streets. You gotta take the streets to get to the opera. You gotta take the streets to get to a rap concert, you know, it's still the streets. It's your daily vibe."
Layr first came on the scene as a remote pop-up that quickly caught the love and adoration of Cleveland's A-listers and the general public alike. For evidence of the latter, one only has to think of the crowds they've drawn in within the last six years. In 2019, Layr appeared as a pop-up on West 25th St. with the intention of staying for an energetic weekend. They ended up staying for a month. Later on in the year, they tested whether lightning would strike more than once at the Summit Mall in Akron and Beachwood Place in The Land. It did in both cases with each lasting more than a month.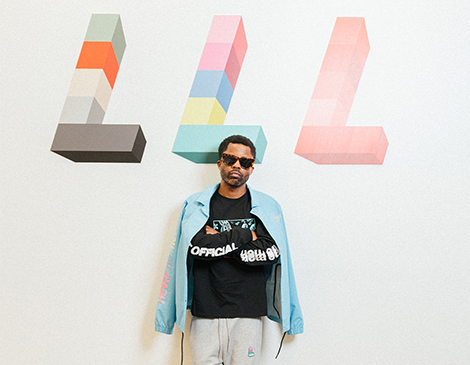 (Photo courtesy Layr/Chris Walter)

It was this overwhelmingly positive feedback that ultimately persuaded the pair to channel their efforts into securing a brick-and-mortar space.
"We were pretty confident in the power of the brand, but still wanted to be safe," Givens says, sharing that Layr's storefront was hopping from one-year leases at a few locations before settling into their current home in Beachwood Place.
Thinking of his fashion label in terms of its present-day status, Givens takes a moment to reflect on the impact that a brand with, now, a globally supportive fan base has on a city like Cleveland … for a city like Cleveland.
"To me, that's another portion of what the brand is: giving people here something to be prideful about. You can look here and see the proof that you can do it too, and not only for younger people but for those that may have given up on certain dreams when it comes to this type of industry, whether it's fashion, music, sports, culinary pursuits, all things involved in the cultural life. It all falls under the same boat. A lot of people have these aspirations for the arts and entertainment, but can get discouraged because this industry doesn't exist like it does in New York, L.A., Miami, even Chicago where, you know, as a kid, you can walk outside and go downtown and see it right in your face."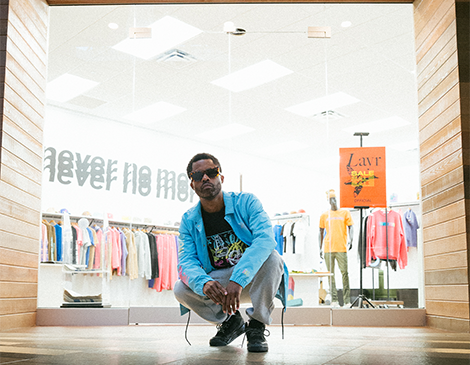 (Photo courtesy Layr/Chris Walter)

Givens hopes that this show can highlight that phenomenon and be the thing "right in your face" as proof that Cleveland is capable of fostering that same culturally affluent lifestyle.
"We want our show to be a message that says, 'Hey, we can do things on a proper level and do it right," Givens states.
This is a common theme that I've heard in almost every one of my interviews with Cleveland creators while at Cleveland Magazine. There's an awareness that Cleveland is an underdog with not much to offer that would entice an outsider to relocate to the city. On this occasion, I addressed it and asked Givens what he believed to be the reason for this.
"We have great talent — perhaps I'm being biased, but we have the greatest athlete, world-class entertainers when it comes to Kid Cudi and MGK, Superman," he says. "There's a lot of stuff and a lot of players in the history of Cleveland if you want to go down the rabbit hole, but I feel like the power is greater than us. Prior to the mayor that we have now, as far as politically, we haven't had the best infrastructure when it comes to those things. The focus was always blue collar, as opposed to things I feel like we should have taken more focus on, but we're catching up now. It just takes a lot to build that culture. [Mayor] Justin Bibb is starting to launch things like FutureLAND, which is focusing on tech. Tons of different things that we have to start getting behind and backing that are apart from the normal cookie-cutter space. Elevated things that bring people here and keep people here."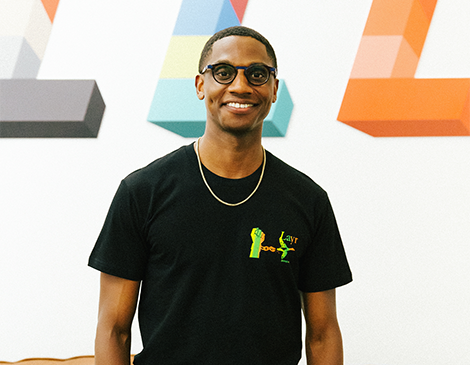 (Photo courtesy Layr/Chris Walter)

Givens states that there are ways to alter this on the creator's end. "We can lead by example and offer help to people coming up in our own individual ways. For me, the show, the brand, these are different ways of me leading by example, and these examples can be very powerful."
Speaking further on Thursday's event, he shares his gratitude to relationships built within the city — old and new — that have allowed him to take what he regards as "the slight gamble" of orchestrating the solo launch of an all-new fashion show.
"I was blessed to have some great partners to help along with this. The Cavs came on board as sponsors, Lobos tequila, which is LeBron, Rich Paul, Maverick Carter and Randy Mims' tequila brand."
In addition to this, Givens does not shy away from listing every local organization and company that reached out to offer their support and lend some positivity from high-end jewelry brands like Adam Pearl Jewelers to restaurant concepts like JADE New Asian + Sushi Bar in Cleveland's Flats East Bank. When he finished throwing flowers at anyone who helped support in any way leading up to this point, I felt like I had just finished introductions as the new arrival to a major family gathering. We've got this member who is connected to this member who came from this member and brought in this member. Every sponsor or supporter was tied in some way, and Givens had a backstory or energy-infused compliment for every single one.
"There's a lot of layers to this and many different hands to help. I have a feeling this is going to be positive for everyone, city and brand included."
As for the future? Givens is bringing his A-game for it. "This is just our pilot. I want to grow this into something bigger; add a charity component where we can, and add an education piece where we can. We can make it more than what it is now. That's the end goal."

Get ahead of the weekend by signing up for our free weekly "In the CLE" newsletter — your guide to fun throughout The Land. Arriving in your inbox every Wednesday, this weekend to-do list fills you in on everything from concerts to museum exhibits — and more. Click here to subscribe.