You're already doing just about everything else from home, including remote work, online exercise classes and on-call grocery delivery. But has it ever occurred to you that you could bring your beauty and wellness services home with you, too? Some of Cleveland's savviest entrepreneurs have gone mobile, letting you skip the traffic and enjoy everything from deep-tissue massages to glowing golden spray tans from the convenience of your own abode. "Some people think it must be so luxury that they couldn't possibly do it, but that's not the case," says mobile nail technician Breeonne Reed, owner of Salon2U. "It's a luxury service, yes, but it's also really reasonable. Everyday people can have this done." With so many high-end mobile services available to come to your door, you might never want to leave home again.
Mother Nurture Massage
When you have a new baby at home, finding time for yourself is no small feat. Licensed massage therapist Alesha Lifka knows that sometimes, overwhelmed parents just don't do it at all, and she wanted to make it easier on them. "I saw a need in the community for moms who wanted to stay in the comfort of their home while their body heals and they adjust to life with a newborn," she says. Though she has studios in North Olmsted and Lakewood, Lifka's in-home postpartum massage gives clients extra peace of mind during this sometimes-difficult transitional period. And her in-home prenatal massages are especially popular among pregnant clients on bed rest. She can accommodate a variety of schedules, too, with appointments as early as 8 a.m. and as late as 7 p.m. — making life that much easier for new and expectant parents. 216-501-0361, themothernurturemassage.com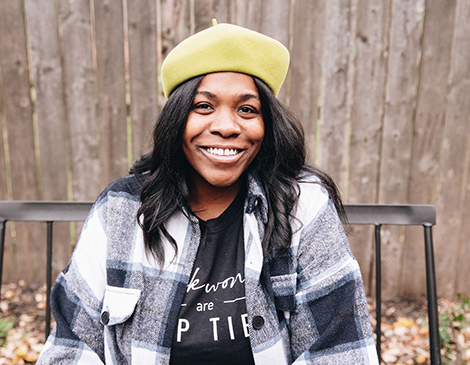 (Photo courtesy Salon2U)
Salon2U
As a two-time cancer survivor, Breeonne Reed couldn't stop thinking about how much she would've loved the option of an at-home manicure while going through medical treatments. In 2019, with a newborn at home and college tuition to pay, she quit her salon job to go fully mobile. "It's blossomed into a way to help people get the things they love more easily," says Reed, who now employs five other nail techs. They offer everything you'd find in a brick-and-mortar salon: gel manicures, polish changes, pedicures, nail art. Clients run the gamut from women with health concerns to stay-at-home moms to people with salon anxiety — anyone who craves the ease of sprucing their nails without ever leaving home. "People think that you must have to be a celebrity or super wealthy to do this for yourself," Reed says, "but our clients are just everyday people with jobs and kids." salon2uexclusive.com
(Photo courtesy Dumpy Cutz Mobile Barbershop)
Dumpy Cutz Mobile Barbershop
When Dorian "Dump" Porter lost his job at a factory, he decided it was time to go into business for himself. First, he enrolled in barber school. Next, he had a Ford E454 van customized with club-style lighting, colorful artwork and quilted leather seating — plus everything he needs to do haircuts, fades, shampoos and more. And then he hit the road. "Not just any barber can do this," Porter says. He offers all of his services from within the van, with group booking options that turn an elite experience into a social experience. "I save you so many inconveniences by pulling up on you," he says. instagram.com/feedmecutz
Noelia's Mobile Spray Tans
If the term "spray tan" makes you think of orange streaks, it's time to give that mental image a glow-up. Spray tanning is the safest way to achieve a toastier tone, and the products have come a long way since those messy, unreliable self-tanners of old. "It's kind of like foundation matching," says owner Noelia Royster. "I match the undertones of people's skin, and I ask questions like whether they sunburn easily and what kind of look they're trying to achieve." In 2018, after her father died and her son went to college, Royster opened her mobile business as a side hustle to stay busy. "I'm all about bringing out the beauty that you already have," she says. 216-297-5360, instagram.com/noeliasmobilespraytans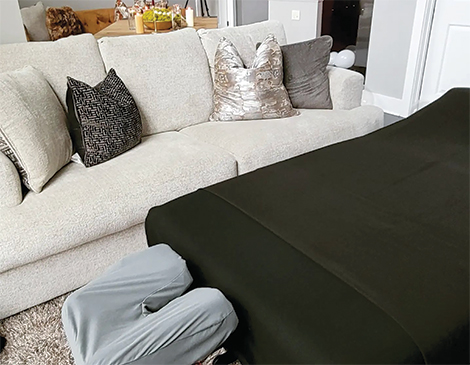 (Photo courtesy Cleveland Mobile Massage)
Cleveland Mobile Massage
Ahh, you've just gotten an incredibly relaxing massage … and now it's time to fight traffic to get home from the spa. Talk about a vibe killer! Licensed massage therapist Rebecca Perkins knew the feeling, and she wanted to offer Clevelanders an alternative. She went mobile in 2016. Many of her clients have mobility issues or mental health issues, she says, and in-home massage allows them to focus on their wellbeing without navigating the challenges that can come with leaving the house. Perkins brings the whole spa experience to you, including fresh linens, calming music and organic coconut oil. 216-282-7806, clemassage.com
Get ahead of the weekend by signing up for our free weekly "In the CLE" newsletter — your guide to fun throughout The Land. Arriving in your inbox every Wednesday, this weekend to-do list fills you in on everything from concerts to museum exhibits — and more. Click here to subscribe.