When sunlight grazes Callie Plemel's home office, she knows it makes for a good Instagram post. Illuminating the blue-gray shiplap wall, Amber Lewis rug, shelved trinkets and various ribbons of warm gold that balance the design, the natural light reveals a space that invites the busy mind to slow. It's an environment that welcomes leaning back, sipping a hot cup of tea and watching the world whittle on beyond the window. But it also gives ample space for the day's demands. It's "light and airy but still a little moody," Plemel, an assistant prosecutor by day, DIY designer by night, says of her aesthetic. "I do not feel at rest until I'm happy in the space that I'm in. It gives me a great sense of peace to come home and love what it feels like and looks like."
While house hunting, the Plemels looked for rooms ripe for renovation. Rest and recoup may be Plemel's inspiration but crafting a space to fit her family's functional and aesthetic needs is where she finds joy.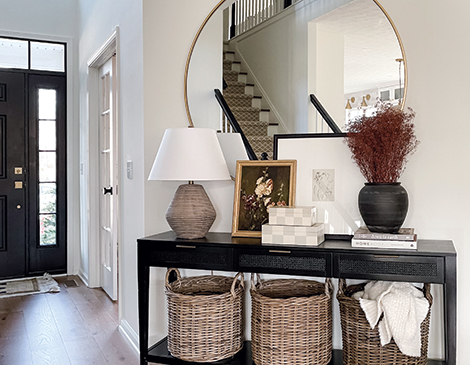 "Creating is more fun," Plemel admits. "We walked into this house, and I knew we loved the layout and we love the neighborhood. And I knew I wanted to change everything else about it."
Embracing boldness, Plemel bought a gold-trimmed mirror for the hallway off the foyer. Like a full moon, its gentle gaze peers from a table decked with woven baskets, a textured lamp and burgundy faux foliage.
The bedroom also pulses with plush reminders of Plemel's attention to texture. Gray, woven blankets thrown before perky pillows and a wooden side table whisper more of a cozy, winter vacation home than everyday living.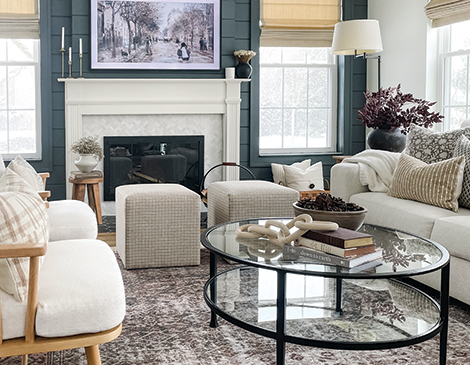 "I'm always cognizant of different textures and colors, but still being neutral enough that it goes with everything," Plemel says. "I'm constantly trying to mix different ones for something that's cohesive, but not something everybody would do."
The star of the show — propelling Plemel's Instagram from a couple thousand to over 163,000 followers — is easily the home office. Described by Plemel as an Ikea hack resurrected from Billy Bookcases the original owners left behind, it's garnered more than 10,000 likes. The Plemels built a desk between the bookcases, which were originally coal black, using a butcher block countertop. They then seamlessly blended desk, wall and shelves together by blessing the three with Benjamin Moore's Boothbay Gray.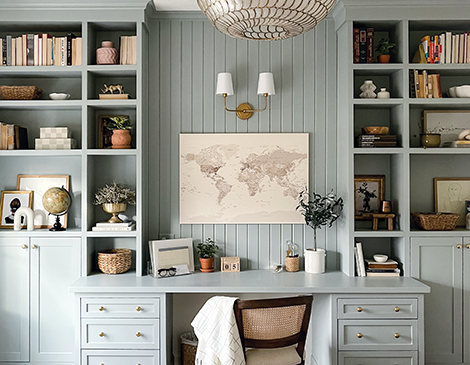 The blue-gray shade anchors the office's backdrop. Shades of cream and gold lace through the shelves, while a push pin map, recording the places the Plemels have traveled apart and together, breaks up the vertical panels.
"By far that's our favorite space," says Plemel. "There's just an extra reward when you've done it yourself."
Unifying the house is Sherwin-Williams' Alabaster — a choice made after running several swatches of varying whites across the walls. Ultimately, Plemel's home feels more like a sanctuary. "We can walk through the door and say, this is ours, we did this," she says.