Walking up to the Gentlemen's Cave Luxury Barber Lounge — a sleek storefront in Shaker Heights — I feel anxious. I haven't had my hair cut in over two years. But the pandemic isn't an excuse anymore. It takes a whole 10 minutes for those fears to pass at the Gentlemen's Cave Luxury Barber Lounge.
"I would put every barber in here up against any other in the city," says barber Myia Simon. As I walk in, I'm greeted by a spacious area with a lounge hidden behind thick double doors, a sturdy pool table and a fully stocked bar in the back corner. The vibe feels laid-back but respectful, not unlike owner Lozell Siler who joins me for a while as Simon sits me down and grabs me a water. Despite my lingering nerves, I tell myself sit back and relax, trust in the process.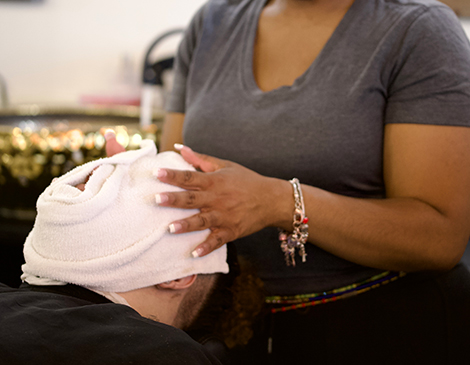 The Facial. Simon warns me that the incoming towel might feel too hot. As the steaming fabric hits my face I feel the wrinkles on my brow melt away. She massages a series of products into my pores, and there's not much of a smell, which I appreciate. The combination of pressure and moisturizer working into my skin leaves me feeling much more refreshed than the quick splash of cold water I've subjected myself to every morning — I feel almost silly for not doing this sooner.
The Manicure. I must admit, this portion of the afternoon interested me the least. My fingers are placed into a bowl of warm water and rose petals before
Simon massages them and begins filling the nails. She uses a slightly sweet-smelling oil on them that I can't help but wonder about. "I used all natural products [with] natural eucalyptus, rose oil and peppermint oil," Simon says. Sitting back and enjoying the smell, I learn the value of being pampered.
The Cut. Without a mirror directly in front of me, I sit there wondering how I look. I gave the barber simple but vague suggestions: Keep it long on top, fade out the sides and back. Anticipation wells up as I wonder about the final product, but the smooth R&B playing throughout the afternoon helps the time pass. Simon hands me a mirror and I can't look fast enough. "If someone takes less than 40 minutes to blend and fade your hair, they aren't doing it right," she says. Thinking back to 15-minute Cost Cutters haircuts that my grandma would take me to get, I shudder.
The Takeaway. After, I feel a sense of refreshment that my routine has lacked. I wouldn't trust myself with half of what they did for me. I'll be back soon.