Lake Affect Studios reminds me of a Rachel McAdams movie set.
Specifically, from one of the films that premiered in the late-2000s-to-early-2010s range. She has a whole bunch and was an artist of one sort or another in almost all of them. Her characters' studios, like that of Lake Affect, always seemed so earthy, so picturesquely unkempt with tea-stained sketches cluttered across reclaimed wooden tables, rectangular warehouse windows, and exposed pipes running along the walls and bare ceiling. The visuals, like those at the 1615 E. 25th Street space, evoke scents of dust, lukewarm coffee and dried clay. It's a cozy aesthetic; one that fits designer William McNicol's clothing brand William Frederick well.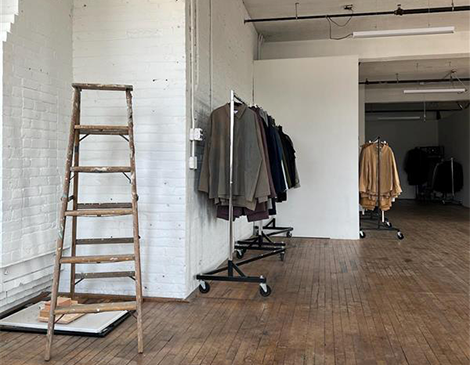 (Photo courtesy William Frederick/William McNicol)

This past Friday marked the label's five-year anniversary and, to celebrate, a new collection along with a number of one-of-one pieces made from the line's remaining scrap fabrics were put on display within the brand's current workshop space in Lake Affect's loft level. From 10 a.m. to 8 p.m. on Saturday, the studio opened to patrons with Duck Rabbit Coffee at the ready.
"I like to give Clevelanders the first opportunity to shop the collections. I always open my studio before I post anything online or send it out to stores; giving first dibs to the people here," says McNicol who was raised two hours from the city in Wellsville. "I went to college at Baldwin Wallace, though, so I've been in Cleveland almost half of my life at this point."
(Photo courtesy Tosin Popoola/William Frederick SS23 Campaign)

His brand doesn't hide this. In fact, it envelopes itself in the midwestern, back-to-the-homestead style that Cleveland harbors at its core … just through a French New Wave filter. Scan its online presence from social media to site and you'll find grainy portraits and snapshots of linen outerwear in dirt road settings. It likes relying on the muted, favoring neutral to black-and-white palettes over trendier, hyper-saturated tones and keeps its postings limited. I wondered if there was something more to the selectivity in digital content, and asked McNicol if that trait spoke deeper to the William Frederick identity.
"In terms of how I present the brand, all the way from the fabrication to the amount and type of content I release, it's very stripped back," says McNicol, who admits that a lot of this has to do with his tendency to be overly cautious. "I get in my own way sometimes, admittedly. A part of it is from being over-analytical and wanting to overthink things, but a majority of that is also by design.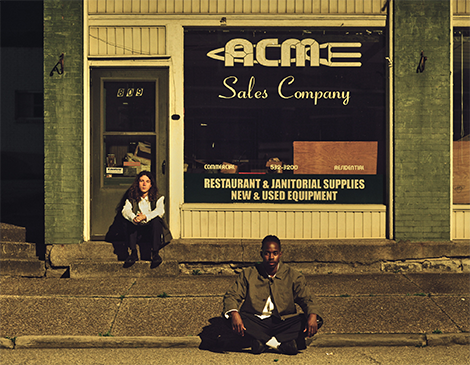 (Photo courtesy William Frederick SS23 Campaign)

"I have core pillars for the brand and they generally revolve around three things," adds McNicol, "curiosity, intimacy, and intelligence. I try to have those three values reflected in everything, so if I post a photo on Instagram, I need the post to check all three of those pillars. If I release a garment, it needs to check all three of those pillars. If I put an image on my website it has to, as well. That's just my own foundational checklist for the core identity and value of the brand. I think if you're touching on something that's curious, intimate and intelligent, you almost have to practice restraint, or you won't achieve that."
Whatever may be lost in his decision to keep the brand's essence reserved, is not something he loses sleep over. McNicol isn't trying to stay at the top of your feeds. His brand isn't interested in hungrily keeping up with social media's algorithms. The label is long wear, small-batched and timeless. When we crossed the subject of sustainability, as we both knew we would, McNicol touched on an aspect of the approach frequently overlooked in favor of the more obvious environmental concerns.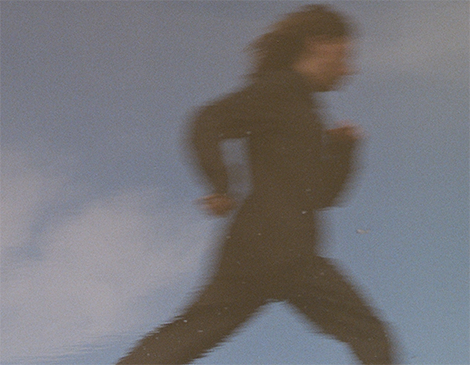 (Photo courtesy Tosin Popoola/William Frederick SS23 Campaign)

"I think the true foundation of sustainability that the fashion industry continues to ignore from a discussion standpoint is humans, trade and skill. I think the most important factor of sustainability is the production angle. And I think we get so focused on, 'Does this have polyester,' and to me, that's just low-hanging fruit. It's very easy to say, 'This is a synthetic and that's bad.'"
For McNicol, the topic of trade skill set retention in communities, both rural and metropolitan, is just as important to address as the quality of fabrics fashion houses are using in production. "The actual existence of any garment industry brand, to me, is rooted in the human component," he says regarding the loss of interest in learning or passing on trade skills. "A lot of that is really hard to find now, I mean, it's not like pattern makers are readily available. It's just not something that people are really pursuing because they don't see it as valuable anymore.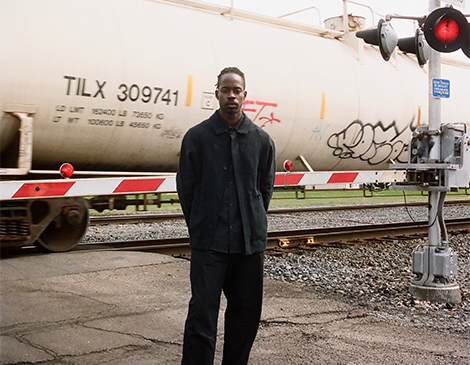 (Photo courtesy Antonio DeJesus/William Frederick SS23 Campaign)

"I would love it if somehow that conversation was more at the forefront because I truly believe it's the root and the core; the foundation of clothes."
For his part, creating pathways to support and grow local talent is a key way McNicol chooses to operate his brand's production process from beginning to end. His team is intimate, relying on the aid of three factory workers and a design assistant named Lily Pierson, who graduated from Kent State this spring. She had interned with William Frederick during her undergraduate years studying costume design, and when the brand was in a place to take on another employee, it chose from its own region's pool as opposed to outsourcing.
(Photo courtesy Cleveland Magazine)

"This is meaningful to me. Trying to create a pipeline from Kent State to here as opposed to furthering traffic from Kent State to New York. I want to help the growth of a circular economy within my own community." As McNicol continues, it's clear that this is not a simple task. Certainly not as simple as he thought it would be five years ago.
He and Pierson showed me around the brand's current factory space, a modest but comfortable setting on the first floor of their studio. Their desire to support everything local, small-scale, and in-house was palpable, but it's hard to stay dedicated when the support isn't flooding in as easily as it would in other locations. New York or Colorado, for instance.
"I do think it is helpful to identify how difficult it is to do this in Cleveland. I would say early on, due to my own pride or insecurities, I was hell-bent on figuring out a way that [the brand] could almost exclusively be rooted in Cleveland. Over time, this feeling evolved into the realization that I needed to put a lot more energy into areas outside of Cleveland in order to survive because Cleveland simply doesn't have the interest or the infrastructure to support what I'm doing on its own," shares McNicol. "I don't necessarily see that as a criticism of myself, the city or the people within it. I just think that naturally different communities and areas and cities have their own set of interests. And what I'm doing just doesn't really align here in a scalable sense."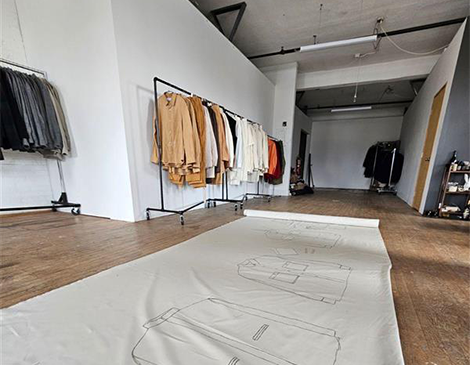 (Photo courtesy Cleveland Magazine)

As of this year, William Frederick can be found in two stores, Canoe Club in Boulder, Colorado, and Colbo in New York City. "We had to expand the base outside of Cleveland and we're becoming more known in other cities nationally as a result. Both of those stores have launched my products, and they're doing incredibly well there. With Colbo, I'm getting ready to send them my third shipment of items because my first two have pretty much sold out completely," shares McNicol who compares the overwhelmingly positive welcome in terms of sales to how difficult it is to sell products on home turf. "It's been refreshing to see these new markets and the response within them, but also disappointing to know that I haven't been able to receive similar support locally.

"It's also been freeing to now be able to step outside of this city. I was probably treating Cleveland as a comfort zone. To be able to step outside of that, now, and be recognized and supported nationally, has created so much more freedom for my design process, for my company and for the way I approach things, so I think it's good and bad. Like I said, I think there's naturally some disappointments. I do wish that something like [William Frederick] would be responded to more in a local sense, but being able to receive that support nationally has balanced out that disappointment."
To me, this sounded like the pulling of a plug. A two-week notice from the unisex brand, but for McNicol, he's not thinking of giving up, just refocusing. This year or early next, the plan is to appear in more brick-and-mortar boutiques outside of Cleveland, but he isn't letting go of his studio in the city. Here, he will continue his drive to maintain a pathway for students looking to pursue careers in fashion production and design and hopes to offer more opportunities in the future at his Cleveland studio which will stay a constant for the brand.
Start your day the best way by signing up for our free daily newsletter. Arriving in your inbox every morning to keep you in-the-loop on the best guides, home and style tips, and news briefs for all things Cleveland. Click here to subscribe.