A discreet wedding ceremony and gathering on a weeknight — something casual, private and personal — is how Amy and Matt Bender imagined their special day when they were engaged in fall 2019. The original plan was to take a half-day off work and "enjoy a secret in the middle of the week," says Amy, 33, figuring on a guest count of 11 people including her and Matt, 32.
Then, maybe a couple years afterward, they'd throw a party — maybe. "We discussed the idea of marriage and what it meant to us, and we were both on the same page," Matt says. "It's a very personal event and a personal step in your growth, and it should be about a special moment between you and your spouse."
A one-on-one celebration was just their speed. "This is about us," Amy says.
Of course, neither realized how apropos their small-gathering plans were before the pandemic. Their preference for privacy, and ideally an elopement, allowed them to easily pivot when they married Nov. 6, 2020 at a private cottage on Heidelberg Beach in Vermilion.
As water lovers and boaters, the home of a family friend, who also served as the officiant, was the ideal solution. And after several months of postponing and simply waiting for nice weather, the Benders pulled the trigger on their small "big day" just a week before they said I do.
"It felt exactly right — exactly us," Matt says.
The couple first met five years ago after a persistent mutual friend had been working on a way to pull Amy and Matt together.
"Both of us were pretty happy to be single," Amy says.
She was living in Lakewood, working at Baldwin Wallace doing some event planning — and playing kickball. "That is how I met the friend who introduced us," she says. "I actually stopped talking to her for a couple of months because I was tired of her trying to set me up!"
Matt was living in Tremont and working for an advertising agency in Strongsville — boating, bicycling. "No complaints," he quips.

After a couple of surprise setups, the rest, as they say, is history. But getting to "the aisle" (or beach, rather) proved to be yet another adventure in their relationship.
Amy's mother was battling cancer, and in March 2020, they learned she was in remission. But with a severely compromised immune system, Amy didn't want her to travel from South Carolina during the pandemic.
"As it got closer to our date in April, I was having conversations with my mom and she was asking, 'What are your plans? I'm going to be there no matter what!' But that was my line in the sand. We were never going to do anything big, but for my mom to risk crossing state lines, public bathrooms, whatever, I couldn't live with that."
The Benders decided they'd play the wedding day by ear, but they knew they'd hold it in Vermilion. They secured the photographer, who knew she'd get a last-minute call for the date. That was no problem. Amy found her dream dress on Etsy — a tea-length one with long-sleeves and a satin boatneck. Matt chose a navy-blue suit.
In the meantime, Matt and Amy sold their home in Rocky River, purchased a house in Bay Village and moved. Actually, they figured they might squeeze in the wedding during their moving week since they both took time off work. "We had applied for our marriage license just in case," Amy says, adding that "it rained and hailed all week." So, not the ideal time for beachside nuptials.
As summer wore on and weeks passed into November, the Benders realized they were probably up against a deadline for an outdoor affair. "We decided we'd wait for a really nice day and just go for it."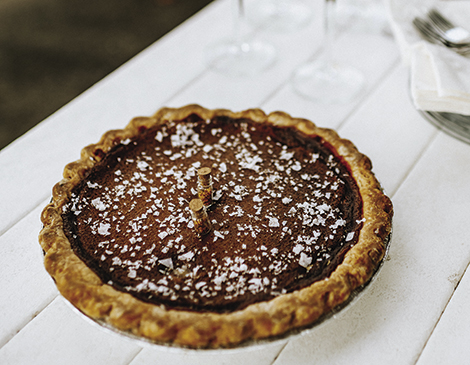 The Benders arrived at the Vermilion cottage in casual attire. The officiant's wife treated Amy to the special moments she might have had with her mother — helping button the back of her dress. "She gave me a kerchief her mom made and said, 'Have this with you when you go down the aisle.' "
The aisle was a grassy hill that led from a cliff to the beach. They walked, side by side, down the path toward the water. Then, after a meaningful and completely personal ceremony, they said, "I do."
"You have this moment where you are looking straight at each other thinking only about that person in front of you, and it was so wonderful and perfect," Amy says. "When it was done and we were pronounced man and wife, I looked at Matt and thought, This is everything it was supposed to be."
Matt adds, "It was exactly right and exactly us."
The couple later cut a wedding pie, salt and honey, that was prepared by Lakewood's Rood Food and Pie — a place they love to grab a slice to share at home. Given the Benders fast-turnaround affair, it helped that Rood allows orders just 24 hours in advance.
"It's a meaningful pie," Matt adds.
And they both agree, they're awfully glad their persistent friend didn't give up.