When Katie Metcalf first met Joey Babic, they were walking down the aisle with other people. In fact, he was walking down the aisle with her younger sister, Rachel.
It was 2018, and they were both part of the bridal party in another wedding. The bride was Katie's cousin; the groom was Joey's best friend. "He was paired with my sister, who did not give him the time of day," recalls Katie. "I was jealous of her, like, 'Oh, you got the cute groomsman,' but we were too shy to talk to each other."
By October 2021, though, Katie and Joey met at the end of the aisle at Camp Whitewood in Windsor Township, just 10 minutes away from the home they now share together — proving that a lot can change in three short years.
The two reconnected a year after their first encounter — when both had moved back to their hometown of Jefferson — and got to know one another over bonfires at their friends' house. He proposed on Christmas Day 2020, so nervous that he forgot to pop the question after he opened the ring box.
When it came time to start planning their big day, Katie took the lead.
"Joey was not the brains of the operation," she jokes. "I'd ask him about things, and he'd be like, 'I want you to do what you want.' "
What she wanted was an upscale version of her everyday aesthetic, which is ethereal and woodsy — a self-described "magical forest fairy" in winged eyeliner, earthy colors and babydoll dresses. "I didn't want anything too fancy and I didn't want us pretending to be something we're not for our wedding day," Katie says.
The two, who both enjoy nature photography, spend much of their time together hiking, biking and kayaking around Ashtabula County. And, though they love to travel, they wanted to get hitched close to home so their families wouldn't have far to go too far for the celebration.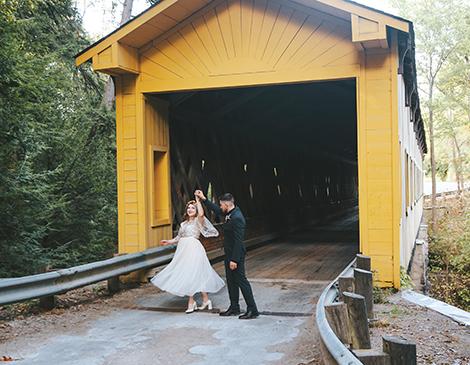 "On a whim, I wondered whether Camp Whitewood does events because it's so gorgeous out there," Katie says. "I toured the property in the winter with Joey's dad and I fell in love with it right away. I knew I wanted to get married on that lake." The 227-acre summer camp is located in the heart of covered bridge country (and, in fact, has a covered bridge of its own on the property, where Katie and Joey took some of their wedding photos).
By the time October 2, 2021, rolled around, the leaves had just begun to change color around Reflections Lake, which is encased in thick foliage and boasts lush green grass. Katie chose burgundy and rust as their wedding colors, a compliment to Northeast Ohio autumn's natural beauty.
When she fell in love with a ceremony backdrop she found on Etsy — a triangular wooden frame decorated with dried flower bouquets — she instead enlisted her handy father to replicate it, saving hundreds of dollars.
"The wooden arch suited a rustic vibe so well," she says, "and I've always just loved floral arrangements with a lot of dried flowers." As a professional florist, she's an expert in fresh-cut flower arrangements, but she felt that dried flowers were a better fit for the autumnal theme of the day. Hand-tied sprays of preserved roses, hydrangea, baby's breath and pampas grass adorned the arch, while the California-based shop Fern and Sunpalm created a custom bridal bouquet, flower crown and boutonnières to match.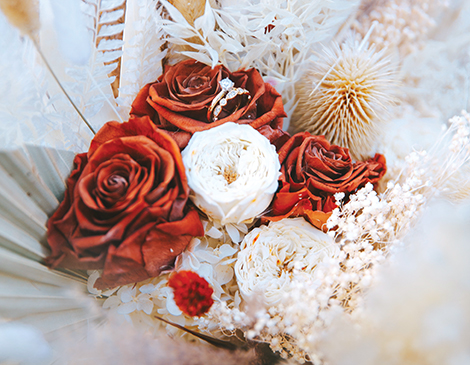 With three bridesmaids in deep orange gowns and the groomsmen sporting dark red ties, the overall effect was that of an autumn dream. At the center of it all were the bride and groom, her in a sparkly, champagne-colored midi-dress from Needle & Thread and him in a charcoal suit. For both of them, their wedding-day outfits were the first they tried on — beginner's luck.
"I didn't want to think about body issues during my wedding day, so I wanted something flowy and comfortable, something close to my normal style," Katie says. "I ordered a dress online in my size and hoped for the best, and it happened to fit perfectly." Joey, meanwhile, visited the Macy's in Mentor as it was going out of business and tried on the first suit that caught his eye, to the same result.
Katie walked down the aisle to "Take Care" by Beach House, where her husband-to-be, a typically imperturbable Air Force veteran, sobbed upon seeing her. "He started bawling when he saw me, but that's what I wanted," she says. "If the groom isn't crying, I'm just turning around!"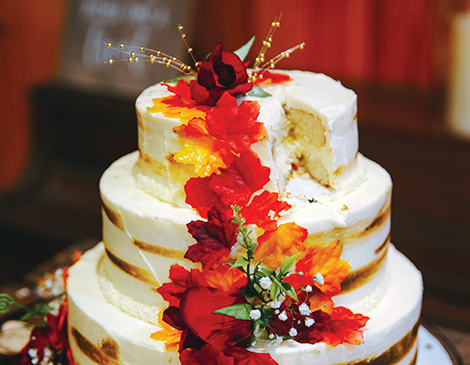 The introverted pair, who wanted to keep the ceremony short, sweet and relatively informal, didn't write their own vows. Instead, they asked the lead pastor of Jefferson Church of the Nazarene, to officiate. They're not religious, but Katie knew and liked him from working with his wife at a local coffee shop. And, afterward, they led their 75 guests across the street to their reception at Grindstone Creek Lodge, where a buffet of pulled pork, brisket, mac and cheese and other favorites from Sticky Fingers BBQ were waiting for them.
For Katie, a few memories stand out, most of them highlighting her new husband's sense of humor. He removed her garter to a Smash Mouth song, surprising the crowd with dance moves no one knew he had. And when it came time to cut their cake, a three-layer vanilla-and-spice confection from Debbie's Delights in Ashtabula, Katie knew Joey was looking forward to the tradition of smashing a bit of it into one another's faces. "I ended up with cake all over my face, even up my nose," Katie says.
She adds that, ultimately, they were so engrossed in the moment that she can barely recall specific details of the day. For as much planning went into it beforehand, the wedding day itself was a bit of a blur.
"Everything happened really fast," Katie says, "but it was honestly everything we imagined and more. The whole thing just felt like a fairy tale."