Tiffany Tarpley knew she liked Jason Russell from the moment they met. A mutual friend introduced them at a 2017 kickoff party for the Cleveland Urban Film Festival and Russell immediately invited them to a dinner party at his house. Tarpley, an anchor and reporter for 3News, did something unusual for her.
"How I know I was interested is I gave him my real phone number and not my work phone number," she says with a laugh.
The two had coffee about a week before the dinner party and soon after, they started dating. That first impression paid off — Russell proposed on Feb. 1, 2019, at a happy hour at the Glidden House hotel in University Circle. The bartender was in on the surprise, seating the couple in a private corner near a fireplace. After she said yes, Russell gave the bartender a thumbs up and had dinner brought in.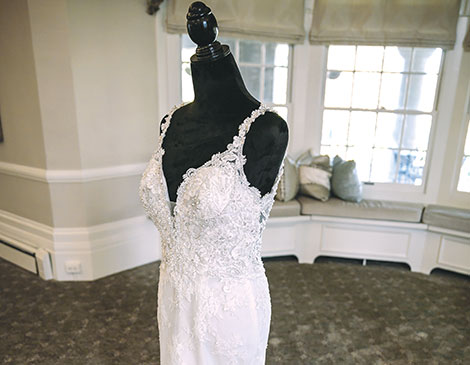 "The surprises just kept coming," says Tarpley. "The most special part for me was the fact that days before he had reached out to my parents in Lorain and driven there to ask them for my hand in marriage. That whole night was so special."
While their relationship moved at a leisurely pace, their wedding planning was the total opposite. Initially the couple wanted to get married in spring 2020. But in June, just a few months after getting engaged, they decided to plan it for fall 2019.

Knowing they wanted to do something a little offbeat, they decided to do a morning brunch wedding, a move that paid off in more ways than one. Not only did a catered breakfast cost less than dinner, but it proved to be a huge crowd-pleaser. "Who doesn't love brunch with your friends and having a good mimosa?" Tarpley explains.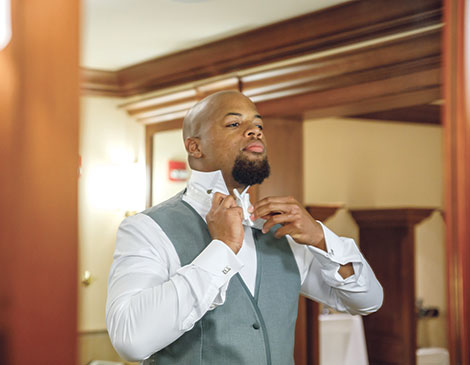 They got to work contacting potential wedding venues and even restaurants, but soon realized they needed a little extra help to pull off such a tight timeline, enlisting Covesa Kelly from Covesa Kelly Events to assist.
The 140-guest wedding took place on Oct. 19 at the Shaker Heights Country Club in a room lined with gilded chairs and decorated with arrangements of roses, hydrangeas and larkspur in white and shades of purple — Tarpley's favorite color — from Stems Fleur in Cleveland Heights.
The ceremony started at 10 a.m. with pianist Joshua Walker playing as the family walked in. The couple drew heavily on their Christian faith for the ceremony, reciting scripture and prayers and cueing up a faith-based love song, "Nothing Without You" by Smokie Norful, playing as Tarpley walked down the aisle. "It was very important to us to have God and our faith at the center of that," says Tarpley.


They wrote their own vows, and their recitation of them to each other was one of Tarpley's favorite moments of the day. "I was so nervous and it wasn't until I saw Jason's face and looked into his eyes that I was just calm and so happy," she says. "There were moments where I thought I was going to cry, but I was just too happy to cry."
Tarpley opted for a small bridal party, with her two best friends both serving as maids of honor and Russell's brother and best friend as groomsmen. "These are the women who have been there with me through so much, who I trust," says Tarpley. "I wouldn't have anyone else by my side."
Purple gowns on the maids of honor matched the flowers, and the bride wore a beaded dress trimmed with lace from A Bride's Design in Avon. Heels, dyed to a perfect purple hue, peeked out from below the flared skirt of the dress. Russell wore a pale gray tux with a custom-made bow tie from Cleveland's The Whatknot Bow Tie Co., owned by Mark Mathews, who was also their wedding DJ.
After the ceremony, guests enjoyed a cocktail hour and ate baked brie, French toast sticks and fresh fruit before they moved into the reception room for brunch. Tarpley knew she wanted the reception area to have a certain feel when it came to the floral arrangements, but she wasn't sure what that would entail, leaving it open to interpretation by Scott Robertson of Stems Fleur.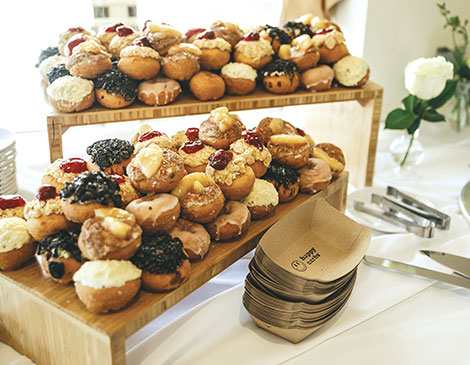 "He asked me, 'What do I want people to feel when they walk in?,' " says Tarpley. "I just said, 'I want it to be light, open and brunchy, and for people to walk in and be wowed.' And that's exactly what they were able to pull off." The result was a light-filled room with more of the purple and white florals decorating each table, with larger arrangements on the king's table. A tablecloth — purple, of course — marked it as the bridal party's.
Both fans of photography, the couple asked Covesa Kelly to incorporate the medium into the decor. She used some of their engagement photos on signs welcoming people at different stations throughout the wedding including the seating chart and the photo booth. The couple's wedding hashtag (#Ready2Russell) was also on each sign.
Served buffet style and catered by the country club, the brunch spread included eggs with cheese and other toppings, bacon, turkey sausage, breakfast breads, potatoes, waffles, and shrimp and grits. Mimosas and bloody Marys flowed freely.
For dessert, sprinkled, glazed and filled mini doughnuts from Peace, Love and Little Donuts in Avon were stacked near the buffet. Opting to stick with the traditional cutting of the cake, the couple had a simple gray and white three-tiered confection made by Michael Angelo's Bakery in Broadview Heights.
After brunch, new- and old-school hip-hop and R&B filled the dance floor. "We wanted everybody to get out on the floor and have a good time," says Tarpley. "That was something that was really important to me too: I wanted to party." Tarpley even switched out her heels for purple high-top Vans sneakers.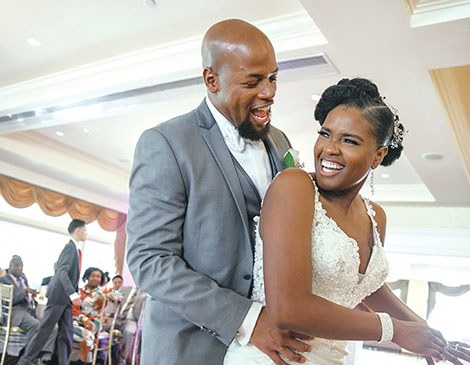 As the day went on, popcorn, a favorite food of Tarpley's, came out for guests to snack on while they snapped pics in a photo booth complete with props and signs.
When the official party wrapped up around 3 p.m., Tarpley and Russell headed to the Van Aken District (where Russell is the general manager) to hang out with their friends. Tarpley did not change out of her gown. "We didn't want the day to end and my goal was wearing that dress all day," says Tarpley. "I'm not going to wear it again, so I'm wearing this dress all day long."
The group then headed to downtown Cleveland to party before retiring to a nearby hotel for the evening. "We really made an entire day of it," says Tarpley. "It's so funny because we didn't have much sleep the night before but we had so much energy. It was a great day."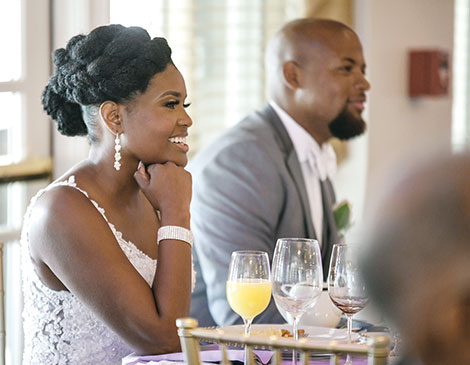 Fast and Festive:
While most people take a year or more to plan a wedding, Tarpley and Russell pulled off something seemingly impossible: planning their dream wedding in only four and a half months. Here's how they did it.
Enlist Help
After searching for a venue on their own and talking about their wants, the couple realized it was time to call in the pros and reached out to Covesa Kelly Events. "We talked to her about our concerns: We realize this is really quick and fast — can we do this?," says Tarpley. "She really helped us pull it off and pull it all together."
Think Off-the-Rack
Without the several-months lead time many custom bridal gown shops required, Tarpley and her maids of honor had to think outside the box for their dresses. Her wedding dress was purchased off-the-rack from A Bride's Design, while they found the maid of honor dresses at Dillard's. They tried them on in-store and then ordered them directly from the designer's websites, where they were able to save 50% off. "It really helped with saving money and time," says Tarpley.
Flexibility is Key
Some venues were already booked for their wedding date, but the Shaker Heights Country Club ended up being just what they were looking for anyway. "With doing everything so quickly, some places weren't available," says Tarpley. "But this place was just so perfect. They really accommodated us with everything we needed and wanted."
Take a Time Out
There's always a lot going on when planning a wedding, but that frenzied feeling is enhanced when it's only a few months. According to Tarpley, you have to stop to take a breath though. "Just take time to breathe through the process, enjoy the moment and make sure that you enjoy that time with your friends and your family," she says.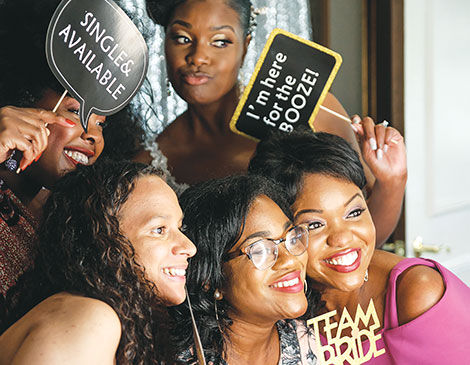 Family Matters:
Tarpley originally wanted to do a destination wedding to avoid the hassle of planning. It became clear that staying close to home and infusing her wedding with her friends and family was the right choice. "It's not so much about the details and the things and the decorations," she says. "It's really about the love and family and really letting that shine through." Their loved ones ended up playing integral roles in the wedding.
Russell's cousin served as their minister and really focused their ceremony around the couple's faith. "I think our minister truly understood that's what this union is: a union with God and our faith," Tarpley says. Accompanied by the piano player, one of Tarpley's maids of honor sang "Jesus We Love You" by Isabel Davis as the couple lit candles to symbolize unity during the ceremony.
To add a family touch to brunch, Russell's aunt handmade a variety of jams in flavors such as Island Kiwi and Mango Raspberry as wedding favors that guests could eat during the reception or take home. "They were great," says Tarpley. "People are still talking about them to this day."
It ended up being the personal touches from having her friends and family there that really made the day for her. "I'm so happy that we were able to do it locally and have our family there because I realize the importance of that," she says. "It was great to have everybody come together for this celebration of something happy, and I wouldn't have changed that for anything."