When Ron Jaksic and Dan Burnett first started dating in 2003, they discovered one wacky item of clothing they had in common: brightly colored silk ties in a swirly, psychedelic pattern from a brand called Liberty of London. Little did they know that, 18 years later, they'd wear those matching ties on their wedding day, a DIY-heavy Brazilian-themed affair with a 1960s-era Pan Am twist.
The pair, who have lived together for a decade and a half, never got formally engaged, but when the Supreme Court legalized same-sex marriage in 2015, they knew they'd eventually tie the knot.
"We finally announced that we were getting married in 2020, but COVID-19 foiled those plans," Dan says. "So we set a date and said we were doing this, no matter what." They nixed the date they'd originally set and instead decided to use the time in quarantine to plan something extra-special — and extra labor-intensive.
Ron, who spent five years of his childhood living in Sao Paulo, suggested a Brazilian theme. Dan, who loves a lavish decor project, suggested they take it a step further: They couldn't fly to Brazil for a destination wedding, but they could have a destination wedding right in their own backyard — airplane and all.
"When we started thinking about the different parts of our special day, the thing that really threw Ron was when I said, 'Let's build a [Boeing] 747 in the driveway,'" Dan laughs.
"But I know how creative he is," Ron chimes in cheerfully, "so I knew he could pull it off."
Thus began the process of constructing a life-sized replica of an airplane cabin, everything from the seats to the fuselage.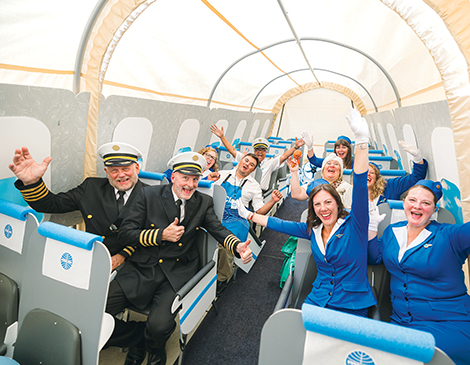 "Before we started, we thought about the different elements of the flow of the day," Dan says. "Basically, we wanted to start with an airport and end up with a ceremony and dinner in Brazil.' "
Their wedding invitations were done in the style of airplane tickets, with guests divided into three groups; each one represented a flight taking off at a different time. In half-hour intervals, groups of passengers — err, guests — arrived at the couple's Cleveland home, starting at the front door, where a smiling duo in Pan Am uniforms (Dan's high school friends) played the role of ticketing agents. The living room was transformed into a first-class lounge, where a bartender (Ron's nephew) served cocktails made with miniature airline bottles of liquor — complete with Pan Am stirrers purchased on Etsy and napkins printed with the company logo.
As each group's boarding time arrived, they made their way through the kitchen-turned-jetway and onto Dan and Ron's handcrafted airplane. The couple's nieces, dressed as stewardesses in vintage-style uniforms, directed everyone to their assigned seats, which were made of flea market chairs and foam core, with accordion-style file folders creating seatback pockets and cut-up pool noodles serving as headrests. In lieu of captain's announcements, the couple narrated a short video about their would-be flight path, supplemented by YouTube footage of a real plane landing in Rio de Janeiro.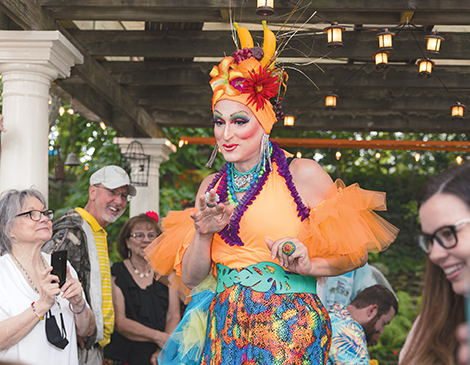 |"We made it as real and authentic as possible," Ron says. "It was all just so interactive and entertaining to people."
When the flight ended, passengers disembarked into the backyard, where they sipped on caipirinhas, a traditional Brazilian drink made with Cachaça, a distilled spirit made of sugarcane juice. Ron's luscious gardening handiwork was cultivated specially for the day: elephant ears, palm trees, castor oil plants and an arbor made of passion vines and hyacinth beans. And after all their guests had arrived, Dan and Ron got down to the business of getting hitched.
"People were cheering and applauding when we came down the aisle, which really caught us off guard," Dan says, "but I guess they were already a little tipsy. That made it more fun!"
But the crowd fell silent for the ceremony itself, in which the couple paid homage to loved ones lost, exchanged matching rings and recited vows they'd written together. Dan is Protestant, and Ron is Catholic, but instead of going the traditionally religious route, they asked Ron's nephew to double as their officiant.
"It was very spiritual, very special," Dan says, "and it was very traditional — just with two dudes." One thing they hadn't planned for was a flyover from the Air Force Thunderbirds as the ceremony began, but it seemed to fit in with theme.
Once they'd officially said, "I do," the party began anew. The couple considered serving customary Brazilian foods but decided instead to hire their friend Bob Sferra, owner of Culinary Occasions, to serve more seasonal, American fare: chicken and shrimp skewer, BBQ pork sliders, macaroni and cheese and a variety of tropical fruits.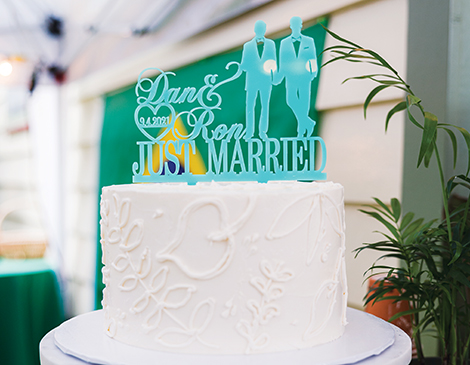 After dinner and more time to mingle, both men joined the mother/son dance with Dan's mom Marilyn to the Schitt's Creek rendition of the Tina Turner classic "Simply the Best." And just when guests thought there were no more surprises left in the night, the couple showed they had a few tricks up their sleeves.
Suddenly, their friend Veranda L'Ni, one of Cleveland's most iconic drag queens, burst onto the scene dressed as Carmen Miranda — or, as she dubbed herself for the night, "Carmen Veranda."
"For the majority of our family members, this was the first time they'd ever seen a drag queen," Dan says. "Everyone hooted and hollered and respected her and had a blast."
And she wasn't the final surprise of the night. As the DJ queued up the music, Dan turned to his guests and declared dramatically, "I wish there were more room to dance!" On cue, the garage door opened to reveal a fully decorated dance club, disco ball and all. The grooms and their guests danced the night to a close, calling it quits around 10 p.m.
Now wed at long last, the couple says married life is almost exactly the same as the life they'd been living for the last two decades. But it means something special for them to see their love legalized.
"I can finally say that this is my husband," Dan says. "To vocalize that is really special and important."