They've floated together in the Dead Sea, been to the top of the Burj Khalifa and hiked the ancient city of Petra. They dated while living in different states and halfway around the world from one another.
Considering their intercontinental courtship, it's no surprise Erin Shaffer and Stewart Clark, who live in London, England, infused wanderlust into their wedding day. It may come as a surprise, though, that they chose Northeast Ohio for their August 2019 nuptials. They briefly considered other places, like Clark's home state of Arkansas, but quickly settled on the city where they met and where Shaffer considers home.
"Since Cleveland is what brought us together, we decided it was best," says Shaffer, a native of Marshallville, near Wooster. "We wanted to show off our favorite parts of Cleveland, and we also wanted to incorporate our love of travel."
The couple met in 2015 through the Cleveland Clinic Administrative Fellowship program and tiptoed into dating, as Clark had a yearlong assignment in Abu Dhabi looming. During their year apart, they committed to seeing each other every two months. Romantic trips to places like Paris and Dubai ensued, and their relationship endured.
By early 2015, Shaffer had taken a new job in Chicago and bought a condo in Lincoln Park. Clark joined her there after his stint abroad, but not for long. Within months the couple had an unexpected dual job offer in London from a former colleague.
"He convinced us to come over, interview and at least give it a shot," Shaffer says. "We did, and in April 2018, we were flying back over to London for our house-hunting trip."
After seeing 17 flats in one day, Clark took Shaffer to a London landmark they had visited together on an earlier trip.
"I didn't realize he had a photographer following us," Shaffer says. "He proposed in front of the Tower Bridge along the River Thames, and that was the kickoff to us moving to London."
It also was the beginning of their wedding planning, which was difficult to do from across the pond. Enter Gina Jokilehto-Schigel, owner and creative director of Shi Shi Events.
"Very quickly I realized I needed help, and Gina was such a big part of that," Shaffer says.
Although she had never attended a wedding at the Shoreby Club in Bratenahl, Shaffer knew it was the perfect venue to host a stylish but laid-back evening ceremony and reception for 150 guests on Lake Erie. To accomplish the "effortless-elegant" vibe the bride desired, Jokilehto-Schigel directed her to a color palette of soft neutrals, white, earth tones, greens and dusty blue — a subtle nod to the lakefront location.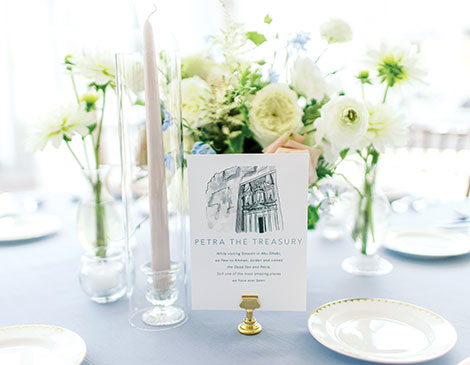 Lauren Gabrielle Photography
The couple worked their other favorite spots around The Land into pre-wedding festivities, including attending a Cleveland Indians game and hosting their rehearsal at Collision Bend Brewing Co.
Their travel adventures, including their new home in London, were represented throughout the day. Upon arrival guests were served Pimm's Cup cocktails, a popular drink in the U.K. Friends and family navigated the seating arrangements with a "Where in the world am I sitting?" chart. On table markers by Rose Gold Studio, a custom sketch by BP Invites highlighted one of the couple's favorite global destinations.
After dinner and dancing to the band We Are The Radio under a chandelier-lit tent, guests departed with favor boxes, carrying a powdered doughnut from Lerch's Donuts in Wayne County; a Fortnum & Mason Wedding Breakfast blend tea, created for the wedding of the Duke and Duchess of Cambridge; and a wood magnet in the shape Arkansas, the groom's home state.
In addition to the wedding's many deliberate details, a few unplanned events were among the bride's favorite things: a sunny, 80-degree day and an unexpected fireworks show from downtown.
"The sunset at the Shoreby Club was absolutely beautiful, and fireworks started going off over the lake," Shaffer says. "It was amazing."