Even before Kate Fortney Horne was pregnant with her first child, she had a mild case of babies on the brain.
While the owner of Lovely Paperie and Gifts always had a small infant selection in the corner of her Rocky River store, it had gradually taken over the entire back section.
So when Fortney Horne opted to relocate Lovely to a bigger location on Detroit Road last April, she decided to keep the former spot and open it as Babycakes Children's Boutique, focusing on safe, BPA-free toys and items, plus adorable clothing and accessories.
"For Lovely, I'd buy things that were cute and that I would have given as gifts," says Fortney Horne, who had her son, Hudson, eight months before the store opened in June. "Once I had my son, I realized what was practical and I took Babycakes in a new direction."
With a bright, open layout and high ceilings, the charming storefront shows off both her style cred and mom cred with colorful toys, cuddly blankets and artfully displayed clothes, making it a wonderland of discovery for mommies and tots alike.
Jellycat plush stuffed animals ($15-$99) — bunnies, monkeys and giraffes — come in the softest blue, pink, yellow and tan fabrics, while party dresses from Rachel Riley ($44 and up) and knit cardigans from Mudpie ($27) up the cuteness factor. Parents can also find solutions such as Tubby Todd All Over ointment ($12.95) made with jojoba, beeswax and honeysuckle — something that Fortney Horne swears by.
For the young mother and business owner, she relishes seeing parents walk out of her store with reliable items. "People take a lot of pride in what they buy for their kids," she says. "I wouldn't sell something I didn't feel comfortable using for my son."

When You Go: 19315 Detroit Road, Rocky River, 216-767-5209, babycakeschildrensboutique.com
Nearby Find: Pure Enchantment's body butters and face scrubs in scents such as bergamot lime can help you relax. 19100 Old Detroit Road, Rocky River, 440-356-1542, pureenchantment.com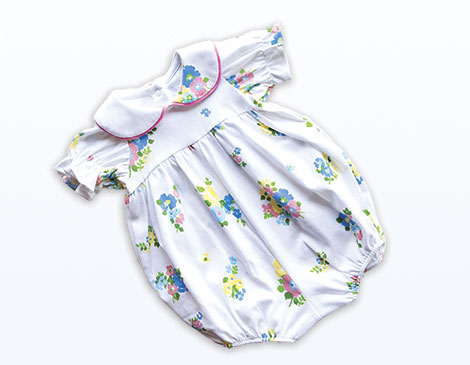 Welcome Home
Shower precious little ones with these gifts.
Girl
Skip the boring bibs and get something more stylish such as Beaufort Bonnet Co.'s Smock ($58) in a cute pastel floral pattern. "People go wild over these prints," says Kate Fortney Horne.
Boy
The Little Giraffe Blanket ($86), made with quality textiles such as polyester microfiber and polyester silk, means your little dude can cuddle up with it all the way through college. "It is a blanket that people are impressed to receive," she says.
Gender Neutral
Fortney Horne recommends Kyte Sleep Sack ($49.50) — a jumpsuit-like outfit made from bamboo that keeps your baby warm. "It's something that stands the test of time and new parents don't always know they need," she says.