Laura Sirpilla Bosworth guides me to a small table in the back of her store, Laura of Pembroke, for us to sit and chat. As we talk, Bosworth adjusts the picture frames on the table so they complement the floral arrangements and keeps an attentive eye over my shoulder on the customers browsing her boutique.
"I was nervous at first to open a second store," admits Bosworth, the co-owner and founder. "But now that we're here, I can't picture anything else."
After nearly 27 years in Canton, the family-owned business opened a second location at Pinecrest in June. A smaller version of the original storefront, the 2,000-square-feet space is set up in four parts — clothing to the right, gifts and trinkets in the center, home decor to the left and lighting hanging throughout.
Among the racks you'll find brands such as Hudson Jeans, Kate Spade or even European labels such as Sarah Pacini. Gifts abound in the middle of the store, where one of Bosworth's current favorites can be found: Mud Pie cutting boards ($33) made from wood or marble with sayings such as "slice," "prep" and "eat up" etched into them.
Sofas, chairs and love seats beg you to give them a test run, while shelves that span almost to the ceiling are stocked with paintings, vases, picture frames and more. But similar to the rest of the store, this section is always changing. "You might come in here one week and it will be totally different than the previous one," Bosworth says. "We never really know who we are going to be."
But that is the beauty of the experience.
"A customer once asked me, 'What is this place?' " she laughs. "I told her, 'Once you figure that out, let me know.'"

An Item We Love
The Beatriz Ball Soho Rectangular Platter ($102) is a staple at Laura of Pembroke. The dish, which goes from oven to table, lasts for years, making it a treasure to be passed down to your loved ones. Bosworth recommends gifting this to your friends for weddings, hosting gifts, birthdays and more.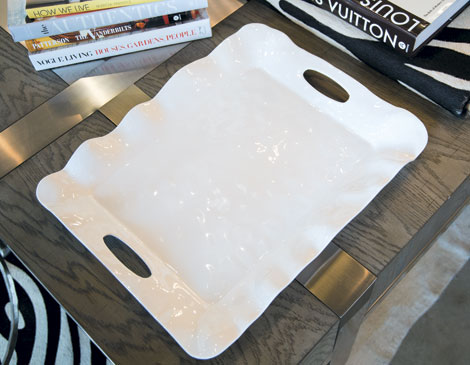 When You Go: Laura of Pembroke, 200 Park Ave., Suite 134, Orange Village, lauraofpembroke.com

Nearby Find: Old-school toys meet retro candy at Sweeties Big Fun, where you can snag Mallo Cups and Rubik's Cubes. 10 Park Ave., Suite 108, Orange Village, 216-371-4386