Editor's Note: Since this article appeared in the February issue of Cleveland Magazine, Room Service announced its Ohio City location is closing at the end of the month. The shop's Van Aken District location and online store remain open.
Jennie Doran wants to spark your curiosity, and she's going to do it the best way she knows how: by showing, not telling. In 2013, she took over Room Service, a bespoke retail space specializing in functional, art-driven decor, from its original owner Danielle DeBoe Harper. It felt like the next natural step for Doran, who had previous experience working in art direction and couture fashion design.
"A parallel I find between the two, is that with fashion, there's commerce involved," says Doran. "It's this mix of beautiful functional things, but you ultimately have to work for the customer and so that attracted me to that field."
Ultimately, the uniquely chosen products at the Ohio City location — or the Van Aken District spot which opened in 2018 — speak for themselves. Whether it's a soft throw from Blacksaw Co. in Canada or a carefully crafted candle from Herland Home in Texas, each item tells a story that Doran hopes will serve as a puzzle piece for owners interested in creating their own distinct aesthetic.
With items such as art-inspired home decor, cozy baby clothes and functional, yet chic body care items, Doran's goal is to create a cohesive theme that can fit into anyone's life. Before the pandemic, Doran visited different artisans around the country to hand-pick items to bring back into the shop. Now, she curates items directly from makers through social media and other virtual means.
"Sometimes if I'm moved by a particular maker, designer or artist that I've met, the assortment may shift a little bit so it's always a little fluid," she says. "We work really hard to make the collection sort of eclectic, but also accessible."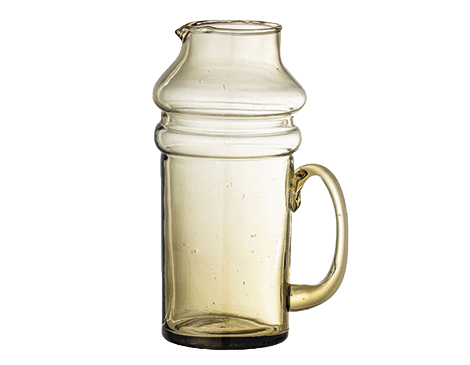 Item We Love:
Doran has been drawn towards glassware for a while now, but the Olivia Pitcher ($41.50), an olive-toned vessel, is especially perfect to use in various ways beyond pouring water. "It picks up the earthy tones so beautifully," she says. "We use it for everything from fresh and dried flowers, to ice water or a red sangria."
Nearby Find:
Cleveland Candle Co. is a one-stop-shop for candles that work for every occasion, room or ambiance you're trying to create. 2032 W. 25th St., Cleveland, 216-471-8477, clecandleco.com
When You Go:
Room Service, 2078 W. 25th St., Cleveland, 216-696-6220, rscleveland.com