Something witchy this way comes…came…in March, and we love it.
If you have been keeping up with appearances on the western side of Cleveland, you no doubt would have noticed a newcomer on the scene, making a home for itself on 13349 Madison Ave.
Magically Found, a vintage shop offering a smorgasbord of objects for both the curious and the collecting makes the absolute most of its roughly 700 square footage. Through its dedication to classic 70's French floral wallpapering, carefully hung wax candles, and wooden Welsh dressers decorated with ornate plates and teacups, it's easy to wonder where founder and owner Rebecca DeNoewer finds it all.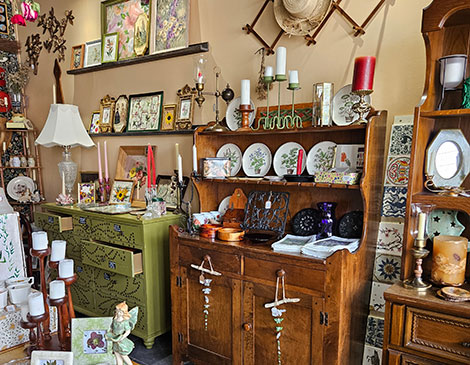 "Everything mostly comes from Northeast Ohio, but I have a shopper in Columbus who also helps look for things. I would love to get to a point of sourcing from everywhere," she shares.
When asked what she is most proud of, DeNoewer does not hesitate. "There's a great effort between me and the vendors to be as sustainable and as eco-friendly as we can. Everything in my store that I buy is all secondhand, even down to the candlesticks! I just don't want to create excess waste. The woman who makes all of the cat toys [we sell] uses all reclaimed fabrics. The press flower art we house is in used frames. We're on this path of utilizing what we can in order to not create more waste."
Not only does DeNoewer welcome the crafty creations of others, she even makes them herself when she isn't working as a costume supervisor for many of our most beloved action films, or managing the storefront. Turning to where my eyes were lingering, she informed me that the taper candles I was entranced by were painted by her just that morning. We both chuckled at the adorable decision to bedeck the furthest in front with strawberries. The candle collection was simply too cute to go unnoticed.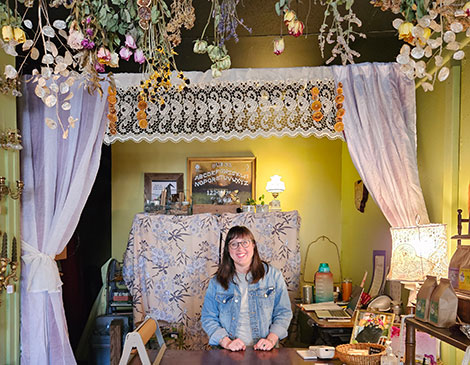 Although a space for all, DeNoewer encourages those with a love for the viral aesthetic "cottage-core" or Practical-Magic-witchy to stop by. "Millennials and Gen Z, especially. The generations who have reclaimed cottage-core and are not so much interested in what their parents had in their home, but what their grandparents had in their home."
"That brand has become very popular. Most of the people who come in here and get super excited are those of the younger generations. The brand's sensation is definitely calling a younger type of crowd [to the store]," she beams. "But, also people interested in using natural elements in their decor. We sell driftwood art, pressed flower art, wood burning, walking sticks and wands from tree branches, and eventually we'll sell dried flower bouquets and plants."
Magically Found's brick-and-mortar is currently closed for Mondays and Tuesdays, but hours of operation for the remainder of the week are 12 p.m. to 6 p.m.
Saturday hours are also 12 p.m. to 6 p.m., and Sundays from 12 p.m. to 5 p.m.
Get ahead of the weekend by signing up for our free weekly "In the CLE" newsletter — your guide to fun throughout The Land. Arriving in your inbox every Wednesday, this weekend to-do list fills you in on everything from concerts to museum exhibits — and more. Click here to subscribe.