Admit it, everyone had their hobbies over the course of the pandemic. Some mastered bread baking, others went through the unfortunate Tiger King phase. Andrea Pierce-Naymon binge-watched Schitt's Creek, and it changed her life forever.
A self-proclaimed "boomer that started too late," she began watching the show when the deluge of pandemic news became too much. She finished the show in January 2021 and knew what she had to do next.
"By that time, I was like, 'Well if David can do this, maybe I should do it,'" Pierce-Naymon says.
Now, Orange Rose Apothecary takes up residence in Hudson, the picture windows proclaiming the sale of "Neighborhood Goods Made with Love" inside of the orange floral and crow-clad shop that is everything Schitt's Creek fans love and nothing that will have you proclaiming "Ew, David."
While the store got its start through fictional inspiration, her flagship product came to be after observing a very real problem.
After her daughter got sick in high school, Pierce-Naymon was keeping a close eye on product labels, and what she found opened her eyes to a world of possibilities.
"When I started reading labels, I was pretty horrified. I kept a journal of all the different chemicals I was reading about and at that point I was pretty disgusted," she recalls.
That is when the plant-based skincare brand was born. As an empty nester, she set to work in her kids' old playroom, crafting natural skincare products that ended up having amazing results, like curing the eczema that her sister-in-law was struggling with at the time.
Now the lineup includes body serums, lotions, bath salts, lip balms and countless others. The signature scent? Orange Rose.
"Orange rose was an accident," she says. "I had lavender and grapefruit [scents], but I was trying to mix up a citrus scent and somehow I put rose fragrance in by mistake."
This translated into an entire theme for the boutique, a clean white interior space with orange accents from the shag area rug to the monarch butterflies and faux orange slices delicately hung from the center of the ceiling.
Upon entering, a display of OY-L products ($14-$65) greets visitors. A nook to the right boasts mindful toys for children and eco-friendly housewares while a seating area to the left invites relaxation among "ew, David" pillows and big white glasses that would make Moira proud.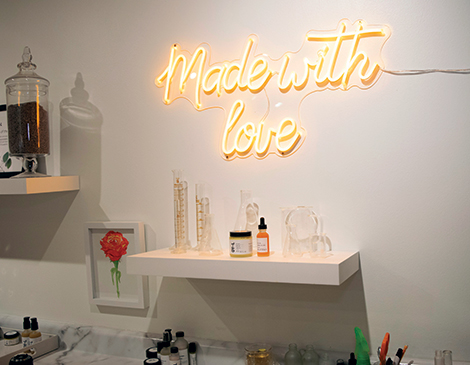 In the back, a wall of glass lets visitors peek into the OY-L world, as Pierce-Naymon brought the brand's lab out of her home and into the store.
Just when you think it couldn't get better than sustainable and body-friendly products galore, this store is abundantly stocked with local gems for the home and kitchen such as homemade condiments and hand-poured candles.
After passing its first anniversary, Pierce-Naymon knows the store's future couldn't be brighter.
"My passion is natural products and flowers and plants, and I was very lucky to be able to put them together and grow my business," says Pierce-Naymon. "I'm mostly up against millennials [so] I have been very lucky and just so grateful for it."
3 Products We Love: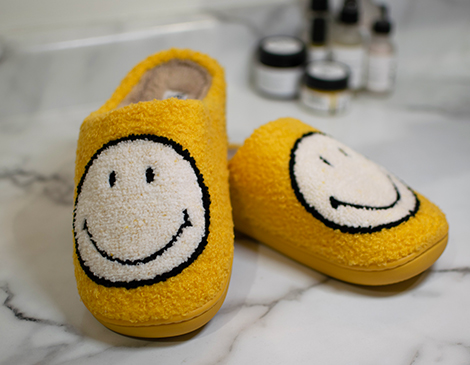 Smile Slippers ($32)
You can't help but smile when you slip on these faux fur-lined slippers that are perfect for winter days. Available in white, yellow and black, there is a pair to match every PJ set.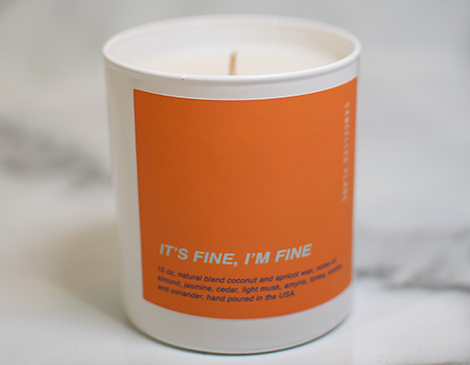 Canceled Plans Candles ($32)
These candles are aptly named for the troubles we've all struggled with. Social Anxiety (sage, amber, orange) and Student Loan Debt (coconut, vanilla, citrus) never smelled so good.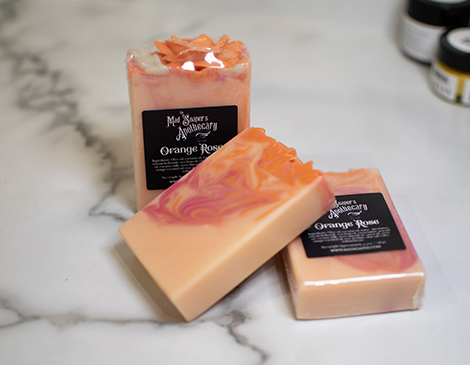 Orange Rose Artisan Soap ($9)
Locally crafted to honor the scent and style of Orange Rose Apothecary, this marble-styled bar soap is hand-carved and the perfect accent for any bathroom.