That old, beat up pair of Adidas tennis shoes might be why you're languishing at the end of those fun run 5Ks. Chances are they don't have the right kind of support or might just be the wrong size. Kris Mendeszoon, who owns Achilles Running Shop in Cleveland Heights with her husband Mark, says 75% of people are in the wrong size shoe.

"If you're not in good shoes, it can cause so many other issues because your feet take the abuse for your whole body," says Mendeszoon, whose husband is a podiatrist and former track and field athlete. So they've geared their store around the experience of making sure everyone is in the right shoe, from measuring people's feet, including width and arch, to letting them test shoes out on the indoor track in the shop.

But the shop doesn't just cater to folks looking to set personal records, its selection of shoes and clothing from Nike, Asics, Saucony and New Balance are great for walkers, joggers or just someone looking for a comfortable shoe to wear while out and about. "As long as you are doing something healthy for your body," says Mendeszoon, who has another location in Willoughby. "That's the important thing."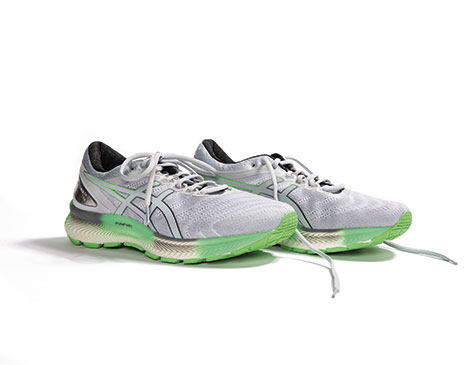 An Item We Love: The Asics Gel-Nimbus Lite ($150) is lightweight and comfortable, perfect for road running and outfitted with eye-catching color combos such as gray splashed with watermelon green.

2248 Lee Road, Cleveland Heights, 216-991-2000, achillesrunningshop.com

Click here to explore more than 30 local shops and boutiques as part of this month's "Shop Local" package.