Rocky River
Shop along Rocky River's Detroit Road where you'll find strips and pockets of stores and boutiques from Lovely Paperie & Gifts cozied up next to Once Upon A Time Toys. While a few national chains have snuck into the area throughout the years, most of the stores such as Solari, a shop that specializes in Italian ceramics, flatware and table linens in the Old Detroit Shopping Area, are locally owned. With Heinen's nearby as a neighborhood anchor, it's easy to pick up your groceries and then pop into Paper Trails of Rocky River for thank-you notes or scope out what new blouses Girl Next Door, a women's boutique focusing on West Coast style, got in this week. downtownriver.com

Downtown Medina
Eat your heart out Gilmore Girls. Medina's public square has all the New England charm — intricate gazebo and towering courthouse included — plus some amazing shopping. All Fired Up! offers paint-your-own pottery, and a few doors down, JK Gift Shop's shelves are filled with a cute, often-witty selection of jewelry, home furnishings and baby gifts. Collectors should check out Medina Sports Cards, while model train enthusiasts can get lost in Ormandy's Trains & Toys. The Raspberry and the Rose sells accessories such as bracelets, while One Lucky Dog Bakery sells treats for man's best friend. Venture a few blocks west and visit Root Candles' company store, a seemingly endless collection of made-in-Medina candles in a variety of scents. mainstreetmedina.com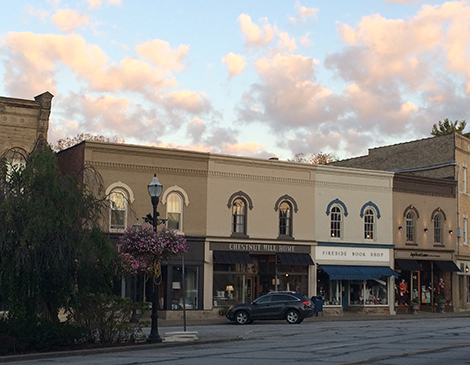 Chagrin Falls

Chagrin Falls' downtown shopping district is so quaint, Hollywood would have a tough time recreating the charming storefronts set against the background noise of a rushing waterfall. But with shops such as A Bit of Skirt, with its California boutique vibe, the 1963-founded Fireside Book Shop and Geiger's sporting goods, there's a lot for any kind of shopper here. The seriously stroll-worthy area is home to a couple chains — Jos. A. Bank and Chico's — and a Heinen's. Town & Country Gifts sells decorative pillows, barware and knickknacks, while Chuck's Fine Wines offers hundreds of bottles of wine, gift baskets and cheese. And don't miss Off Main Antiques, because no small-town shopping spree is complete without antiquing. cvcc.org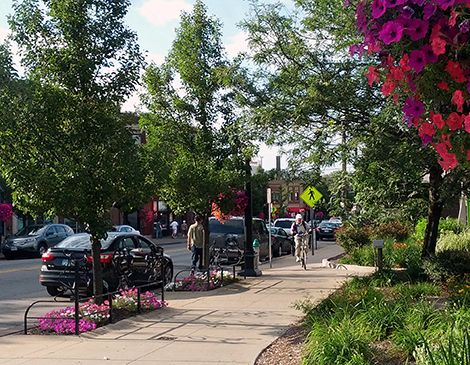 Coventry Village
A bohemian mecca in the middle of Cleveland Heights, the Coventry shopping area echoes the city's diverse population. And the store that says eclectic as loud as any others on the street is City Buddha, a collection of funky, hip treasures such as beaded bracelets. Across the street, Passport to Peru's diverse jewelry and incense keeps the global vibe going, while the Cleveland Candle Co.'s DIY classes lets us get our craft on. Heights Hardware stocks tools and paint, while music fans should check out Record Revolution, or the Exchange, a secondhand music, movie and video game store. coventryvillage.org

Lakewood
Known for attracting millennials thanks to affordable housing, a walkable downtown and a thriving arts and culture scene, it's no surprise that Lakewood would also have a pretty stellar shopping community fueled by local entrepreneurs and side hustlers. While there's a hub of shops in the heart of downtown such as gift shop Lion and Blue and wine and beer emporium Rozi's Wine House, you can also find a local business for almost everything you need. Both on Madison Avenue, Spin Bike Shop outfits bikers of all ages and skill levels, while the Star Wars-themed chocolates down the street at Fear's Confections are a force to be reckoned with. Bonnieview Avenue's Coven even offers a collection of occult items such as tarot cards that can help see into your future. lakewoodchamber.org

Click here to explore more than 30 local shops and boutiques as part of this month's "Shop Local" package.