A sigh of happiness passed through my lips as I pulled into the parking lot of M Italian. But I wasn't here for a meal. I round the corner and open the wide, wooden double doors, turning my back to patrons sipping wine and eating pasta in favor of the room of giant furnaces and roaring flames just to the right.
The Glass Asylum appears in front of me and, though I should have expected this, it's way too warm inside to be wearing my parka. The heat hits my face immediately as glass-blown light fixtures in funky patterns dance above my head. It feels overwhelming at first, but in the very best way. A few women sit at a low top table, planning the color, pattern and design of their custom-made creations under the watchful eye of the studio's experts.
The last thing I expect is a greeting from the shop dog, Millie, reminding me fondly of my childhood dog of the same name. Yes, this is going to be a good day.
Opened in 2017 by Marine Corps veteran and self-taught glass artist Christopher Crimaldi, the studio attached to M Italian on Chagrin Falls' bustling Orange Street is alight with colorful glass creations and eager first-timers who wait to cross the yellow safety line into the space where the magic happens (after putting on safety goggles, of course).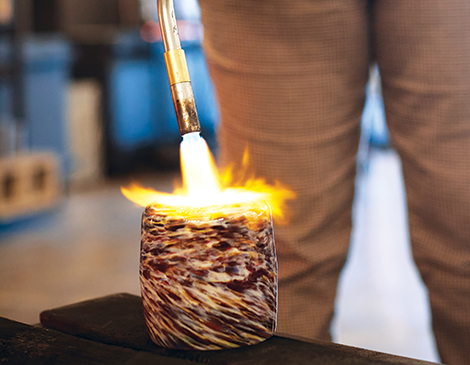 Cleveland Magazine associate art director Abigail Archer and I are welcomed by employee Kailee Barile and introduced to the options of what we can make. Archer chooses a whiskey tumbler ($80) the color of a rainbow, sprinkled with a confetti-style appearance. I opt for a red and pink swirled heart-shaped ring holder ($75) in the spirit of Valentine's Day.
Once we make our selections, we are ushered to a high top beneath an elaborate glass chandelier and provided sparkling water to sip while listening to the all-important safety speech from Dean Wehrenberg and Dominic Bender, the glass masters who would carry us through the day.
"Ninety-nine percent of people have no idea how it works or how it starts," says Wehrenberg, who began glass blowing in college as part of his art major. "You see them connect the dots and their faces light up."
Once I pass the yellow line and stand in front of a multi-thousand-degree furnace, I watch, mystified, as melted glass appears on the rod Bender holds. Suddenly, the ball is in my court. I hold onto the rod and swirl in my chosen pink, red and white color all while Archer cheers me on from the safety of our table.
Much of the furnace-facing work is done by skilled artisans as a means to ensure safety, but that doesn't mean the day lacks hands-on experience.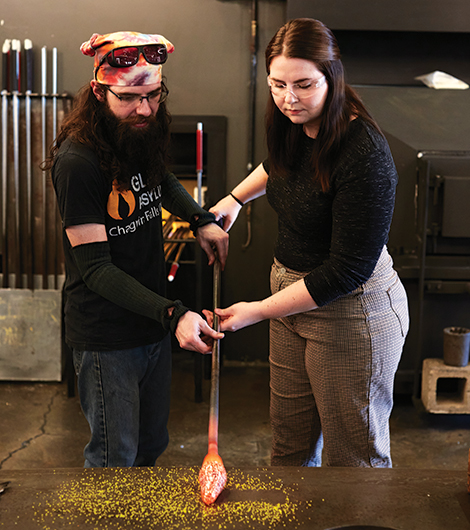 I am directed to a bench where Wehrenberg shows me how to use the block, a C-shaped bowl coated in water and affixed to a wooden handle that, with enough force and pressure, helps round out and smooth the glass. I begin to push up on the block as I twist the glass on the rod, a multitask that seemed a lot simpler before I was holding something molten.
Bender takes the rod and goes back to the furnace to melt the glass again, the material needing to be reshaped every few minutes to ensure it doesn't crack and is easy to manipulate.
When he returns, I am equipped with a cherry wood paddle that looks like it's seen its fair share of flames and I wonder what I am getting myself into. The safety tips from my elementary school fire prevention week work their way into my mind.
I kneel down on the ground as Bender spins the rod containing my swirling glob of glass and instructs me to push the paddle up against it.
"Push so hard it's like you're trying to push me off the bench," he instructs. It's not like I hadn't played with fire before (growing up with a firefighter for a dad ensures that) but this was different. Here, the flames were building something, not destroying it.
After Archer and I played like the fire benders in Avatar: The Last Airbender, we were told our creations would be ready to pick up in three days (which feels like an eternity when you just built something from melted silica base and a 2,100-degree fire).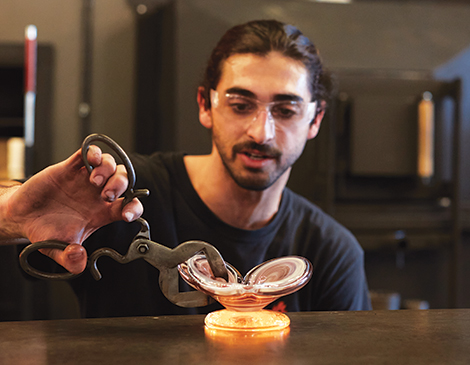 By the time we leave, the warmth inside feels comfortable, and I dread going back into the cold. So I stop to chat with studio manager Jodie Jacobson while she tells me about the people who come in wide-eyed and eager to try the art, as well as the custom lighting side of the business where people can order fixtures for their homes much like the ones above my head or next door in the restaurant.
With a lovely new place to keep my rings, I leave feeling happy to have tried something new that also somehow seemed to have roots in my childhood and already anxious to go back and create more home decor.