It all started with a pair of jeans. In 2017, while Shelby Anderson was working for a fast-fashion company, her friend asked her to make a custom pair. A couple months later, she launched House of Tame, a design company focused on reworked vintage items. "I didn't love what I was doing for a multitude of reasons, so I just kind of went back to my roots of readjusting, redesigning and refitting stuff from the thrift store," she says. That first project made Anderson realize the timelessness of denim and how there's endless vintage pieces sitting and waiting to be reworn in new ways. "I definitely gravitate towards denim," Anderson says. "It gets worn in so beautifully and you can wear it forever." Since then, Anderson has moved back to Cleveland and has redone close to 300 pieces out of her home studio. While you'll find plenty of jeans on her website, she also makes T-shirts, jackets and even crossbody bags all made from repurposed materials. "I think it's always been in me to make things new because there's just so much stuff in the world," she says.
Playground Outfit: Anderson's line has an innate playfulness to it from her use of multiple colors in one item to the use of denim patchwork on a random leg. These funky details are balanced out with simple colors such as beige, brown, dark and light wash denim and come in classic silhouettes such as blazers, button-downs and work pants. "I like the idea of wearing simple jeans and a T-shirt, and then I can put on a fringe blazer and feel a little extra," she says.

Piece By Piece: Anderson likes to work with what she has. You can see this through pieces such as her extra cuffed jeans, which are covered in a messy patchwork of frayed cuffs from past projects. "I do my best to try to not throw anything away," she says. "So if I'm making something and I crop something, I'll keep the fabric or if I hem something, I'll keep the bottom of that."

On The Hunt: When she ventures into secondhand shops, she usually finds pieces that speak to her in the menswear sections or are inspired by the '90s and '80s. "Once you dive into [the menswear section], there is so much to see, so many different kinds of plaids, there's so many different kinds of tweeds," she says.

Fit Revolution: Anderson wants to make sure everyone can experience a perfect pair of jeans, no matter size or style. "Whether that's tailoring for fit, or creating a whole new pair for your measurements, I want everybody to have a really cute pair of jeans," she says.
Extra Touch: Look for small, but meaningful details such as metal rings on T-shirts or fringe along the lining of jackets. "With some of these blazers, they're cool, but they might not be bought, or they might not stand on their own," she says. "I like to add these little jazzy embellishments to maybe save them."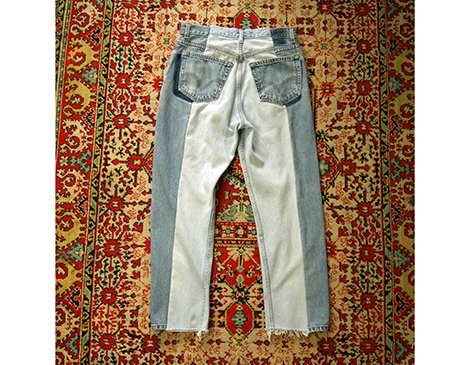 For when you can't decide between a light wash or a dark wash denim, House of Tame's Blue & Blue Jeans ($175) use a split tone design of fabric from two different pairs of vintage denim to create a unique look.
More info: houseoftame.com