Marseille Markham Collins has always believed in the art of remaking things. From a young age, her family raised her to embrace upcycling and sustainability. That mission rings true in her current business, Junk Party, where she creates earrings, necklaces and accessories made out of broken cables, wires and cords. After working for a jewelry designer in New York City for many years, Markham Collins was inspired to spearhead her own collection in 2017 and her inherited thriftiness remained an important guide in creating her inventory. "I was working as a dog walker, and I'd see stuff in parks like little trinkets and other random stuff that you find like broken safety glass," Markham Collins says. "So I would take it home and try and make a necklace out of it." Since then, she has incorporated her resourcefulness and passion for sustainability into wearable art that makes a statement.
Strike a Cord: Like her designs, her method of using cords in jewelry came to her spontaneously. One day, while searching for new materials to work with, she asked her husband if he had anything black that she could use for a pair of earrings. After he dug out an old phone charger, it hit her. "I started to think about the shelf life of cellphone chargers, USB cords, all that stuff," she says. "I thought this could be really cool and it's a way to be resourceful, so I got obsessed with it."
Wire Play: When creating her designs, Markham Collins is more focused on making a statement, rather than following the crowd. "I'm not actively trying to do trends," she says. The Play Collection, which came from a friend who had a huge bundle of yellow, orange and blue wires, inspired the multicolored collection. Many of the pieces also reflect her other favorite pastime: food. Take the Gumdrop earrings ($29), which resemble pink Twizzlers intricately wrapped around a chewy blue gummy candy.
Junk To Gems: To shape the cords, Markham Collins adds drops of adhesive to each piece before she wraps it. Then she holds it in place until it's secure. Depending on the design, the wires are formed into a circle, stacked on top of each other or bent into a zigzag before being covered with an epoxy adhesive, which takes a couple days to cure. "It does take a while [to shape], and my hands definitely cramp up," she says.
Material Girl: To help find her next set of inventory, Markham Collins usually puts out a call on social media for people to dig through their graveyard of forgotten cords, chargers and USB cables. "I even got some from Australia," she says. "I think we're living in a time when people really do want to make a difference and feel like they're contributing something good."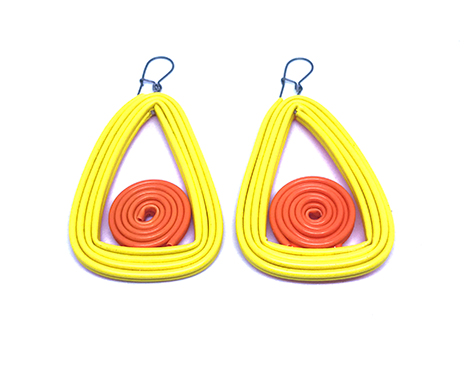 Item We Love: Named after the '80s cult classic film Teen Witch, these Teen Witch Earrings ($35) make a quirky statement with neon yellow teardrop hoops wrapped around an orange circle in the middle.