Stephanie Lee Paynter's jewelry calls for celebrating individuality. With a love for sculpture, Western design and abstract shapes, her work has something for the statement maker, the minimalist or anyone else looking for their signature style. She does this by creating what she dubs as wearable art — in the form of earrings, necklaces, bracelets and bolo ties — using various metals and colored stones.

After living in Tuscon, Arizona, Las Vegas and now Cleveland, Paynter's style has evolved in many ways, but still highlights striking shapes, bold stones and an overall regal style that always looks like one-of-a-kind. "I like things to be abstract and not as expected," Paynter says. "I don't like making the same thing over and over again, so it took me a while to come up with a line that I felt proud of and that I could reproduce."
Statement Pieces
The stones — such as a Carico Lake turquoise and Blue Lagoon quartzite — are the focal points of Paynter's pieces and can be found nestled into her statement rings or elegantly placed on her hanging earrings. "Having grown up in the Southwest, I was around a lot of traditional Mexican and Native American styles," Paynter says. "I also love modernist art so that kind of comes in a little bit too."

Metal Work
To create the bezel, the metal around the stone that holds it in place, Paynter cuts and shapes the design first, before starting the soldering process, which melts the metals to fuse multiple pieces together. After 20 years of metalsmithing, she finally has a quality saw and other materials to make the process faster than when she first started. "When I first started just at my kitchen table, I literally just had a saw, some files and sandpaper," she says. "I would do the exact same things that I'm doing now but with just those very archaic tools. So it can be done even with the most basic tools."
West to Midwest
When Paynter first made her move from Tucson to Ohio in 2016, she wondered if her Western-inspired pieces would work in the Buckeye State. But she took inspiration from Cleveland's industrial landscape and fused the two together. "I started to use more gold, brass and those kind of warmer tones," Paynter says.
Rising To The Occasion
Paynter prides herself on the fact that any of her designs can be worn for any occasion. Her pieces make a statement, are not overly decorated and can still be worn on a daily basis. "Even my taste changes over time," Paynter says. "I think it kind of goes along with the fact that I constantly am changing my aesthetic, but still keep true to the fact that I always like it to have a statement."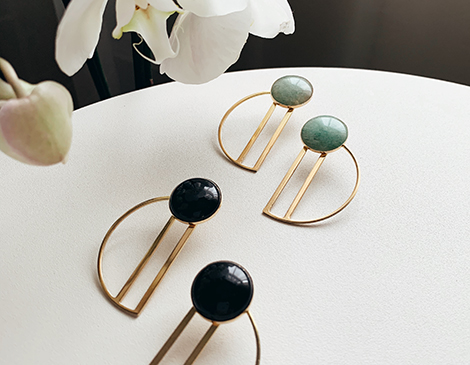 Item We Love: Inspired by art deco from the Gatsby era, these half-arch Daisy Earrings ($52) can come in a variety of different stones such as rose quartz, Kiwi Jasper or Black Onyx.