Samantha Wiggins lives and breathes T-shirts. She works as a graphic designer at University Tees in Lakewood during the day. After work, she gets out her needle and embroidery thread and starts stitching the cute phrases, florals and UFOs she creates for SWDSGNS, her line of hand-embroidered tees, tanks, sweatshirts and hats. "In school I started doing a lot of embroidery, and I would add those techniques to my collections," says the Kent State University Fashion School graduate. "When I graduated, I knew I wanted to keep doing things like that." Searching for an outlet for her love of fashion, she launched SWDSGNS in 2017. Her fashion-forward take on basics was instantly popular. "It's a graphic tee for people who don't like graphic tees and more elevated than a plain shirt," she says.
Real Simple
Wiggins shoots for modern, line drawing-based designs that are easy-to-wear instead of the complicated embroidery your grandma might make. It's also easier for her to create. "I make a design I think is going to look cool and different, but figure out how to do it in a way that's not going to take a week," she says.

Personal Style
The styling is almost as important as the design for Wiggins, and provides an opportunity to play with trends. Her tees are shown on her website and social media cropped, tied in a knot or tucked into jeans. "I like the challenge of styling a T-shirt in a million different ways," she says. "It can be a more elevated part of your wardrobe."

Stitch Sesh
Wiggins uses Adobe Illustrator or scans hand-drawn designs to make stencils. She then places embroidery stabilizers — backing material that keeps fabric from puckering or stretching — onto her T-shirts and then traces the pattern. Finally, she puts on an embroidery hoop to keep the fabric taut and begins to stitch. "You want an even stitch," she says.

Social Circle
Inspiration for her designs, including phrases such as "Cat Mom" and "#GRLPWR" comes from a variety of places, including current events or trending motifs and images on Instagram and Pinterest. "Other times, a phrase will catch me, and I'll try to do my own version," she says. "I like a lot of flowers, designs with hands and flash tattoo styles."

Land Lover
Even though a lot of SWDSGNS apparel is Cleveland-centric, Wiggins didn't start out with that focus because of saturation in the market. But shoppers wanted it, so she added items such as her Cleveland skyline shirts. "The Cleveland designs actually challenge me a bit more, because so many people do Cleveland shirts that it's a challenge to do something a little different," she says.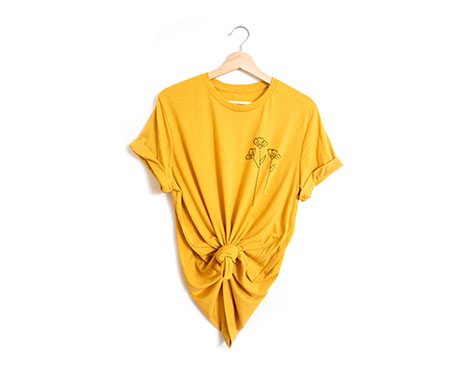 The best-selling Wild Flower Tee ($35) has a hand-embroidered floral design on a mustard yellow, 100% cotton shirt.