It all came full circle. Bobby and Danielle Allen first met in 2013 in a sculpture studio at Cleveland State University. Danielle was interested in one of Bobby's handcrafted rings and learned his work contained a certain charming idiosyncrasy. "When I was picking it up, Bobby was like, 'Oh, that ring is actually not perfect. It has a little imperfection,' " Danielle recalls. "I was like, "Oh! I want it even more now.' "

After tying the knot in 2016, the duo officially launched the Circle Craft to feature their handcrafted jewelry, turning their Cleveland Heights attic into an at-home studio. Inspired by their own love story, they hope their intricate designs can serve as a similar hook between couples and loved ones.

"Being involved in making wedding bands and engagement rings for others is a very special part of our work," Danielle says. "We get to be involved in bringing an object to life — a piece of jewelry that adorns the body and symbolizes love and commitment."

Waxing Poetic: Bobby uses a lost-wax casting process to create the pieces, carving the desired design into a piece of wax, which is then made into a plaster mold. It's then cast in gold, bronze or silver. After this, Danielle completes the filing, polishing and tumbling process before the piece is ready. "It's a traditional metalworking technique. We could solder things or form metal," Bobby says. "But since we're self-taught, we don't really have those skills or tools, so we push casting as far as we can."

Mixing Metals: Gold and silver are no strangers to most makers, but the Allens add another metal to the mix: bronze. Bobby has been using the material since he first began casting and finds it to have a gold-like texture and a weightier feel. "I know that it has copper in it and it sometimes leaves a bit of a green smudge on people," he says. "But customers weren't caring about that. I'd tell them about it, and they were like, 'That's fine, I've never seen anything like this, I want that.'"

Natural Element: It's hard to miss the nature-inspired motifs throughout the Circle Craft's collections. But look closely and find the natural inspiration extends to key details, from the intricate scales on the Queen Snake Ring ($100) to the delicate petals on the Rosette Ring ($120). "We wanted to make some jewelry that was beautiful and animal-inspired," says Danielle, "but also make something that's like a small sculpture for your finger."

Relationship Goals: The duo also hosts wedding-band making workshops. During the 2- to 3-hour class, couples create their design in wax, before Danielle and Bobby take care of the casting and finishing. "It's always amazing to see what people come up with, and our clients are usually surprised by what they're capable of creating," Danielle says.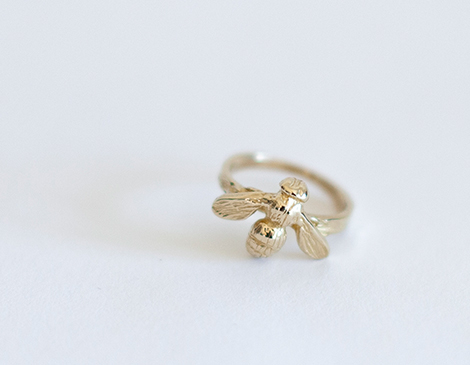 The Honey Bee Ring ($80-$120) was inspired by the couple's interest in beekeeping and the way the insect represents creation of life. Choose from sterling silver or yellow bronze.